Understand Pyongyang
The Pyongyang Guide. As regular visitors to the DPRK we know a thing, or two about the capital city. Here is our Ultimate Pyongyang Guide.
Pyongyang – also spelled P'yŏngyang or Pyeongyang – is the capital city of North Korea, and like most capital cities, is the political and economic centre of the country, as well as its biggest city by far. If you're travelling to North Korea, you're almost certainly going to visit Pyongyang (unless doing a specialised tour, such as Rason, Manpo, Sinuiju or Hyesan).
The current population of Pyongyang is 3.25 million. For comparison, the next-biggest, the city of Hamhung, has a population of 800,000.
To understand North Korea, then, you must first understand Pyongyang.
Pyongyang Guide – The History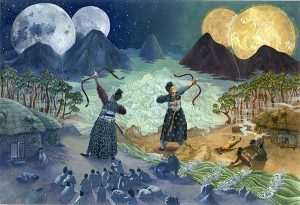 Pyongyang was reputedly founded in 1122 BC (a long time ago), when it was the capital city of Gojoseon. Variously captured by the Japanese and the Chinese in the 16th and 17th centuries respectively, Pyongyang was relegated to the status of provincial capital under Koryo and Joseon Korea. In the 1890s – when it had a population of around 40,000 – Pyongyang was the site of the unimaginatively-titled Battle of Pyongyang, during the invasion that eventually led to Japanese colonial rule.
During the often-brutal colonial rule of the Japanese, Pyongyang was converted from a relative backwater into an industrial powerhouse integral to the Japanese's plans for the peninsula.
On August 25th 1945, the USSR rolled into town and set one of their first Cold War gambits into play by installing a temporary puppet government in the North. This interim government was to be led by the man who would eventually found the DPRK – hero of the anti-Japan resistance, Kim Il Sung.
When the DPRK was established in 1948, Pyongyang was intended as a temporary capital, with the eventual aim being to recapture Seoul and establish it as the capital of a unified Korea. Alas, despite the best efforts of the North in 1950, this didn't happen. Pyongyang remains the capital of the North.
During the Korean War the city was almost completely destroyed by US shelling. Pyongyang was rebuilt with a little help from Moscow, and the groundwork was laid for the infrastructure that would one day bloom into modern-day Pyongyang.
Since the premiership of Kim Kong Un the city has undergone something of a renaissance, and for the first time in its history boasts brightly-lit night-time buildings and an honest-to-God skyline. Alas, the Ryugyong Hotel has yet to be finished.
Since the premiership of Chairman Kim Jong Un the city has had a real renaissance, and is brightly lit with huge buildings being raised on an almost weekly basis. Alas the Ryugyong Hotel has yet to be finished.
How do you get to Pyongyang?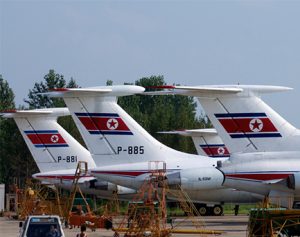 Pyongyang by air
Pyongyang's airport – officially named 'Sunan International Airport' – is linked to Beijing, Shenyang and Vladivostok with regular Air Koryo flights, and chartered flights can go to a handful of other Chinese cities. It was previously possible to fly to Germany, Kuwait and Malaysia, but these services have been discontinued.
There's also a twice-weekly Air China flight to/from Beijing. Unfortunately, this is both more expensive and less reliable than Air Koryo flights – Air China has a habit of cancelling low-selling flights to better redistribute the insufficient number of planes in its fleet.
Domestically, Pyongyang Airport is well connected to the rest of the country: chartered flights can be arranged to Mount Paektu, Hamhung and Wonsan.
Pyongyang Guide entry by train
There is a daily train from Beijing that leaves at 17.27 and arrives in Pyongyang at around 5 pm the next day.
This same service also leaves Dandong at 10.27 every day, and can be linked with one of our ultra-budget tours.
There is also a Moscow to Pyongyang train that is VERY exciting (so exciting that we have a tour that takes this exact route – tickets sell out fast, so book quickly!).
By Bus to Pyongyang
You can technically take the bus from Dandong to Sinuiju, before taking another bus to Pyongyang. We have done this before, but it's very rare that it's permitted.
Tour bus/private car
For most tourists, journeys to/from Pyongyang (for instance, visiting the DMZ) will be in your private bus. Independent tourists will be in a private car.
Pyongyang Guide – do they have taxis?
Ten years ago there were next to no taxis in Pyongyang, and the ones they had would not touch foreigners with a bargepole. Nowadays taxis are plentiful and will take foreigners; weirdly, however, you have to pay in dollars (or is it so weird?).
Pyongyang Guide – The Pyongyang Metro
Unless you are a resident of the city, you will need an escort when getting on the Pyongyang Metro. If you're interested in seeing the Moscow Metro's little brother, however, you can see the whole thing on our Unseen DPRK Tour.
Pyongyang Guide – What to see?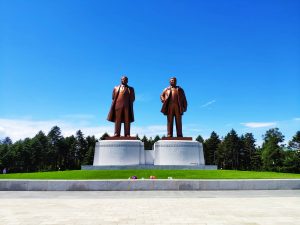 I could literally write thousands of words about what there is to see and do in Pyongyang, but they are better served with individual blogs. That said: here are the must-sees of Pyongyang.
Kumsusan Palace of the Sun
The resting place for President Kim Il Sung and General Kim Jong Il, no other mausoleum in the world comes close to touching the grandiosity of this place.
Mansudae Grand Monument
The massive bronze statues of Kims Il Sung and Jong Il, these are usually one of the first stops on any Pyongyang city tour and are accorded massive reverence by the Koreans. A very intense experience.
The 'People's Country' Mass Games
The Mass Games are back, and are due to be held in the May Day Stadium from June to October. You also get to see another great paean to Korean industriousness: the Rungrado 1st of May Stadium, AKA the May Day Stadium, which is the biggest in the world.
Ryugyong Hotel
OK – so you can't actually go here, but you can snap some great pics of the iconic Hotel of Doom, which actually looks quite good these days. .
Kim Il Sung Square
The posters of Marx and Stalin may be gone, but Kim Il Sung Square is no less impressive! If you are visiting here during the Mass Games, you will often see kids practising here.
Mansu Water Park
A fantastic water park that is more than the sum of its parts, Mansu features a salon, saunas, restaurants, bars, cafes, pool tables, massage parlours and a whole host of other features in addition to the water park itself.
Pyongyang Circus
This was once a tour headliner, but has fallen out of fashion in recent years. Still great to see the 'drunk American' caricature!
Workers' Party Monument
Hammer, sickle and paintbrush to represent the worker, farmer and intellectual respectively. Some true old-school brolshevism right here.
Pyongyang Zoo
There aren't many zoos where you can feed the animals, but you can at Pyongyang Zoo!
Juche Tower
It costs 5 euros to ride to the top, but it's worth it for the best panoramic shots of Pyongyang.
School Children's Palace
A tour mainstay. Tours of the palace are capped with excellent performances from the schoolchildren here.
Chollima Statue
The Chollima has an interesting history steeped in Korean folklore and is something that has been incorporated into North Korean ideology. The best view of the monument is from the Mansudae Grand Monument.
Revolutionary Martyrs' Cemetery of Pyongyang
Usually visited right after going to the Kumsusan Palace of the Sun. Get ready to climb some stairs!
Korean Film Studio
The journey to this studio offers great views of the Ryugyong, you can run about in 'South Korea Street', and you can dress like a woman and have the picture plastered all over the tabloids. OK, so that last part might not happen to everyone.
Pyongyang Guide – What to do?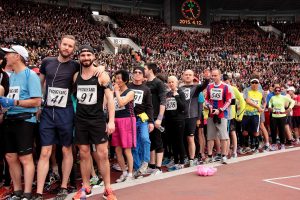 Run a marathon
The April Marathon is now famously overpriced, so we suggest the cheaper version with better weather: the Autumn Marathon.
Go bowling
Golden Lane Bowling Alley offers a real slice of Pyongyang life (also beer).
Visit a target range
The Maeri Shooting Lane lets you buy bullets and shoot targets or – if it's your thing – pheasants.
Watch a football match
YPT have a tour to see the mighty April 25th in action. We can also arrange to see other matches throughout the year.
What to buy in Pyongyang?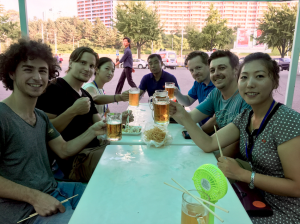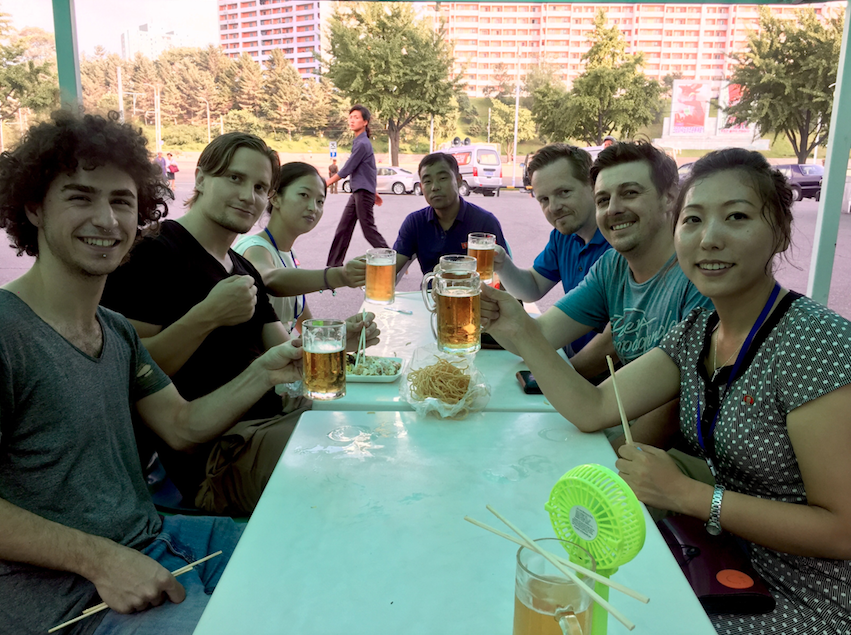 There are more souvenir opportunities than you can shake a stick at in Pyongyang, so we will give you the abridged version!
Pyongyang Foreign Languages Bookshop
Great place for books (duh), but also posters and postcards. Also a great place to get a pic of the world-famous Pyongyang traffic girls.
Kwangbok Department Store
You can exchange foreign currency for Korean won here, and shop like a Pyongyangite.
Rakwon Department Store
This department store has gone a bit out of fashion, but the attached brewery, with its 50-cent beers, is still one of the best bars around.
Thongil Market
This is the main private market in the city. Sadly we are not currently allowed to visit, but watch this space!
Guide to Pyongyang – what to eat?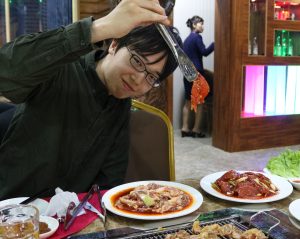 Pyongyang used to have a bad reputation for food, but over the last few years the restaurant scene has really taken off, with a mixture of private and state-owned entities.
Pyongyang Pizzeria
Surprisingly good pizza! Dinner and drinks here should not set you back more than about 20 bucks a piece.
Fast Food Restaurants in Pyongyang
Located at the Youth Hotel, this gem was the first fast-food restaurant in North Korea. They even have beer, so who needs McDonald's?
Haedanghwa
A teppanyaki-style restaurant and one of the most expensive in the city. It's located along the Taedong River, however, and offers great views and food.
Pyongyang Guide – Duck BBQ Restaurant
A mainstay of any trip to the city, guests will usually eat here on their last night.
Chicken and chips restaurant
Probably not its real name. Located near the Arch of Triumph, they actually sell chicken and chips.
Okryu
A Pyongyang highlight that's located on the banks of the Taedong, here they serve the famous Pyongyang Cold Noodles. I'd also point out that they serve kimchi, but they serve kimchi everywhere.
Street food Pyongyang
Street food is becoming much more of a thing for Pyongyang folk than it used to be. To read a guide to the North Korean street food scene click here.
Pyongyang Guide – Drinking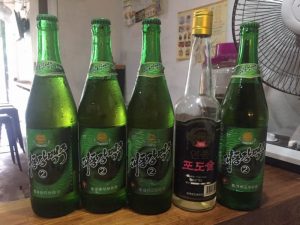 The Diplo
Ain't no party like a Diplo party! This is very much a mainstay for many YPT tours. Newly renovated and better than ever.
The RAC
The Random Access Club is the main bar for diplomats in Pyongyang (making the Diplo the most misleadingly-named bar ever). You need to be a diplomat – or get invited by one – to go here.
Rakwon Beer Bar
Located at the Rakwon Department Store, you can get excellent locally-brewed beer here. Doesn't get much better than this.
Taedonggang Brewery Restaurant
All seven varieties of Taedonggang beer are served at this restaurant. Naturally, we visit on our microbreweries tour.
What hotels are there?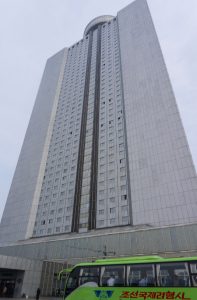 The Yanggakdo Hotel
The most famous hotel in the city, and the one most linked with foreign tourists. Plenty of onsite entertainment and often – unfairly – called 'Alcatraz' due to its placement on the Yanggak islet.
Koryo Hotel
Slightly more upmarket and the hotel where foreign delegates tend to stay. Far from unpleasant and with good karaoke facilities, it nevertheless lacks the atmosphere of the 'Gak.
The Sosan Hotel
Newly renovated and where most foreign tour groups stay now. In many ways superior to the 'Gak.
The Youth Hotel
Cheap and cheerful, but with the best karaoke facilities in Pyongyang!
The Pothonggang Hotel
Weird Moonie joint-venture that we seldom visit (and never stay on tour). Fun fact: it's the only place in North Korea where you can watch (fake?) news on CNN.
Internet in Pyongyang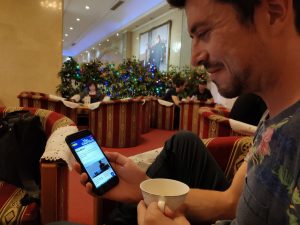 Generally speaking, there is not much internet in Pyongyang, although we recently had a group who were the first to use WiFi here. If you are really nice to your YPT guide, he or she might let you use our internet-enabled phone.
Embassies in North Korea
We have a whole blog on embassies in North Korea. If your country doesn't have an embassy, it's worth having a look to see which embassy looks after your country's consular interests in the country.
The Pyongyang Guide to Hospitals!
When you go to North Korea medical care (or in extreme cases, medical evacuation via airlift) can be extremely expensive. Insurance is mandatory. YPT can arrange travel insurance for you, if necessary.
If you do end up in hospital, however, it will be at the Friendship Hospital in the diplomatic compound. I was once treated for a broken foot here, and the staff were extremely friendly. And of course let us not forget there is a new hospital being built in the DPRK, which you can read about here.
Pyongyang Guide – Getting out
Pyongyang is North Korea's travel hub. Wonsan, Kaesong, Nampo, Sariwon and Hamhung are all reachable from here by road. Pyongyang Airport also offers chartered flights to most of these places, but these must be booked and planned way in advance.
And there you have it: our fairly comprehensive (but far from exhaustive) Pyongyang guide. Feel free to use this guide as a map for planning an independent tour, or simply jump on one of our group tours!
About Post Author
.