Introduction
Pyongyang Cold Noodles is the most iconic national dish of North Korea which is commonly consumed all year round and is the go-to-dish to be served on special occasions such as wedding days, birthdays, business meetings, or family gatherings on national holidays. Pyongyang cold noodles was mostly enjoyed in North Korea during the Joseon Dynasty (1392 – 1897) and was made popular throughout North and South Korea after the Korean War in 1953.
North Koreans refer to cold noodles as Pyongyang Raengmyon (평양랭면), Pyongyang being the capital of North Korea. Whilst in South Korea it is simply known as Naengmyeon (물냉면). The difference between the 'R' and 'L', and 'Myon' and 'Myeon' comes down to the differences in the Korean language which have slightly changed over the past 70 years of division.
What are Pyongyang cold noodles?
Pyongyang cold noodles consist of buckwheat noodles, beef, pork, chicken, kimchi, cucumber, pear, a hardboiled egg, and Dongchimimul (Korean radish water). It's up to you if you would prefer to add soy sauce, vinegar, or Korean mustard to give it more flavour. We at YPT always recommend adding vinegar and mustard for the best possible serving. As the name suggests it is best served cold but it is possible to be served with hot broth.
Where can I eat this iconic North Korean dish?
To state the obvious: Pyongyang cold noodles is served throughout North Korea, and you'll definitely have a chance to try them when you travel to the country with us.
If you're not eating as much Pyongyang cold noodles as you'd like during the tour, each of the hotels we stay at such as the Yanggakdo Hotel or the Sosan Hotel have their very own cold noodles restaurant. Whilst your meals are included when you travel to the DPRK, you have options for after hours eating.
If you are an absolute cold noodles fanatic, we can alternatively arrange your independent travel to North Korea for you to visit renowned restaurants within Pyongyang.
Pyongyang cold noodles across the world
Go back ten or twenty years, and Korean food was fairly niche. Nowadays, you'll find every major city around the world has Koreatowns, essentially Korean food is very fashionable right now. Classic Korean dishes includes such things as Bibimbap (a mixed-rice dish) and Korean BBQ, but the most famous dish north of the 38th parallel is, without a doubt, is cold noodles.
There's the legendary Okryu-gwan Restaurant franchise that have sprung up over the world from the Netherlands to the UAE. These restaurants serve authentic North Korean cuisines prepared and served by actual North Koreans. Sadly many of these have had to close as a result of ongoing UN sanctions.
Most North Korean restaurants can be found in Yanji, the capital of the Korean Autonomous Prefecture of China. Here they do a fine job in authentic Korean/Chinese-Korean cuisine, including BBQ and cold noodles. Dandong, the Chinese border city to North Korea also has its fair share of amazing Pyongyang cold noodle restaurants.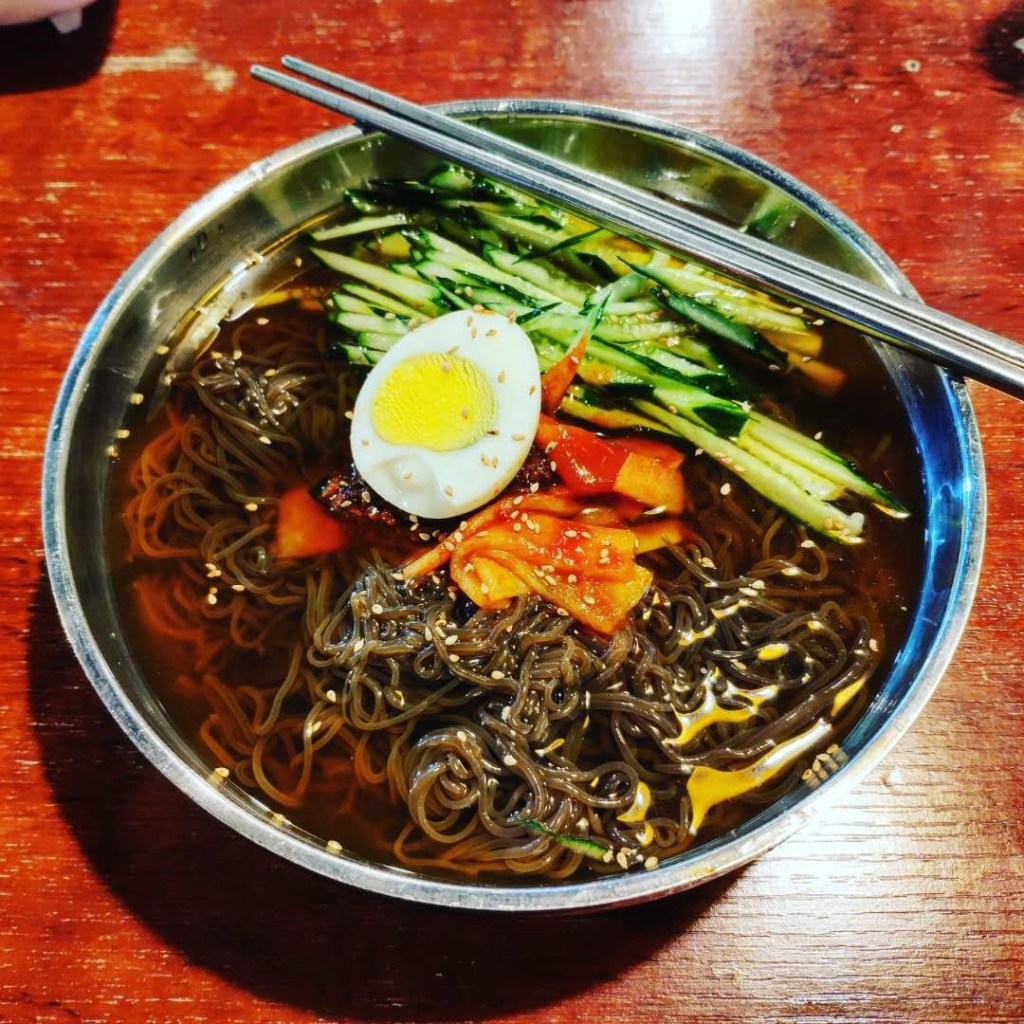 Don't be surprised if you're in Seoul and you see restaurants advertising Pyongyang cold noodles loudly and proudly. The Koreans down south enjoy a good cold noodles dish but they tend to include ice cubes into the dish which you won't find else where.
Of course, the best way to sample the dish is to join one of our North Korean tours and try Pyongyang cold noodles the way it's meant to be – in Pyongyang. If you're lucky, you may even have the chance to hear the North Korean song dedicated to this famous national dish (yes, the North Koreans have a song about noodles).
Are there variants of Pyongyang cold noodles?
There are a few spin off dishes which were inspired by the classic Pyongyang cold noodle dish. One of the most famous variations of cold noodles in North Korea are Hamhung cold noodles (함흥랭면). These noodles are named after Hamhung, the second largest city in the DPRK located on the east coast of the Korean peninsula. This dish features slightly thinner buckwheat noodles served in a spicy hot red pepper sauce.
It's quite common to find cold mixed noodles (비빔냉면) served outside of North Korea. The cold, sweet, tangy and spicy flavours gathers a more popular following in South Korea. Another popular variant dish is sliced fish cold noodles (회냉면), which includes raw fermented slices of Thornback Ray served on top of the noodles.
About Post Author
.