North Korean Embassies are located in many more countries than most people would think. There are also more embassies in Pyongyang, than most people would think.
In North Korea, there are 25 embassies. All of them, bar Russia and China, are located inside a compound.
To read about Embassies located in Pyongyang click here.
But what about the North Korean embassies around the rest of the world? Here is our North Korean embassies guide.
---
We did our research and found out that there is a grand total of 48.
North Korean Embassies around the world
Algeria – Algiers
Angola – Luanda
Austria – Vienna
Bangladesh – Dhaka
Belarus – Minsk
Brazil – Brasilia
Bulgaria – Sofia
Cambodia – Phnom Penh
Cameroon – Yaounde
China – Beijing
Congo (Democratic Republic) – Kinshasa
Cuba – Havana
Czech Republic – Prague
Egypt – Cairo
Equatorial Guinea – Malabo
Ethiopia – Addis Ababa
Germany – Berlin
Guinea – Conakry
India – New Delhi
Indonesia – Jakarta
Iran – Tehran
Italy – Rome
Kuwait – Kuwait City
Laos – Vientiane
Malaysia – Kuala Lumpur
Mexico – Mexico City
Mongolia – Ulaanbaatar
Myanmar – Yangon
Nepal – Kathmandu
Nigeria – Abuja
Pakistan – Islamabad
Peru – Lima
Poland – Warsaw
Romania – Bucharest
Russia – Moscow
Senegal – Dakar
Singapore – Singapore
South Africa – Pretoria
Spain – Madrid
Sweden – Stockholm
Switzerland – Bern
Syria – Damascus
Tanzania – Dar-es-Salaam
Thailand – Bangkok
Uganda – Kampala
United Kingdom – London
Venezuela – Caracas
Vietnam – Hanoi
(Source: https://www.embassypages.com/koreademocratic)
So, what are these North Korean embassies like?
---
– China
The North Korean embassy in China is located in one of the two main embassy locations in Beijing. It is a large, grand building currently being built up even more.
With such good relationships between China and North Korea, it is only natural that the embassies in each of the countries reflect this. This is also helped by the fact that North Korea's biggest tourists every year by far are Chinese tourists.
There are also two other representations in Dandong and Shenyang.
– Germany
Germany was one of the first European countries to have diplomatic relations with North Korea. During the cold war, East Germany maintained diplomatic relations with North Korea, whilst West Germany maintained relations only with South Korea. Germany and North Korea reestablished relations in 2001 and the Korean embassy is located in the old East German embassy compound.
– UK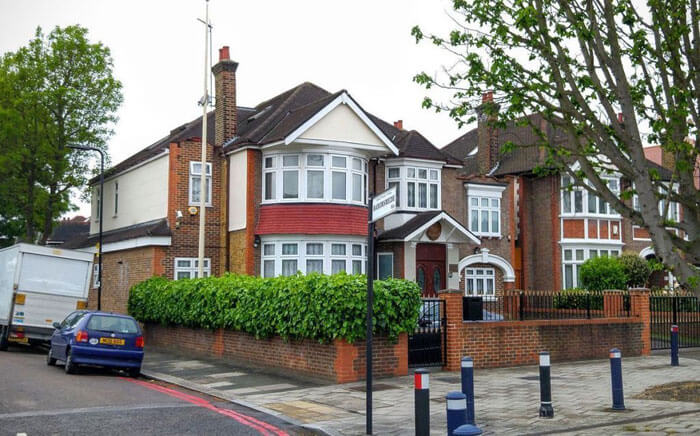 This has got to be a favorite. Tucked away far from the center of London is a small semi-detached red-brick house in a quiet suburb on the corner of Gunnersbury Avenue. This is the North Korean embassy in London – and if you weren't looking for it, you'd walk straight past it every day, as it camouflages perfectly with the red-brick suburb housing with small front garden of every second house in the UK. It is the Western-most embassy located in London.
This embassy houses a small number of workers, who enjoy the peaceful life of London. The embassy even has completely normal neighbors, and like any good neighbors in the UK they respectfully keep to themselves apart from if something is needed, e.g. to ask about a power shortage.
– India
India and North Korea are growing their trade and diplomatic relations, with India being one of North Korea's biggest trade partners and a major provider of food aid. The North Korean embassy is located in New Delhi.
– Cuba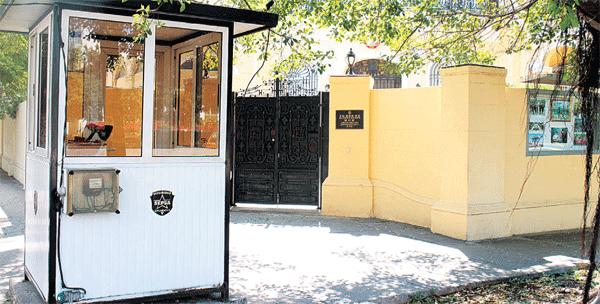 Cuba has been one of North Korea's oldest and most consistent allies, with diplomatic relations from 1960.
The embassy is located in Havana.
– Spain
The Spanish one is a new entry, with the relations between Spain and the DPRK being myriad and extremely interesting. First all there is the legendary Alejandro of the KFA, if you have seen the documentary you will realise enough said. But it was also at the mbassy where an armed group called the Free Joseon attacked the embassy, allegedly using weapons whilst stealing a number of things. This has obviously proved somewhat controversial.
---
Usually, when you enter North Korea, you don't receive a visa in your passport or a passport stamp. Unless you visit the Special Economic Zone of Rason where you might just get a stamp! The visa application is pretty simple, click here for more information.
If you are lucky enough to have a North Korean embassy in your country, then you can apply at the North Korean embassy in your home country. For this, you will receive a full page visa in your passport to show off to your friends and to have as an interesting and unique keepsake!
This though is not the "normal" way of doing things, and we suggest getting in touch with us before heading off to the North Korean embassy on a whim! It is though very possible.
---
Want to experience the DPRK yourself?
Click here for more information on tours throughout the year!
About Post Author
.