Once you have decided to join us on a group tour or an independent tour to North Korea, the next question you will be asking yourself is how you plan to enter and exit North Korea. We write the comparisons about North Korea train and flight below to help better prepare you for your ultimate DPRK tour with us.
---
Train in – Train out
The train in from China to Pyongyang and back is included in all our tour itineraries and costs. Departing from Beijing on the overnight sleeper train takes 24 hours to reach Pyongyang. The day sleeper train from Dandong for our Ultra Budget tours takes 8 hours to reach Pyongyang.
We believe taking the train is an excellent way to begin your journey into North Korea by getting to know your fellow group members or your neighbours who may be Chinese or North Korean. It is also a great opportunity to speak to your YPT guide and ask them any in-depth questions you may have about your tour or about North Korea in general. The scenery from your window is incredible and it is your chance to have a better understanding on both the Chinese and North Korean rural life.
The majority of the journey happens between Beijing and the Chinese border town city of Dandong, so whether you're going in or coming out, this part of the journey happens during the evening – use this time to rest well in the sleeper beds provided to you. The berth consists of six beds, this is considered second class sleepers in China (known as "hard sleeper" in Chinese, don't let the name fool you – the beds have padding, a pillow and blanket). It is possible to upgrade to first-class sleepers (known as "soft sleeper") which consists of four beds in a cabin – contact us for more details. A dining cart is included on the train where hot meals can be purchased and we highly recommend the North Korean dining cart. Bringing your own snacks and drinks onto the train is permitted and there is hot water available to make instant noodles, coffee or tea.
Once arriving in Dandong or Sinuiju – the North Korean border town city, your YPT guide will assist you with both Chinese and North Korean immigration. The process is very simple and quite relaxed. Our YPT guides have a solid relationship with the immigration officers on both sides of the border which can help make the process a lot easier and quicker.
To take the train in and out you will require a Chinese double-entry visa sticker in your passport before arriving into China.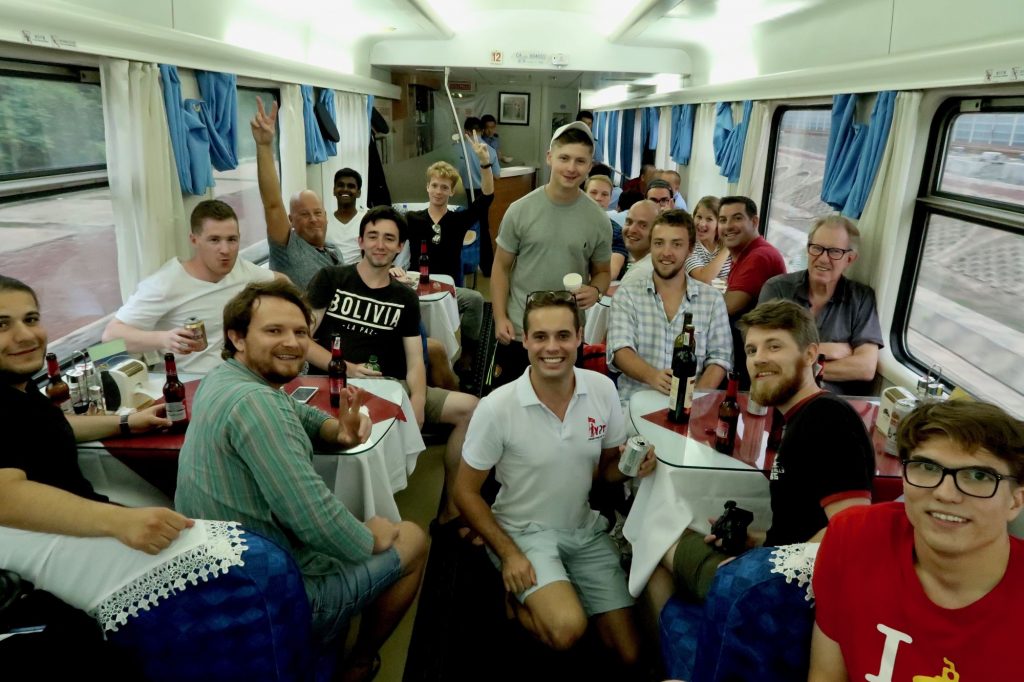 Flight in – Flight out
If you're short on time, or prefer to use the Chinese 144 hour transit visa, the majority of our tours have the option of taking the flight in or out between China and Pyongyang. The flight time between Beijing and Pyongyang is two and a half hours.
All our group tours use Air Koryo which is the national airline of North Korea. Air Koryo uses four new jets acquired to the fleet between 2007 and 2015 for all international routes. The Tu-204-300, Tu-204-100B and two Antonov An-148s. Although renown for being a one-star airline, Air Koryo meets international aviation standards and is permitted to fly EU airspace.
The North Korean experience begins the moment you step foot onto your Air Koryo flight. You will be handed a North Korean newspaper in English, friendly hellos and welcomes exchange with the cabin crew, and North Korean onboard entertainment involving either the Moranbong Band or a documentary on apples.  The infamous mystery burger will be served as well with a vegetarian option available.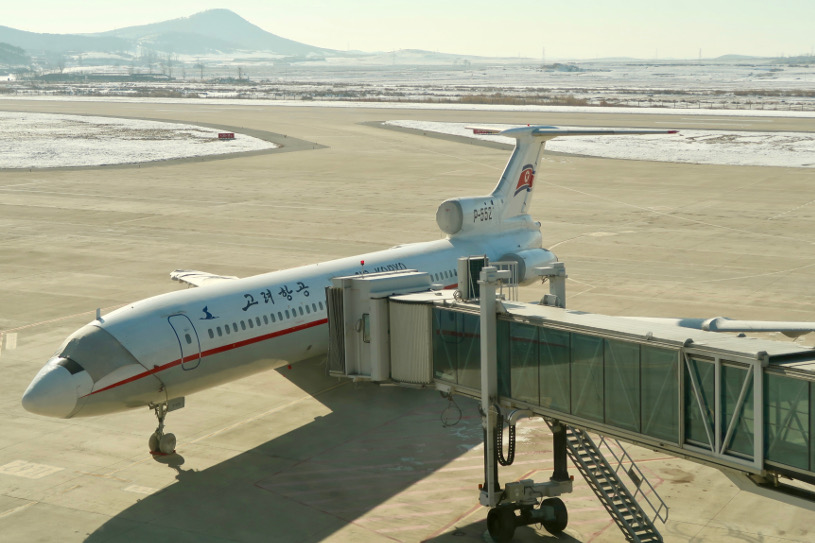 Immigration at Pyongyang Airport is straight forward. The immigration and custom officers speak English. Your local guides will meet you once you clear customs and will assist you from there on.
Air China also operate flights between Beijing and Pyongyang several times a week. We are able to arrange your independent tour with Air China if requested.  However, we will always recommend Air Koryo to complete your North Korean experience. 
Train in – Flight out
This option is the ultimate North Korean experience. Imagine yourself on the train heading into North Korea, you pass by the tall skyscrapers of China that slowly transform into smaller outdated apartment buildings, which then turn into farms and Soviet factories, then finding yourself at another nation's capital with one of the most unique buildings in the world looking down at you. With all the advantages we listed above, there's something more deeply satisfying and memorable about completing an overland adventure, especially with the new friendships bonded.
Taking the flight out is a nice way to wrap up an extensive tour and to get your feet back on the ground in China as quickly as possible. Remember to expect delays at Beijing Capital Airport as it is the second busiest airport in the world so plan your ongoing flights accordingly. Feel free to always check with us if you're unsure.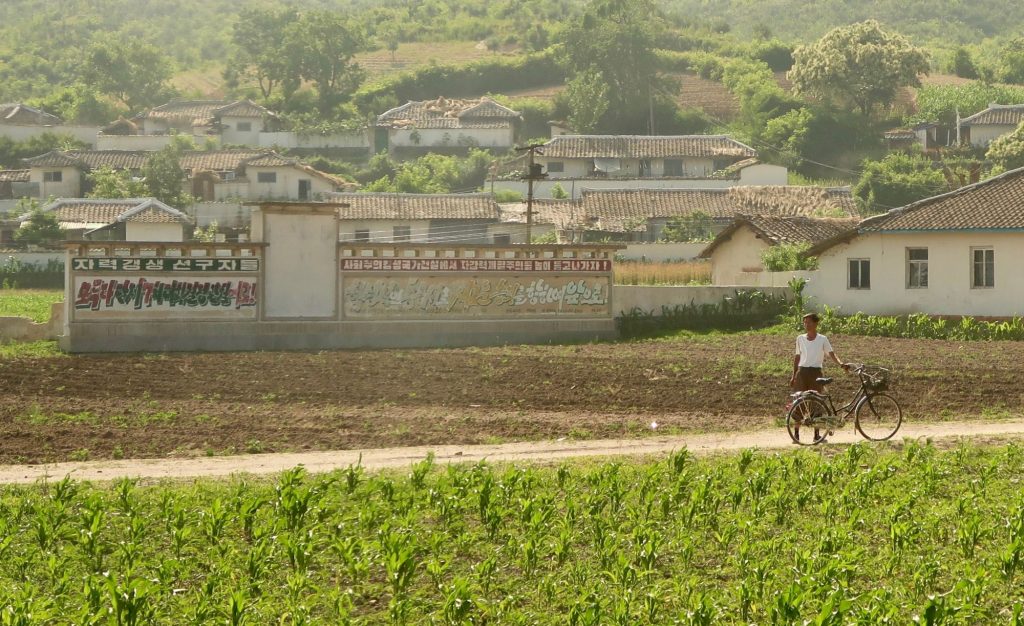 Flight in – Train out
Taking the flight in certainly has its perks too. Flights departing from Beijing are usually around midday and give you enough time to prepare yourself on the morning of departure. It's a good way to sneak a couple of hours extra into your Pyongyang tour with your local North Korean guides as you wait for your train companions to arrive.
Taking the train out gives you the opportunity to lay your weary head on a pillow the moment you board and snooze your way back to Beijing. It's a great way to finish a tour if you have any follow up questions for your YPT guide, it's totally normal to leave North Korea with more questions than you had going in. It's also your last chance to enjoy an authentic North Korean meal on the dining cart before you wave goodbye to the DPRK.
By taking the flight in and train out you can choose to partake in our Overnight in Sinuiju extension that has you spend an overnight and explore the North Korean border town of Sinuiju. Very well off the beaten path. Or you may partake in our other North Korean tour extensions.
About Post Author
.