What do we know about the North Korean beach resort, and more importantly will it possible to and when might we be able to visit it?
When it comes to tourism in North Korea recent news has, rather unexpectedly concentrated on Coronoavirus and the fact that the country is closed. Therefore the narrative has been largely when and indeed, if the country will reopen to tourism.
In the background to this has been the delayed construction of the biggest tourist resort in the history of the DPRK. Originally scheduled for opening in April of 2019, it has had two "official" delays announced, but according to NK News work has again begun in earnest.
To read the original NK News story click here.
Table of Contents
Where is the North Korean beach resort located?
Specifically it is the coastal city of Wonsan, a place already famous for its beaches, and even a Young Pioneer camp. Wonsan has long been a favorite for visitors to North Korea, although it is usually seen on longer tours to the country.
To read about the Young Pioneer Camp in Wonsan click here.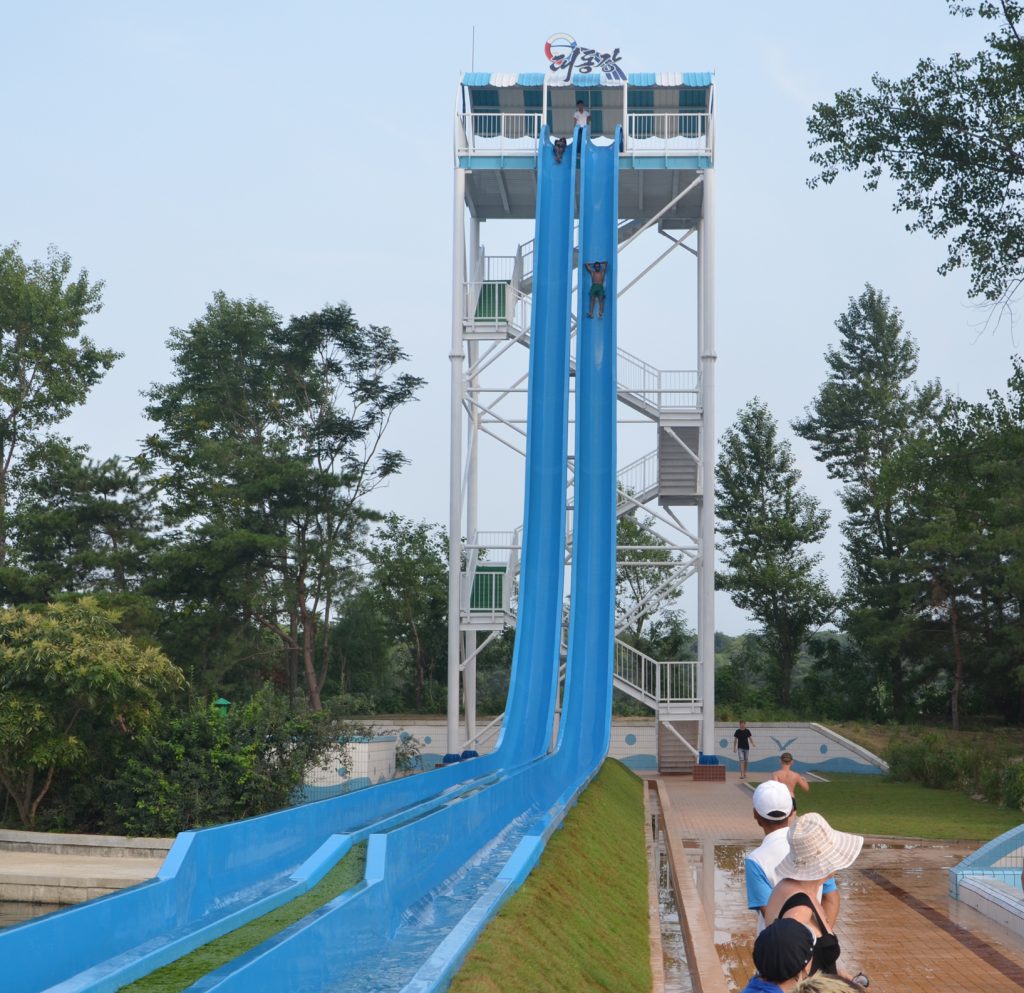 More specifically it lies in the Wonsan-Mt. Kumgang International Tourism Zone. The Wonsan-Mt. Kumgang International Tourism Zone is part of a number of Special Economic Zones in the country announced in 2014. In theory the zone was set up to encourage outside investment into the country, as well as a number of state run initiatives.
What is the Wonsan-Mt. Kumgang International Tourism Zone?
August 2013 marked the 60th anniversary of the Korean International Travel company (KITC) and thus tourism to North Korea. To celebrate the event travel agents from throughout the globe were invited to the country (including us).
The event was an extremely interesting affair and as well as being a celebration, was also used as a vehicle to showcase ways in which the DPRK planned to expand tourism to the country. Some of the ideas, whilst interesting were slightly far-fetched, such as regular ferry routes from Nampho to a number of Chinese cities.
One plan mentioned through was the Wonsan-Mt. Kumgang International Tourism Zone. Of the many new Special Economic Zones of the DPRK, this was not only the largest, but the only one to specifically concentrate on tourism.
In 2014 North Korea not only formulated various regulations regarding the various SEZ's, but the Wonsan-Mt. Kumgang International Tourism Zone was legally put into place.
The basic plan was to turn the area, which interestingly boasts more natural then political touristic destinations into the primary visiting point for both foreign and domestic tourists. Yes there is very much a deomestic North Korean tourist scene. And in many ways the plan held a lot of merit.
To read if North Koreans can travel abroad click here.
The entirety of the zone spans over 400 square kilmotres and consists of 6 districts, namely Wonsan, Masikryong Ski Resort, Ullim Falls, Sogwang Temple, Thongchon, and Mt. Kumgang. Notably Kumgang was previously a special zone that welcomed in visitors from the south, before a controversial shooting ended the relationship. Some of that infrastructure still lies here, not to the mention the legendary "floating hotel".
At the meeting we attended there was talks of being able to visit a fishing village, cruises coming here and other interesting theories. At the time the centre point though was Masik Ski Resort, and the new international airport. Many believed at the time that should there be some kind of renewed "Sunshine Policy" (which looked probable) then it could have meant visitors again coming from the Republic of Korea. Of course this has not yet happened.
To read about Masik Ski Resort click here.
Work originally began for some sort of resort started in 2014 and it was common knowledge, in the tourist industry at least that something exciting was being built. It was not through until 2018 when things started to really happen. It was in this period that tensions had largely been defused and intra-Korean diplomacy. was at its height. This is when the Wonsan-Kalma Coastal Tourism Area AKA the Wonsan Beach resort was announced. Again with the original opening time being planned for April of 2019.
Wonsan-Kalma Coastal Tourism Area AKA the Wonsan Beach
Work on the Wonsan beach Resort originally began in January of 2018. In the following months leaders and politicians were to visit and things looked extremely exciting for the North Korean beach resort.
Things were then to follow a course of changes of direction and various delays, despite various visits from Marshall Kim Jong-Un among others. When it comes to the delays on the project it is very easy to look at things as a failure, but it should be seen in the contexts of the time. Namely the crippling sanctions that the country has been put under and coronavirus. With the country and indeed the world not even able to travel, if ever there was a time to slow down and take stock it is now. Yet despite these problems work has again begun in earnest on the project.
The other positive we can take from the renewed approach and indeed optimism towards the North Korean beach resort is the fact that North Korean would not be placing so much importance on it, if they were not planning to re-open the country to tourism. So, whilst we still do not know when they might open, we can be confident they are looking to do it as soon as possible.
When will North Korea reopen? You can read our take on things here.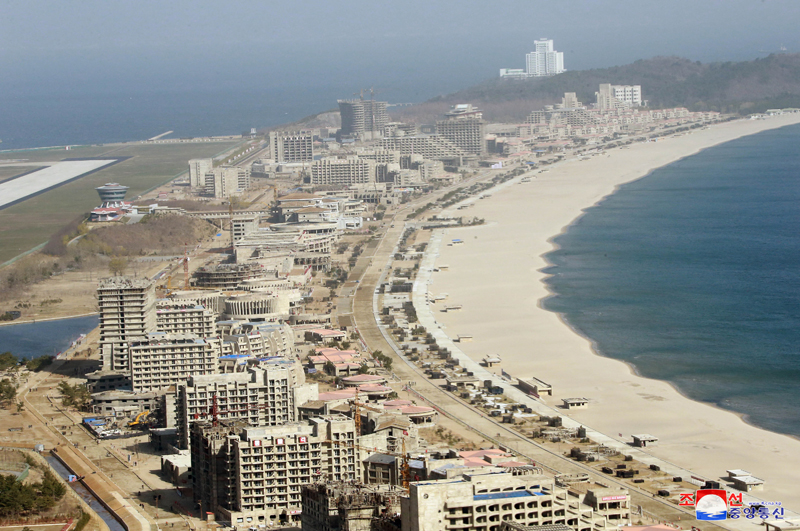 What is the North Korean Beach Resort and what will it include?
With the North Korean beach resort the plan is quite simply to create a world class tourist resort which will bring in people from all over the world. Wonsan-Kalma Coastal Tourism Area AKA the Wonsan Beach resort plans to accommodate up to 100,000 guests at a time. Not to mention shopping malls, a water park and a slew of other attractions aimed at bringing in tourists to the country, and of course giving them lots of ways to spend their money!
From what we can see from satellite imagery and officially announcements the project seems on the face of it at least to be pretty epic and certainly interesting, again at least to us in the North Korean tourist industry.
When will the North Korean beach resort be finished?
Of course no one knows, naysayers might compare it to the Ryugyong Hotel, but this is not the late 80's. North Korea have embarked on this project in the full knowledge of what there capabilities are now and in the future. And they are embarking on an epic project.
Yes it has been delayed, but to reiterate our previous point, if there was ever a time to delay something touristic in order to make sure that you get things right, then Covid-19 is the time to do it. And it is not just the North Korean beach resort where this happening. Siem Reap for example currently resembles a building site, as they revamp before the tourists return to the country.
To read about the Ryugyong Hotel click here.
It should though be kept in mind that with the support of the leadership of the country and a renewed impetus in getting it finished, there will be a Wonsan/North Korean Beach Resort.
Will people want to visit the Wonsan beach Resort?
People come in all shapes, sizes, colours and creeds, so obviously there is no one size fits all when it comes to answering who will visit the North Korean beach resort. From our point of view we have always seen the potential in North Korea as a beach resort destination. We even ran a trip that was based around this very concept. The Daily Mail were among a number a number of newspapers to pick up and run with this story.
Yet whilst we could only describe it as a moderate success, other companies have followed by offering surfing and even ultimate Frisbee tours! A North Korean beach resort could well facilitate these kinds of trips! Although again none of them exactly set the world alight.
To read about the ever classy Daily Mail's take on our beach holidays in North Korea click here.
We do though of course realize that for our customers at least they are not necessarily looking at North Korea as a substitute for Bali, or Koh Rong. That is not though to say that there is not a market for another beach resort on this big small world of ours. I mean can you really ever have enough places in the world to sit on the beach supping a well made cocktail? Soju of course now being the best selling liquor in the world…..
What will the "vibe" of the North Korean beach resort be then?
No one quite knows exactly what the vibe will be at the new beach resort, but from what we can gather from the information provided so far, it will not be like a "normal" North Korean holiday. And by normal we mean visiting revolutionary sites and the other things that usually draw people to visit the DPRK.
This will be a beach resort, aimed to people to come and have fun and relax by the beach. Again naysayers might have their issues with this in a communist country, but hey Cuba do it and they do it pretty damned well. Although one might expect certain differences in social etiquette when it comes to meeting members of the opposite sex. North Korea will undoubtedly be doing things their way.
To read about tours to Cuba click here.
And no, this will not be a "North Korean Ibiza", as suggested in clickbait by the Daily Telegraph, nor will it be North Korean Club 18-30, or Club Med. North Korea wil undoubtedly do things in their own extremely unique way. Plenty of resorts survive and thrive without being dens of scum and villainy and there is no reason why this should be any different at the North Korean beach resort.
What countries will people visit from?
Again no one knows for sure, but there is probably a lot bigger market for tourists than people give credit for, specifically Russian, Chinese, and South Korean visitors. Russia, it should be remembered distinctly lacks beaches, particularly for those in the east of the country. Cities such as Weihai in China, and Nha Trang in Vietnam are extremely popular with Russian guests, due to ease of visa and beaches. If North Korea offer attractive packages, then Russians could undoubtedly be persuaded to give it a go.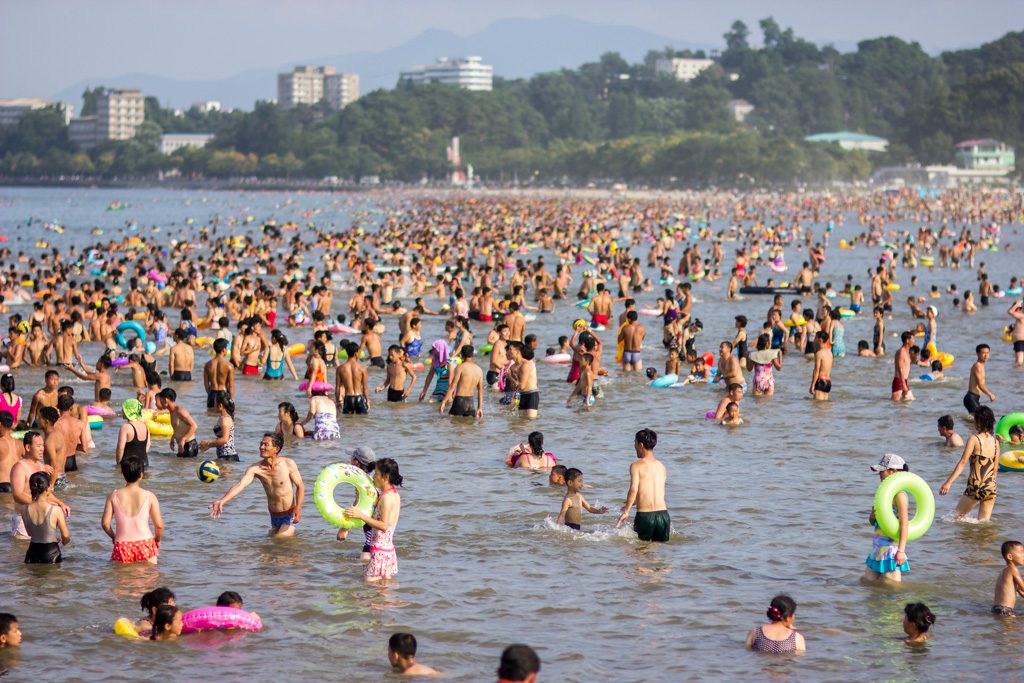 China is another case in point for this. China is by far the biggest market for tourism in North Korea. This is for a number of reasons, such as China seeing it as the "near abroad", but also ease of visa for Chinese nationals. In fact it is even possible for Chinese to visit North Korea without a passport in certain circumstances For many Chinese North Korea is the first and indeed only foreign country they have visited.
It is likely companies such as CITS will arrange well priced package tours to the resort tailored to the Chinese market. This already exists in "mainland" North Korea, Rason, Sinuiju and even Manpo. And with the North Korean beach resort apparently having the capacity for 100,000 visitors tailoring to different markets would not theoretically be that hard.
To read about visiting Manpo click here.
The South Korean question is obviously a lot more thorny and involves a lot more politics, particularly since the demolition of the Joint-Liason office. But, with the international airport, and an already (technically) functioning land border it is not beyond the realms of reality that South Korean guests could at some point visit the North Korean beach resort, and indeed the whole zone. Mt Kumgang in particular having a very special place in the hearts of all Koreans.
Whether South Korea would be prepared to let citizens visit the North Korean Beach Resort whilst other matters related to tourism and indeed compensation remain is another question.
To read about the Sacred Korean Mountains click here.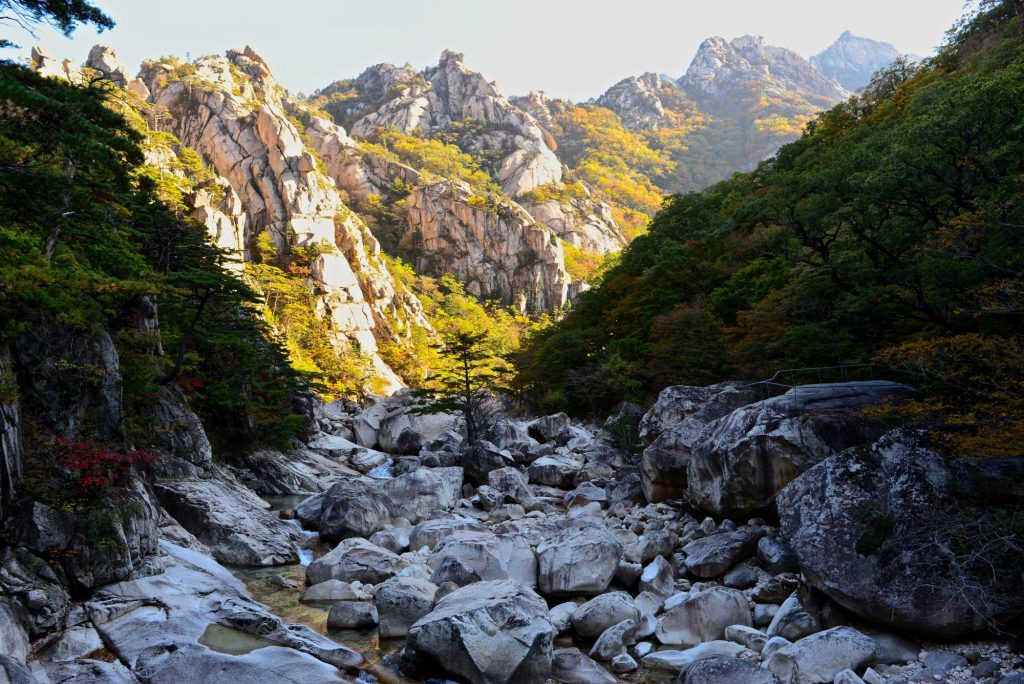 There are of course many questions to be answered when it comes to the North Korean beach resort, most of which we will ignore in the interests of this article. The main one though, and the one we and other agents are waiting to see is what the prices will be like. Only then will we know just how attractive a possibility it is for tourism to the DPRK.
Will I be able to travel to the North Korean beach resort with YPT?
In short, yes, you certainly would be able to. Overall we have always embraced and even pioneered innovations when it comes to the tourist industry in North Korea. Do we plan to go all Club 18-30? No we do not, despite our name, and indeed at times false reputation we would not rebrand, re-orientate and concentrate on beach parties in North Korea. Our primary aim is and will always be to offer insight, understanding and social exchanges with the country, something we feel that we do to a level the companies simply cannot compare with.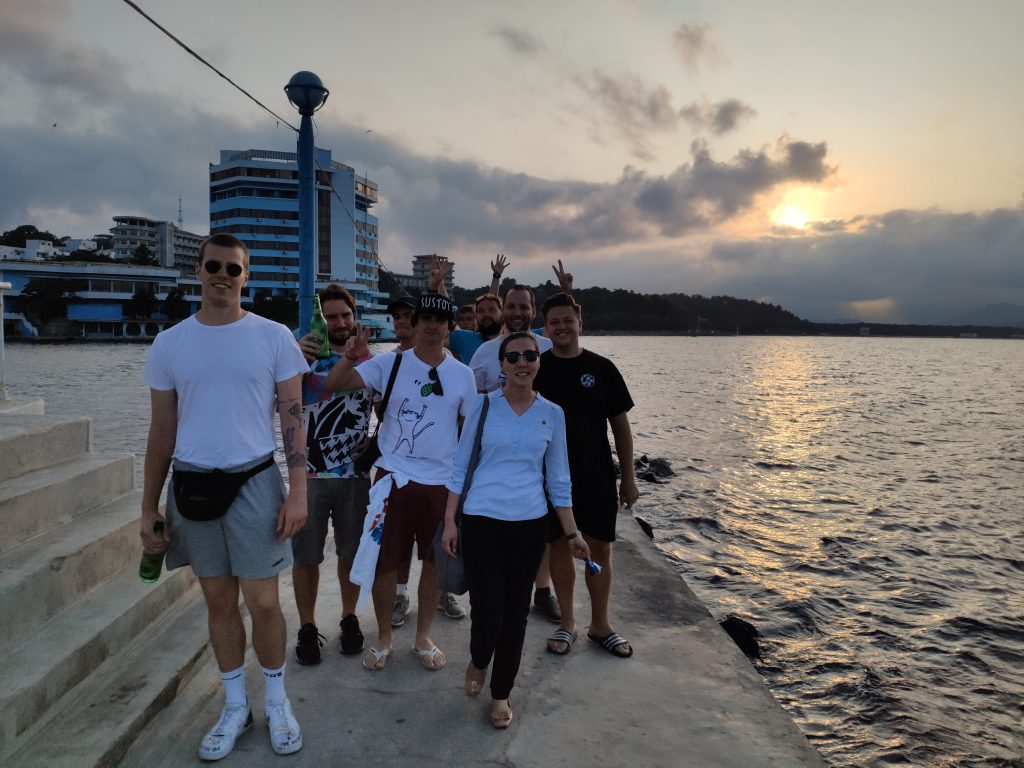 Will we go to the Wonsan-Kalma Coastal Tourism Area AKA the Wonsan North Korean Beach resort? Hell yes, and while we might not have trips there week in week out, we certainly see the potential and sincerely hope that it is a success, both from our own personal gain, buy more importantly for the benefit of the people of the DPRK. If the plan works and it does bring the masses into the country, then it will provide much needed employment and income to the North Korean people, to a sector that technicaly at least is not at all sanctioned.
Of course as things stand we still do not know exactly when the country might open, but we are in almost daily contact about what possibilities there are and our plans for suture tours, such as the beach resort.
Check out our North Korean Tour schedule if you'd like to see the country with the leading agency in the country.
About Post Author
.