The Chongnyon Youth Hotel was first opened in 1989 and is classed as a budget hotel with a North Korean three-star rating. The name Chongnyon translates to Youth which was named for the first purpose of the hotel providing accommodation for the student visitors who attended the largest international event Pyongyang has ever held, the 13th World Festival of Youth and Students.
The hotel was opened alongside the Sosan Hotel, Pyongyang Sports Village, and the world's largest stadium – May Day Stadium.
The Chongnyon Youth Hotel stands 30 floors tall with 465 rooms. During 2017 the hotel had two of its higher floors totally renovated with new hotel rooms, bathrooms, and hallway. Our YPT groups are arranged to stay at these nicer rooms of the hotel.
LOCATION
The Chongnyon Youth Hotel is situated between Kwangbok Department Store and the Mangyongdae School Children's Palace on Liberation Street southwest of Pyongyang. It takes 12 minutes to drive to Pyongyang Railway Station, 45 minutes to Pyongyang Airport and 10 minutes to Kim Il Sung Square which is located centrally in Pyongyang.
HOTEL FACILITIES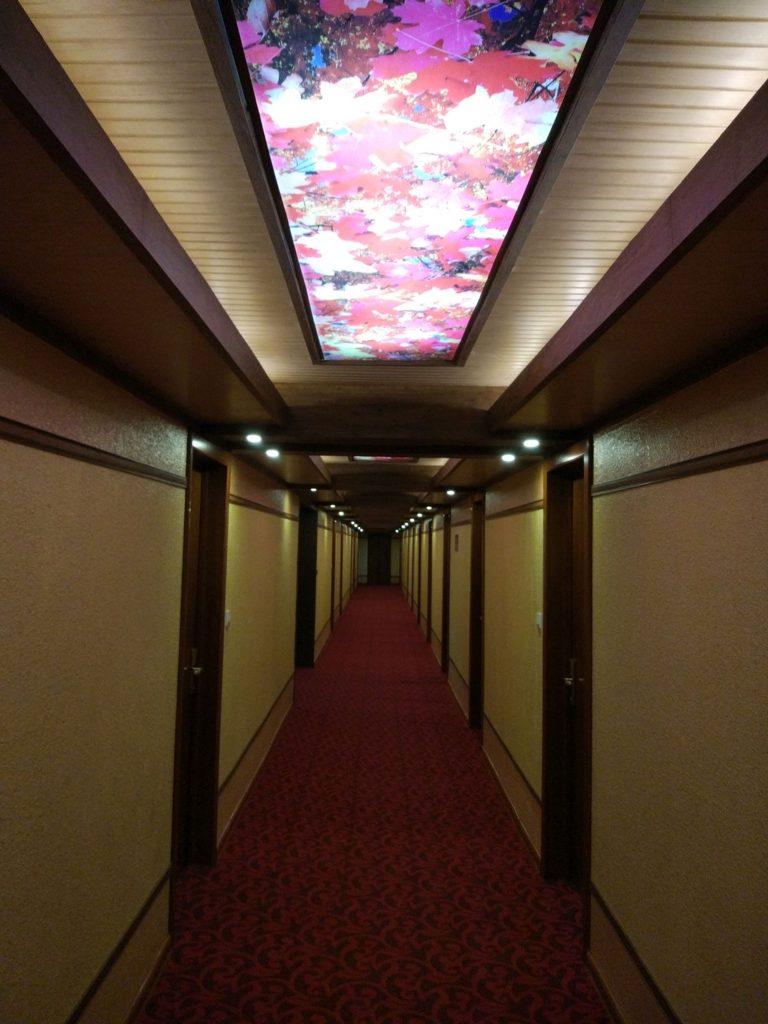 Outside
Outdoor Swimming Pool – What makes the Youth Hotel most famous is having the only outdoor swimming pool available at a hotel in North Korea. It's an additional 30RMB ($5USD) to use the pool and is available from 6:30am to midnight.
Samtaesong Hamburger Restaurant – a Singaporean owned burger franchise, this particular burger restaurant doesn't serve the best burgers in the world but it is the only decent burger we can recommend to eat in Pyongyang.
Ground Floor (lobby)
Hotel Café – located across the reception desk is a café that can seat up to 20 guests. An expresso machine is available with decent coffee sold at 20RMB ($3) alongside beer and snacks. There's a TV with a DVD player available so if you purchase any North Korean DVDs during your tour, feel free to ask the staff to play the DVD and is a unique way to unwind and relax after a long day of touring.
Airplane Bar – one of the most bizarre bars in Pyongyang. The Airplane Bar is not the official name but has been given this unofficial title amongst the local tour guides as it has been designed to appear as if you are dining inside an airplane cabin with windows lighting up around the edges of the room with clouds visible on the outside. North Korean Soju, local beers and imported whiskey are available on the menu.
Barber shop & Hair dresser – tourists can get their hair styled, cut or shave for 30RMB. You can opt for a North Korean hairstyle or not.
Indoor Swimming Pool & Sauna – apart of the 2017 renovations project, a new fancy indoor swimming pool with massage jets and a separate sauna room were installed.
Massage – located next to the sauna is a massage room where Korean, Chinese and Thai massages are available starting from 100RMB.
Ping Pong – two ping pong tables available to use
Local shop – this particular shop is more intended for local North Koreans with everyday items such as locally made shoes, handbags, personal care items, and medicine available for sale.
Mt. Myohyang Restaurant – located past the elevators, this restaurant serves one of YPT's favourite Pyongyang Cold Noodles dish as well as other Korean dishes.
Mezzanine floor
Gift Shop – this shop is more aimed towards tourists with items such as North Korean books, magazines, newspapers, posters, flags, pins, bottles, and DVDs for sale.
Billiards – three billiard tables alongside a bar located in the west wing of the hotel
Karaoke (KTV) – a very impressive karaoke machine with recent English and Chinese songs. Four rooms are available and costs can range from 20RMB per person per hour to 35RMB depending on the room size.
Banquet Hall – breakfast is arranged here. Korean, Chinese and Western breakfasts are available.
CHONGNYON HOTEL ROOMS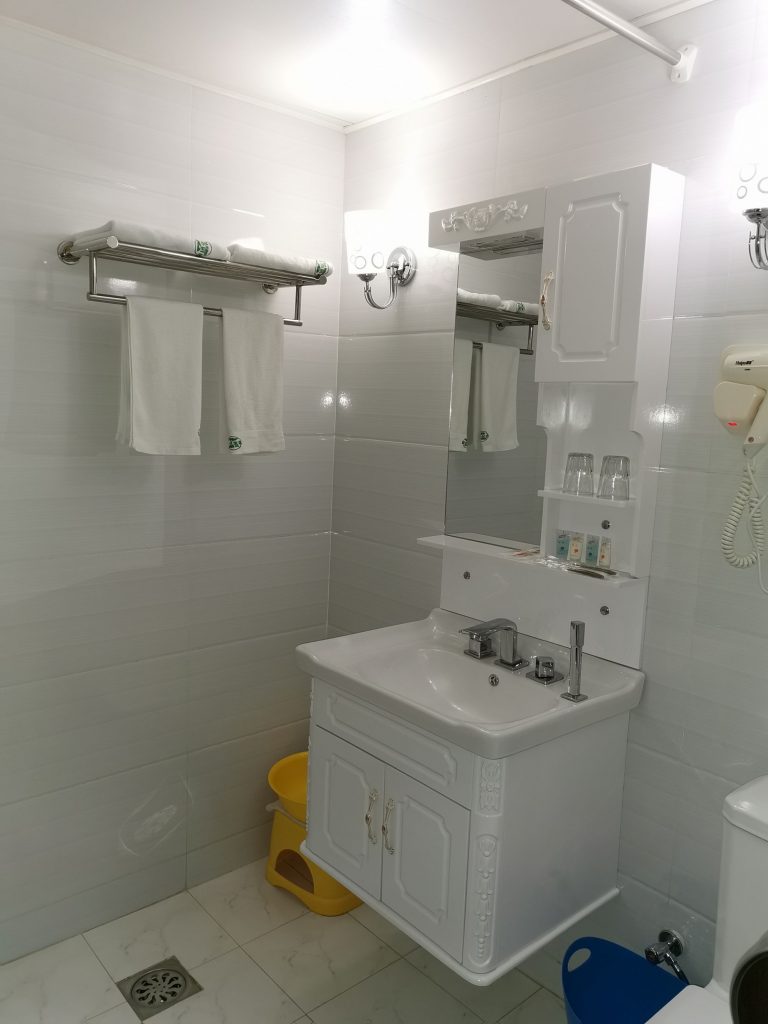 The hotel rooms are clean and well maintained. The newly renovated hotel rooms have a separate stand up shower installed in each bathroom whilst the original hotel rooms have a combined bathtub with shower.
Each hotel room is fully furnished with air-condition, with slippers, complimentary toiletries, towels, and flat-screen TV with international channels. Suites are also available on request at this hotel.
TIPS FOR STAYING AT THE CHONGNYON HOTEL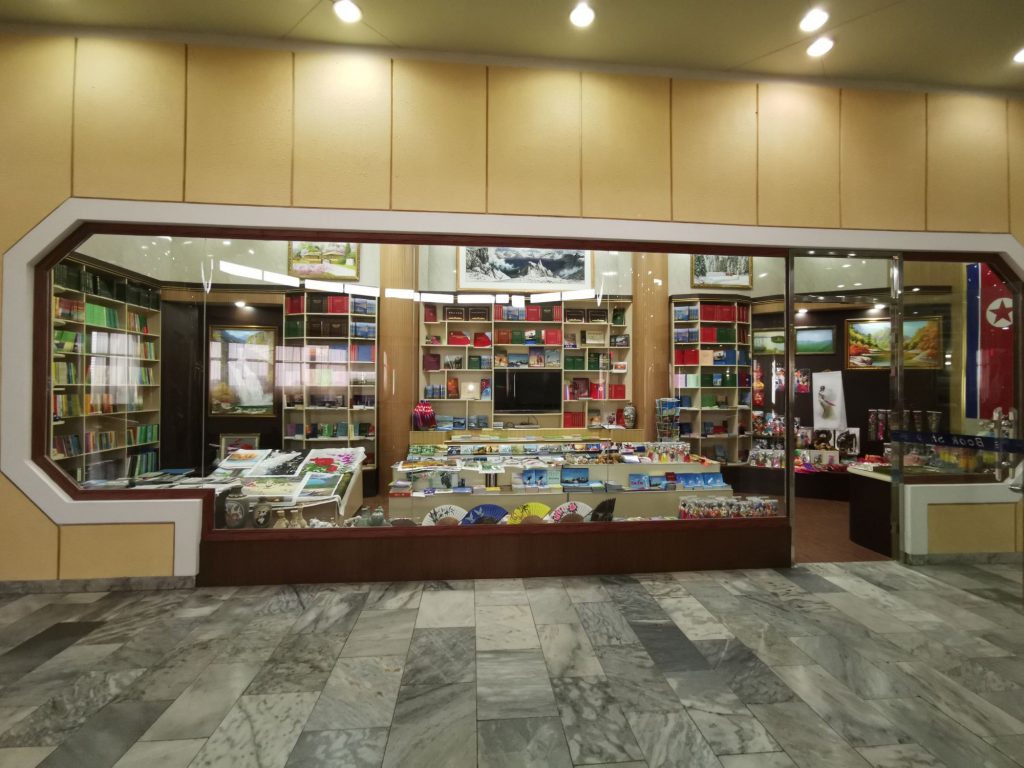 Wake up early for a swim – one of our most recommended ways to start the day by taking a dip in the pool. "Clears the head and rids the body of travel fatigue" as the North Korean say.
Eat a burger next door! – the burgers aren't great but at least you can cross off eating a burger in North Korea
One of the best views in town – no matter which room you get you'll have grand views of one of Pyongyang's largest residential streets.
Tipping bar girls with chocolate – the girls at the airplane bar are very helpful, so if you feel satisfied with your service feel free to tip with chocolate as you go along and they can reserve the airplane room for you the next evening
Best during summer – whilst the hotel rooms are cool during summer and warm in winter, the main lobby of the hotel can get rather chilly during winter so best to stay at the Sosan Hotel or Yanggakdo Hotel.
HOW CAN I STAY AT THE CHONGNYON HOTEL?
We have a few scheduled group tours that includes staying at the Youth Hotel throughout the year. However, we can also arrange your accommodation at the Youth on your very own independent North Korean tour
About Post Author
.