The Sosan Hotel was first opened in 1989 as part of a major construction project that included Liberation Street, Kwangbok Department Store and the Pyongyang Sports Village which all were used for largest international event Pyongyang has ever held, the 13th World Festival of Youth and Students.
The hotel was closed in 2013 to undergo major interior and exterior renovations to the building and its grounds. It was reopened in 2015 to commemorate the 70th Anniversary of the founding of the Worker's Party of Korea.
The hotel stands 30 floors tall, has 497 hotel rooms and is owned and operated by Golden Cup, the sports tourism administration of the DPRK. The Sosan Hotel is classed as a deluxe three-and-a-half-star hotel and is considerably cheaper than other deluxe hotels and doesn't lack in comfort or entertainment.
Location
The name Sosan translates to West Mountain which coincidentally is the exact mountain the hotel sits snuggly on top of. It is located south of Pyongyang in Mangyongdae District within the Sports Village. It takes 10 minutes to drive to Pyongyang Railway Station, 55 minutes to Pyongyang Airport and 12 minutes to Kim Il Sung Square which is located centrally in Pyongyang.
Across from the Sosan hotel you can view from your hotel rooms the Pyongyang Sports Village football stadium, tennis stadium, basketball stadium, the Taedong River, Reunification Street, and downtown of Pyongyang city.
Facilities
Outside
The Sosan Hotel is most famous for its park located in the front of the hotel where BBQ meals and drinks can be enjoyed under the stars.
Ground Floor (lobby)
Located next to the reception desk is the sports shop where North Korean football and athletic jerseys and tracksuits can be purchased. There's a café which serves the best coffee available in any Pyongyang hotel and a billiards room.
Mezzanine floor
This floor overlooks the ground floor and hosts an incredible bar with friendly staff who are able to serve local and imported drinks and snacks. There's a piano for live performances and billiard tables.
The breakfast hall is located on this floor which is where freshly cooked eggs, toast, fried vegetables and coffee are available and included in your tour.
Third floor
Karaoke (KTV) – the best karaoke machine available in all of North Korea with the latest hits and singles of English and Chinese songs. German, Russian, Spanish, Japanese songs are also available. The rooms are separated so renting a small to large room is possible. Costs can be around 50RMB per person for the evening. The Karaoke is accompanied by a bar.
Barber & Hair dressers – a quick and easy way to get your haircut in North Korea. The staff are very friendly and can cut and style to your liking.
Massage – full body and feet massages are available from 100RMB
Swimming Pool – 15 meters in length the pool comes with deckchairs and a bar
Gym – treadmills, dumbbells and bikes are available for use
Photo Studio – a photo studio with a greenscreen to edit your photo in front of various North Korean locations, a quirky gift to bring back home
The Sosan Hotel's karaoke list is one of the most recent and modern lists out of most Pyongyang hotel's including everything from the Spice Girls to Rage Against the Machine.
The rooms
The rooms are clean, well maintained and are the most modern rooms available in Pyongyang. Each room you will find central air, complimentary toiletries, flat screen TV with international channels, kettle, slippers, and a phone for international phone calls.
Our tours at the Sosan include the standard twin room and with our connections we're able to secure the higher floors for better views. If you'd like to upgrade to the suite or the deluxe suite please let us know during your booking.
Tips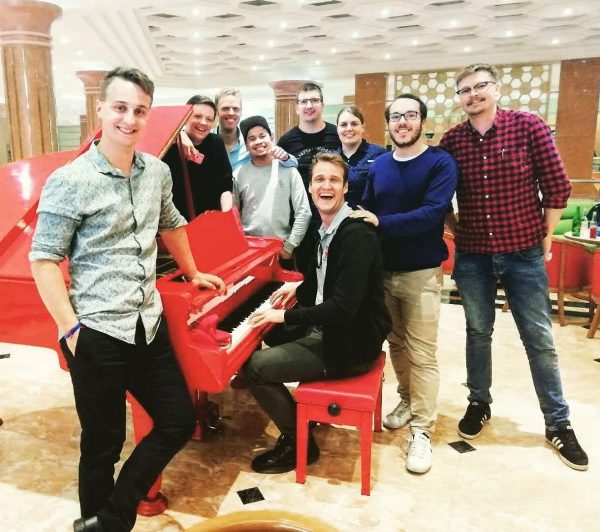 Meeting international athletes – when athletes are invited to compete in matches or tournaments in Pyongyang, they are usually arranged to stay at the Sosan Hotel. YPT groups have previously met world famous ping pong players, football teams, weight lifters and basketball players.
Postcards – postcards can be sent directly from this hotel to international destinations. This can be done from the front desk.
Piano performances – the staff who work at the bar on the mezzanine floor are very talented with the piano, a very classy way to spend the evening over a glass of wine
Golf driving range – located next to the hotel is a golf driving range. Let your guides know you want to have a go and they can assist you with the local staff. It's 100RMB for 50 balls.
Chinese Yuan – whilst Euro is accepted in some places in Pyongyang, the Sosan lean more towards Chinese Yuan (RMB). However, they always have correct change so you won't need to worry about change issues that are often occurred at other hotels in Pyongyang.
Outdoor exercise – the hotel grounds are large and perfect for a morning or evening exercise. Incredibly useful if you're attending the Pyongyang Marathon
Which Pyongyang hotel is better? Yanggakdo Hotel or Sosan?
The Yanggakdo Hotel and the Sosan Hotel are the two most popular hotels in Pyongyang. Both hotels have their own unique benefits, however, we here at YPT prefer the Sosan over the Yanggakdo simply because there's no better bargain in Pyongyang and the savings are passed onto you.
The Sosan Hotel's modern facilities and location are excellent. The hotel rarely loses electricity so rooms are kept warm in winter and cool in summer. The hot water is reliable. You receive these benefits at a fraction of the cost compared to other hotels located within Pyongyang.
How can I stay at the Sosan Hotel?
The majority of our scheduled group tours includes staying at the Sosan Hotel. However, we can also arrange your accommodation at other hotels on your very own independent North Korean tour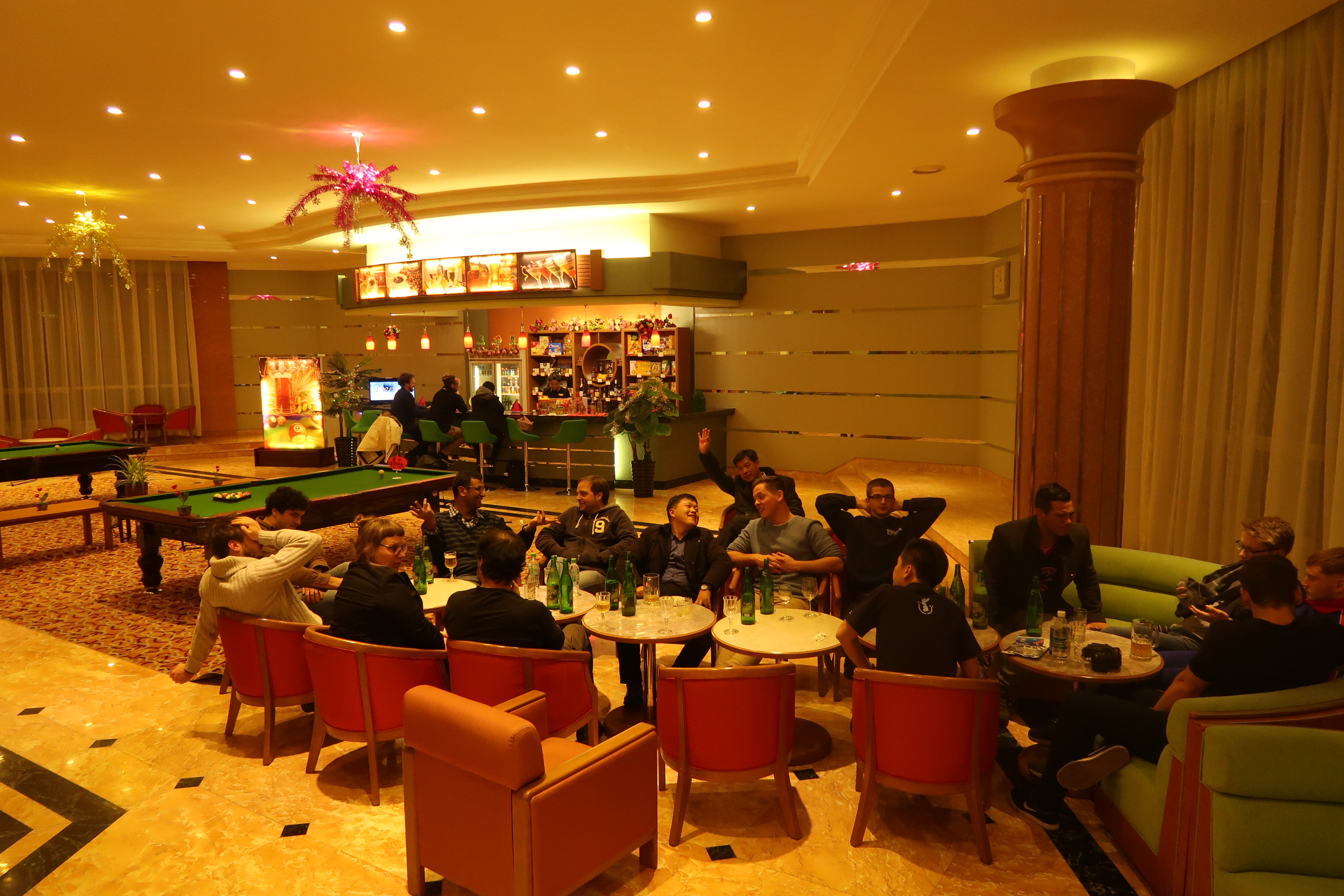 Check out the official video tour of the Sosan hotel below starring our YPT Group
About Post Author
.