With North Korea set to imminently reopen, we take the chance to fantasize about one of the best elements of the country, North Korean food and cuisine.
Korean food might be world-famous, but can the same be said for North Korean foods in particular? Do they differ at all from their Southern counterparts? After all, you've most likely already tried Bibimbap or Korean BBQ, made rightfully famous by the South.
More than likely though you have not tried the foods that North Korea is mots famous for, so we present our top ten North Korean foods you cannot miss.
Is North and South Korean Cuisine different?
It comes from the same family, so is therefore very similar. You could easily do an article on Korean cuisine as a whole. This would include Korean food from China and the larger diaspora too but after so long apart they are different. Many state that North Korean food tends to be fresher and more "real". South Korea has obviously also had its culinary scene influenced by America somewhat. As the Thai's might say same same, but different.
Without further ado, we present the ten best North Korean foods!
1. The most famous of North Korean foods: Naengmyeon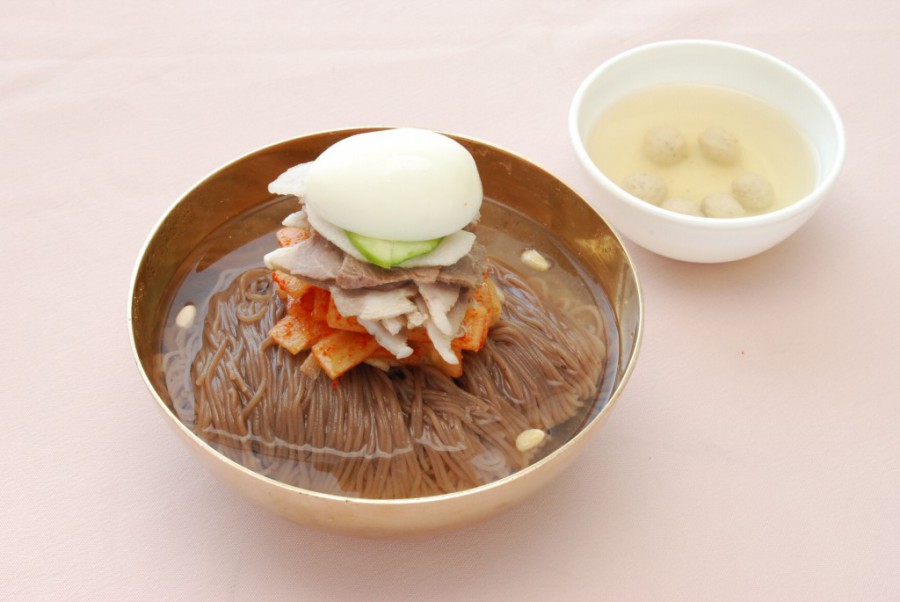 Known as Naengmyeon in the South or Laengmyeon in the North, or simply as "Pyongyang Cold Noodles", is a must-try dish made all throughout Korea but most famously (and in this writer's humble opinion) best made in Pyongyang. Don't forget to add the essential ingredients of vinegar, and hot mustard to make the mild broth more exciting for your taste buds. The more hot-mustard-induced nostril burnage the better.
2. Best North Korean Food – Clam BBQ in Nampho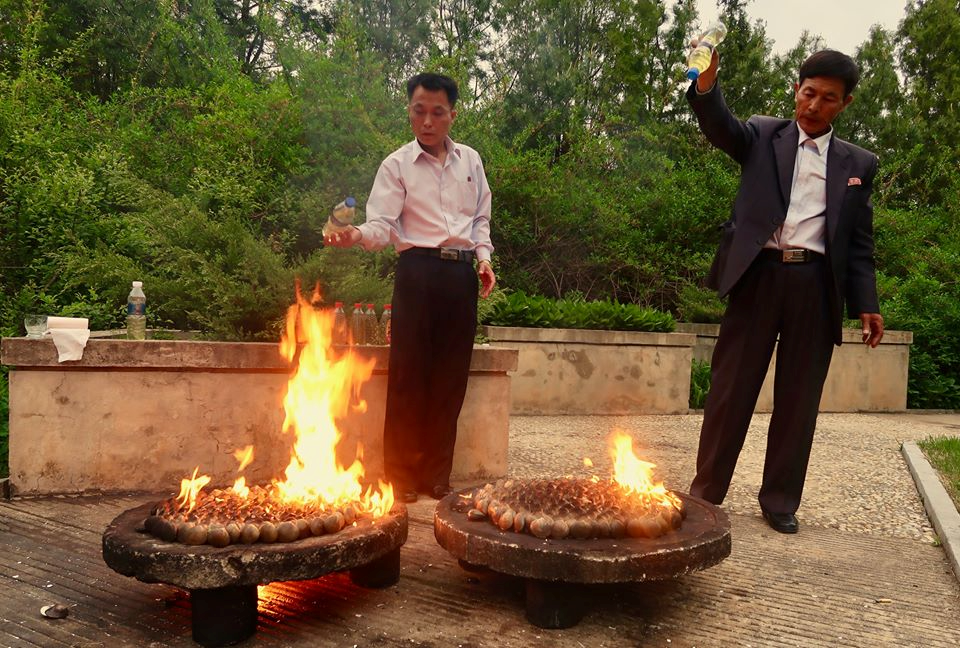 Heading to North Korea for the summer? No trip to the west coast town of Nampo is complete without trying the local specialty of Petrol BBQ clams. The secret ingredient? Spoiler alert – petrol. Watch in awe as your friendly Korean bus driver siphons mouthfuls of gasoline from the bus and into a bottle which is subsequently and expertly sprayed onto a giant concrete slab, adorned with freshly harvested and locally-farmed clams. Boom! BBQ Clams a la Nampo. An absolute classic.
Make sure to sip Soju to wash away any bad bacteria – yes we are very serious about this point!
3. Korean BBQ: a classic North Korean variation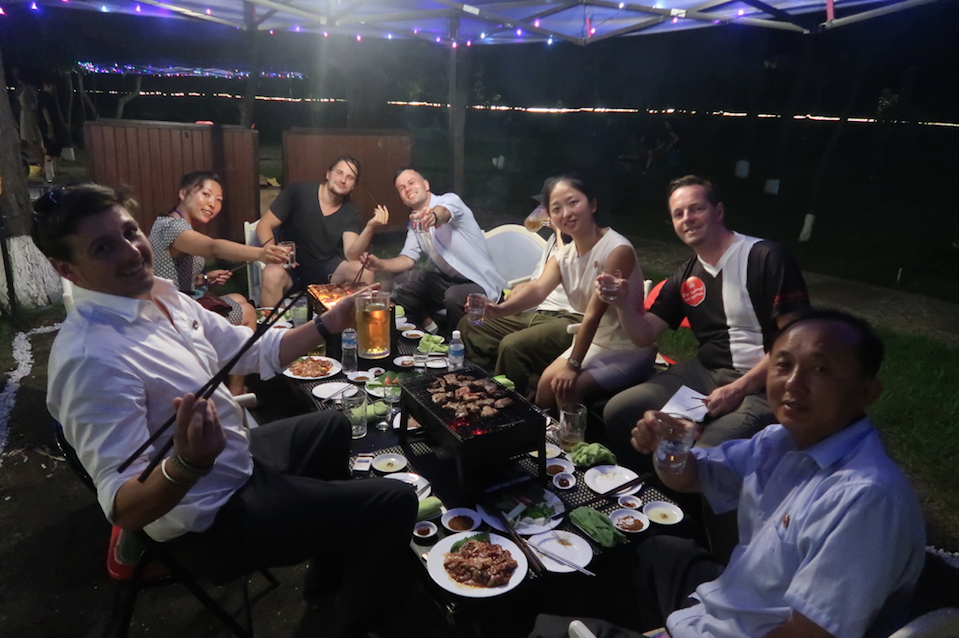 Don't have a penchant for clams with an aftertaste of gasoline? Never fear! Korean BBQ over a smoky charcoal grill is still very much available. Most commonly found are BBQ joints serving up lamb, duck and seafood. DIY cooking, washed down with a few Taedonggang #2's makes for a uniquely DPRK-style BBQ.
Probably YPT's favourite North Korean food.
4. Pansangi in Kaesong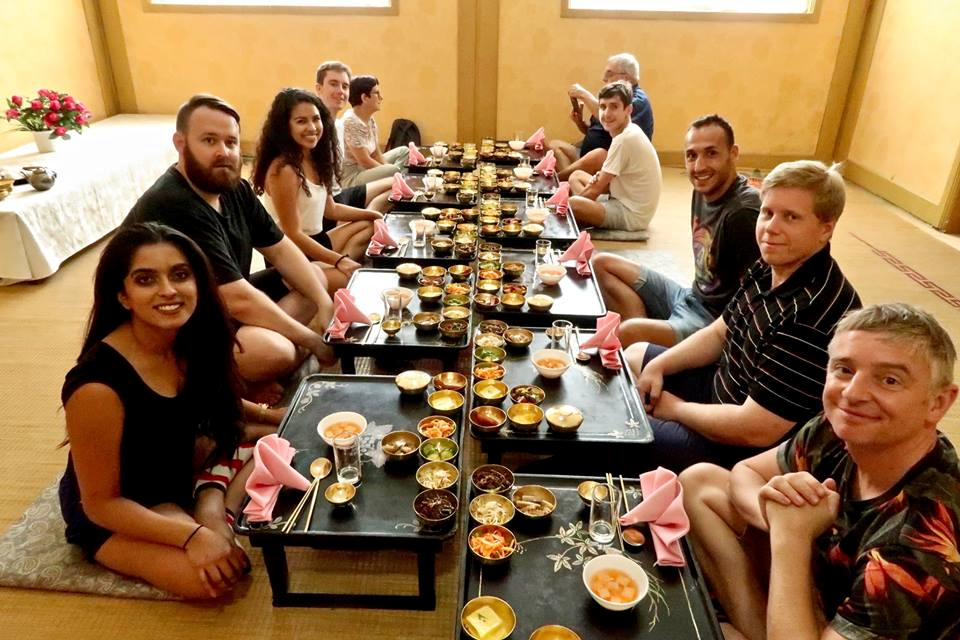 When visiting Kaesong, the city just a hop, skip and jump away from the DMZ, be sure to try a traditional Pansangi lunch. Traditionally served to royalty during the Koryo Dynasty, Pansangi is a series of bronze bowls filled with various marinated meats, tofu, a variety of vegetables, kimchi and a curious acorn jelly.
5. Sweet Meat Soup – Dog Soup – the most infamous of North Korean dishes?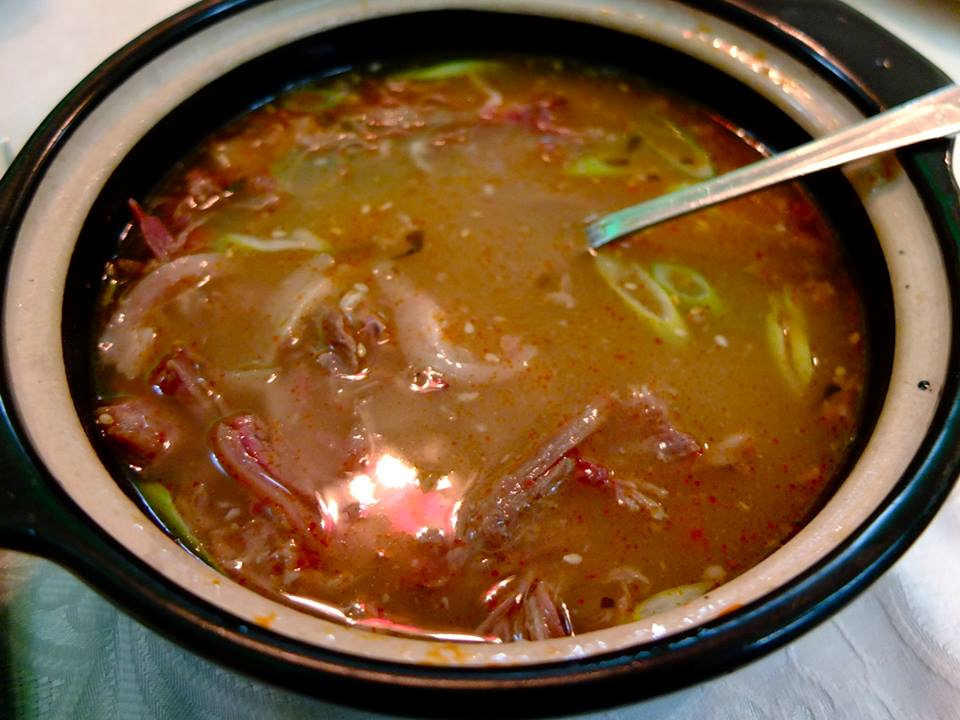 For the more extreme food explorers among us, if your Pansangi lunch hasn't quite filled you up in Kaesong, order the optional extra of 'dog meat soup', more subtly referred to as 'sweet meat soup'. The Koreans say dog meat soup is best eaten on a hot day to clear out your toxins. However, this is a dying trend as most younger Koreans are very much against it. The most commonly asked question is what does it taste like? I believe the meat tastes very much like lamb.
6. The Best North Korean seafood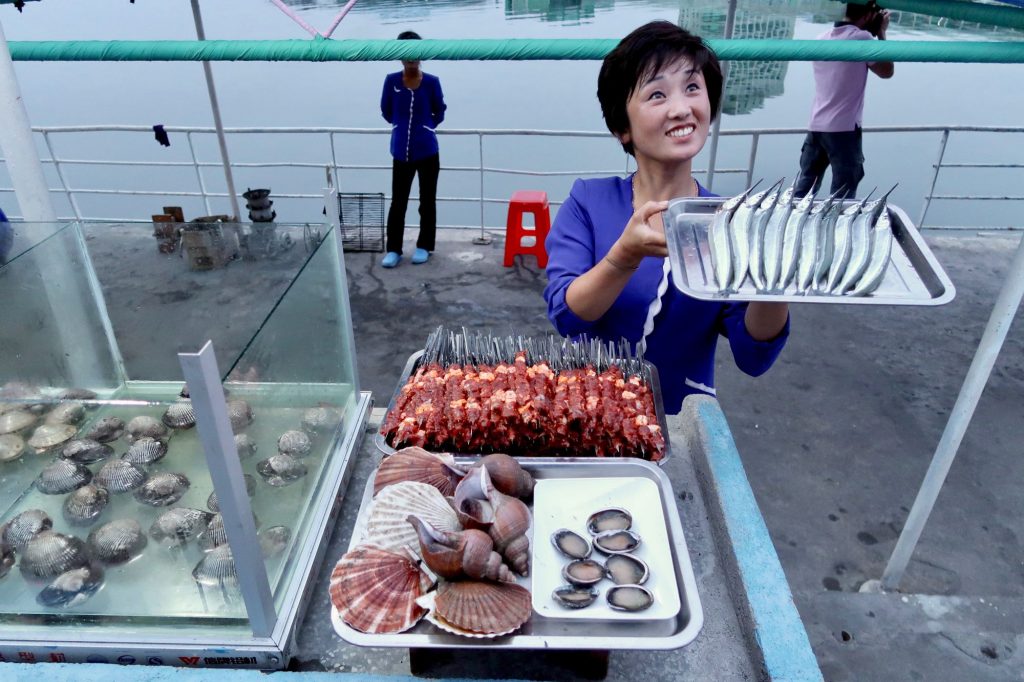 Whether you're eating fresh sashimi on the pier in Wonsan or an array of fish and shellfish in Rason, North Korea's coastal towns offer up some fantastic seafood options. Be sure to try the uniquely-flavoured delicacy sea urchin – best described as 'being dunked under a wave in a salted caramel ocean. Quite possibly the world's cheapest sea urchin too!
7. Bibimbap in North Korea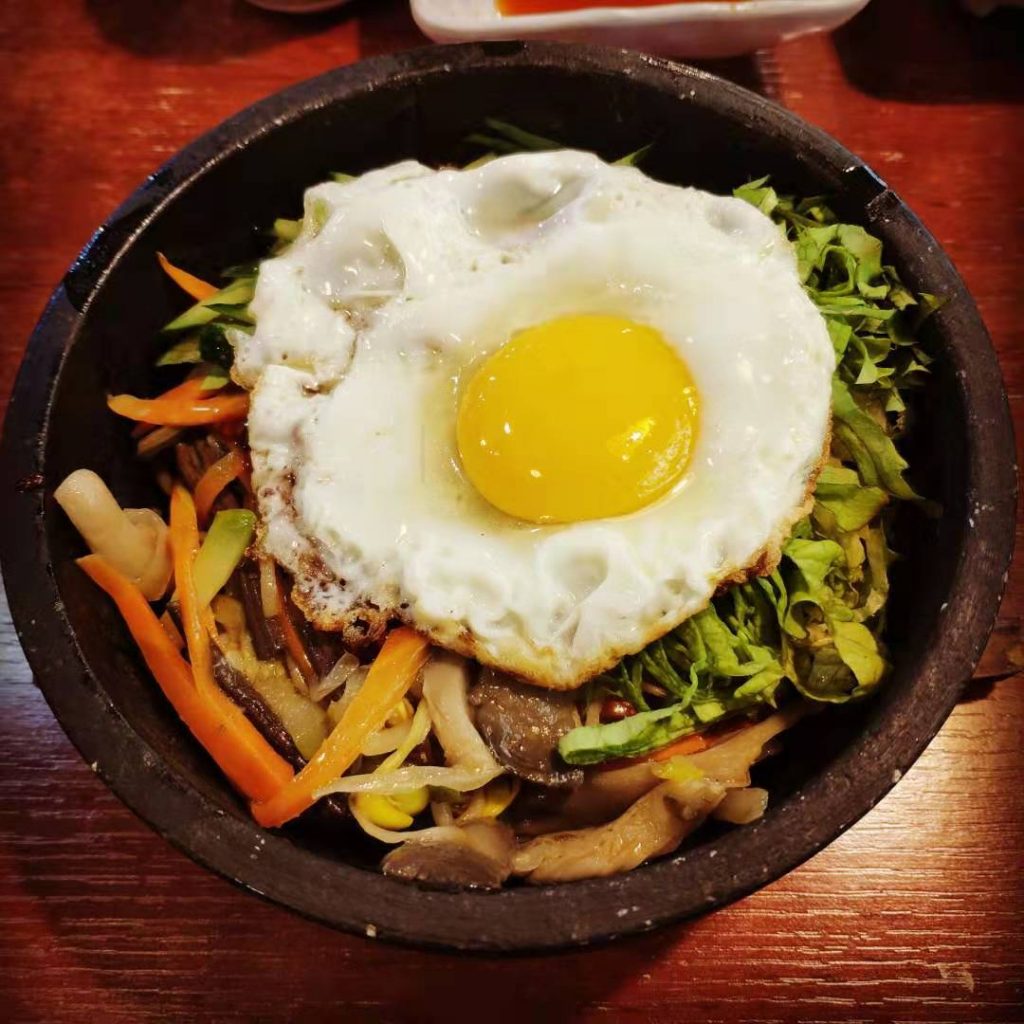 Another essential Korean dish for the uninitiated is the humble bibimbap, literally translated as "mixed rice." Pork, kimchi, tofu, vegetables and gochujang (a chili sauce) are combined in rice and cooked at your table in a hot stone vessel. Make sure you scrape those deliciously crunchy bits of rice off the sides and don't be scared to add more gochujang.
8. Hotpot in the DPRK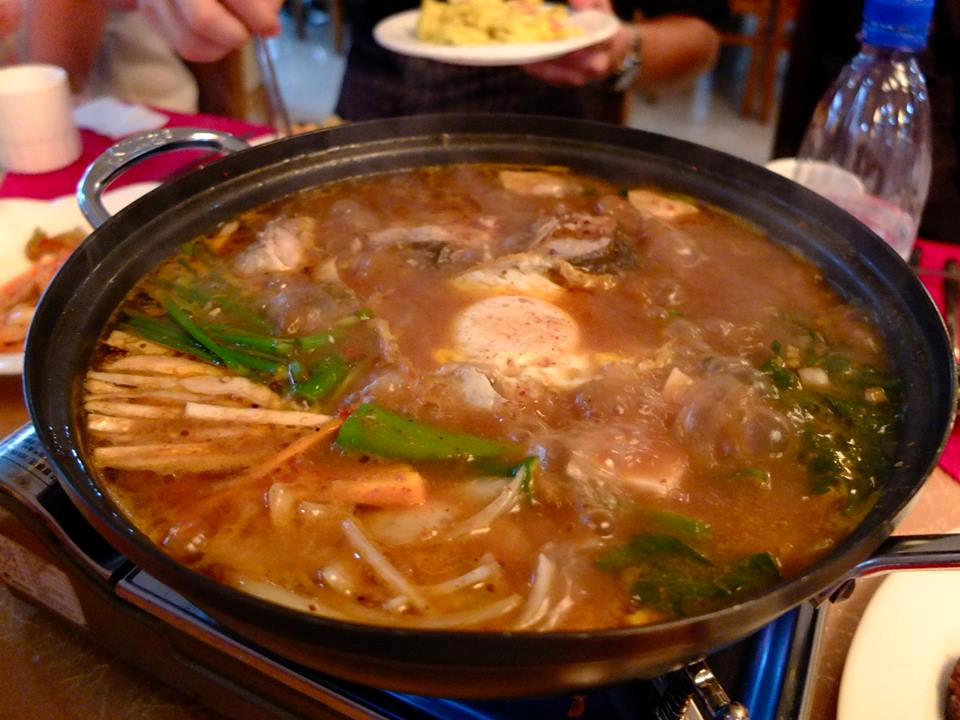 Perfect for those cold winter nights in Pyongyang, let your hot-pot broth marinate in the flavours of pork, tofu and an assortment of vegetables. When eating at the famous 'Hot Pot Restaurant' in Pyongyang, you can add salt, pepper, chili and piles of straight-up powdered MSG (looks like salt but more crystal-y) to your own tastes.
9. North Korean Kimchi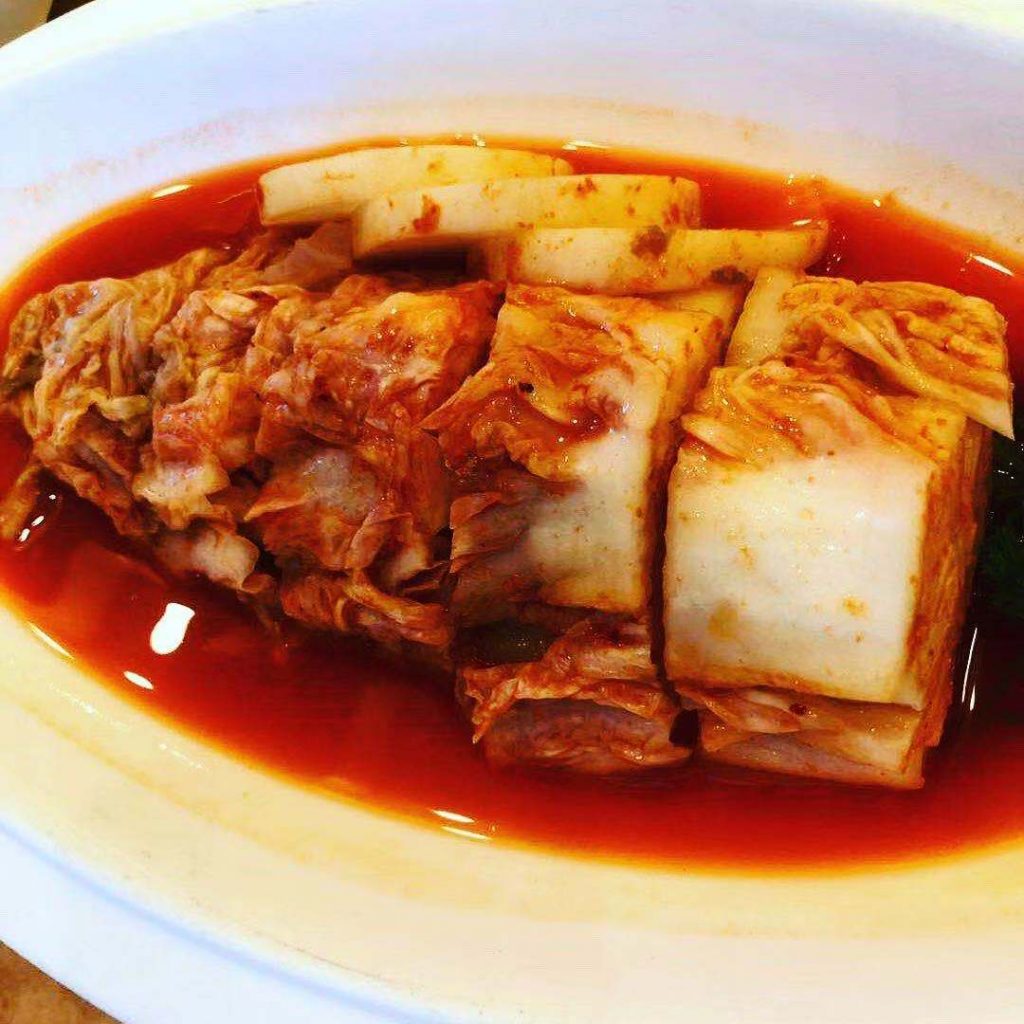 Don't think we forgot about Korea's national dish, kimchi! It's served with literally every meal you'll eat in North Korea. If you haven't yet got a taste for this bonafide superfood of pickled and fermented cabbage, you almost certainly will after your trip to the DPRK with us. With every kimchi served to be unique based on the tastes of its 'kimchi master,' be sure to take part in the kimchi lesson on our All Koreas Tour to create your own perfectly spiced version of this national dish.
To read about the best North Korean restaurant in Phnom Penh click here.
10. The infamous Air Koryo Burger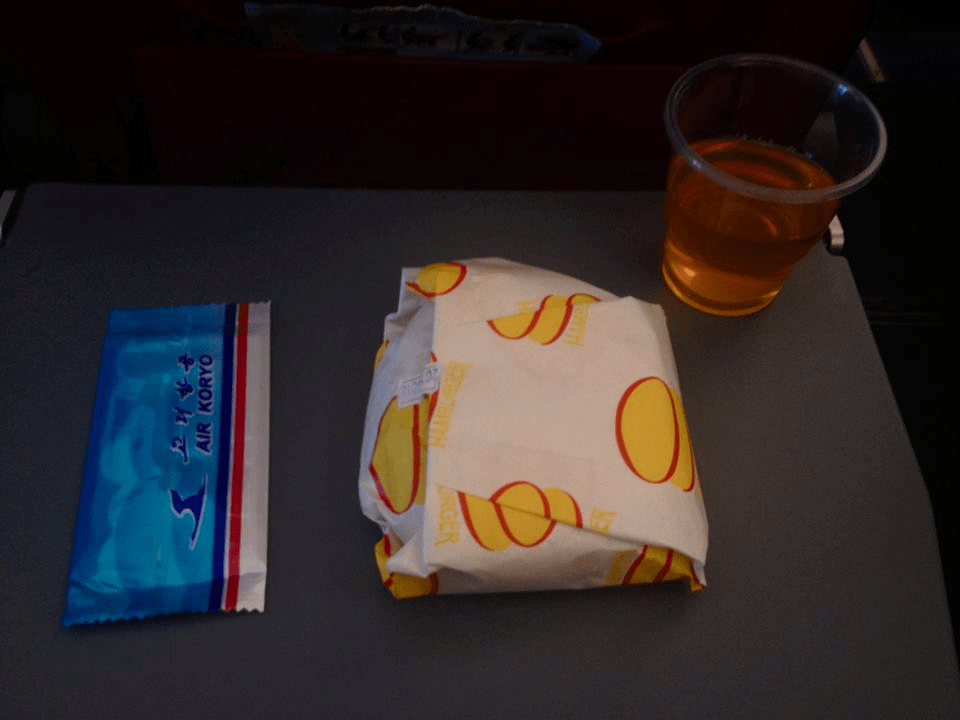 Can you talk about North Korean without mentioning the Air Koryo burger? The only way to give this whopper a go is to board an Air Koryo flight. The burger got its name by the questionable pork patty used between the sweet sugar buns and mayonnaise. However, over the years the quality of the burger has improved and is actually not so bad these days. Although the name will forever remain, even the cabin crew have caught onto it.
North Korean Food in 2023
North Korea gave slowly started to reopen their doors to tourism, but like anything things take time. Currently foreigners and returnees to the country need to quarantine for 48 hours, not ideal, but a step in the right direction.
What does this mean for North Korean cuisine and those of us that love it? Not much just yet, but probably that dining in North Korea will likely be a little different when do finally resume tourism. For now though, we wait.
But I want North Korean Food now!
Should you be in China, North Korean food can still be gotten in Dandong. and Yanji, outside of that not so much so. We do though know a great place to get North Korean food in Phnom Penh you can read about here.
If any of the above has your tastebuds tingling, join us on any of our tours to North Korea
About Post Author
.