The island of Socotra, looking like none other in this world, actually looks like it is not from this planet. It is a mysterious and hard to reach place, pride of most heavy travellers who managed to get there. As it is so strange and distant, no wonder that most people have a lot of questions about the country. Here are our answers to some of those!
Where is Socotra?
It is actually an archipelago of four islands, with the biggest one sharing the name of the whole archipelago. It is located 240 km off the coast of Somalia and 380 kilometres south of Yemen. This means that it is actually part of Africa and not of Asia.
Who owns Socotra?
That one is a tricky question. Socotra is owned by Yemen. Mainland Yemen being located in Asia and Socotra in Africa, the island makes Yemen a transcontinental country. With Egypt, they are the only two transcontinental countries of the Arabian peninsula and between Africa and Asia.
Socotra is a governorate and has been part of Yemen since the reunification of the country in 1990. However, during the Yemen civil war in 2017 and 2018, troops from the UAE have landed on the island and are administering its defense and security. At first, they took control of the airport and seaport but have recently given back the control of those back to the Yemeni government. Currently, they have an agreement with Yemen to train the military.
What language do they speak?
An incredible place when it comes to culture. Due to its isolation, Socotra has kept languages which have been extinguished throughout the rest of the world. It has its own language, Soqotri, which is a south semitic language. Due to its isolation, not much is known of the soqotri language as it has not been studied much outside of the island.
Now that the the presence of the arabian peninsula is felt more and more on the island, the language is threatened by Arabic. Arabic is now taught in school and people are slowly but surely giving up the old language. Still, the arabic spoken varies greatly from the Arabic spoken in Riyadh. Even though it is a small island, it does contains many dialects of both Soqotri and Arabic.
What currency is used in Socotra?
While it is quite different from the rest of Yemen and is administrated differently, it is still part of Yemen and, as such, uses the Yemeni Rial as its currency. There are no ATMs on Socotra so travellers should bring hard currency with them, preferably Euros or Dollars, to change for some rials. If you come on one of our tours, however, you won't need much, as our tours to Socotra include all meals, drinks and accommodation.
Is Socotra safe to visit?
While it is not Switzerland, Socotra is not like the mainland of Yemen either! While the mainland of Yemen struggles with extremists, famines and bombings in a civil war between the houthis and the Saudi coalition, trouble here is very unlikely as it is already a stronghold of the Saudi coalition. Actually, Socotra is so strict and secure that we never know when they might put it in lockdown and stop tourists from coming. Better get in there now!
With flights linking Cairo to Socotra, time in the dangerous mainland is kept to a minimum, it is also safer than taking a boat in the sea near Somalia.
What is Socotra's visa policy?
While it is a part of Yemen, its visa policy is different from the rest of the country. You'll need a visa to visit this magnificent island. This visa can be arranged in advance by reputable tour companies (that's us!). You'll just need to bring the visa confirmation with you when you land on Socotra. More on that over here.
Can I use my mobile phone in Socotra?
The national telecommunication company from the UAE – Etisalat has a few tours based on the island. So if you having a roaming plan that includes Etisalat, or you pick up an Etisalat sim card during your brief stay in Abu Dhabi before your flight, you will have 4G internet connection on the island. Towers are very far and few between so don't expect to be constantly connected.
What is there to do in Socotra?
A land of incredible beauty and as such, has tremendous potential for tourism. It was named a UNESCO heritage site in 2008. While development hit somewhat of a stalemate due to the war, there is already plenty of opportunities for camping, swimming, snorkeling, boat rides and treks on the island.
Eventually, more and more activities about the culture should be developed. At the moment, we can organize visits to the multiple markets, villages and schools of the island.
Socotra is, truly, a raw diamond and plenty of things can be done by those who don't need to be constantly pointed out what they can do.
What is there to see in Socotra?
Things to see are mostly related to nature. You will get to see lots of animals which don't live anywhere else and, if you're lucky, spinner dolphins.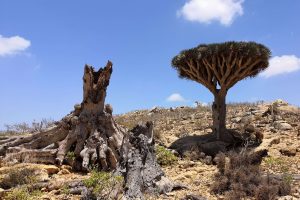 When it comes to the flora, Socotra is the only home of a kind of tree, the Dragon Blood tree and the Bottle tree.
And, most importantly… How do I get there?
The most convenient way of reaching Socotra is on a chartered flight that runs between Abu Dhabi in the United Arab Emirates to Socotra. This is a weekly flight and can only be booked through a licensed agent. Booking flights online is not possible. If you're seriously planning to visit Socotra always better to book it early as flights fill up quickly!
About Post Author
.