The Koryo Hotel was opened in 1985 as the first Korean five-star rating deluxe hotel to be available in North Korea to foreign delegates and tourists visiting Pyongyang. The hotel is a twin-towered 43 storey building with two revolving restaurants on the top floors, and a skybridge connecting the towers on the 30th level. It is the second largest hotel operating in the DPRK, the largest being the Yanggakdo International Hotel.
The hotel was made most famous for hosting Dennis Rodman and team members from the Globetrotters during their visit in 2013.
On June 11th 2015 the skybridge caught fire due to an electrical fault and was swiftly extinguished, repaired and reopened.
The hotel closed in November 2016 to undergo major renovations in the ground lobby, mezzanine floor, basement and minor renovations on the exterior of the building. It was reopened in April 2017 a few days before the Pyongyang Marathon and Kim Il Sung birthday events.
Why is it called Koryo Hotel?
The hotel is named after the Koryo Dynasty (also Romanised as Goryeo), this dynasty was the first to reunify the Korean peninsula from 918 to 1392 and is considered to be pinnacle of Korean history by both North and South Koreans.
Other organisations within North Korea have also taken on the same name such as North Korea's national airline, Air Koryo.
Location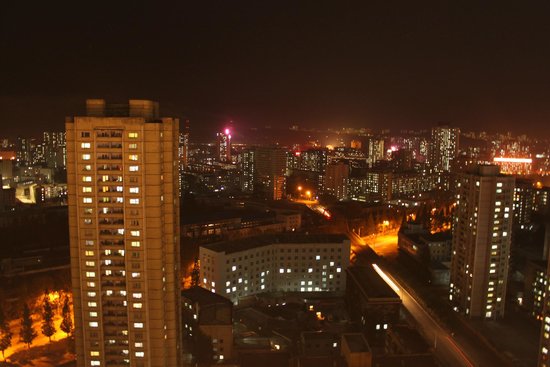 The hotel is located in Pyongyang's central district only a 10 minute walking distance from Pyongyang Railway Station, 3 minute drive to Kim Il Sung Square or 30 minutes to Pyongyang Airport.
The hotel is one of the most iconic buildings found within Pyongyang's skyline and can be easily seen from the Juche Tower, the Yanggakdo Hotel and the Grand People's Study House.
Koryo Hotel Facilities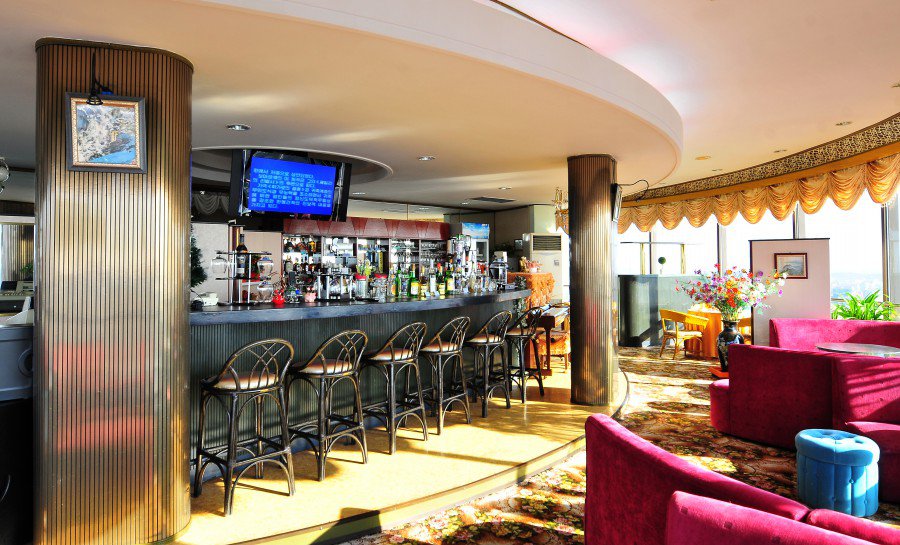 The facilities can be found on the ground floor, mezzanine floor, or the basement of the hotel.
Ground Floor (lobby)
There is a large café located across from the reception desks which serve great coffee and ice cream, perfect for business meetings. There is a supermarket located in the east wing that regularly stock up on imported items such as wine, cheese, snacks, soft drinks, handbags and cosmetics.
The reception desk also serves as a business centre which international phone calls, photocopies, and postcards can be arranged.
Since the hotel renovations, the Koryo Hotel Craft Brewery has been moved from inside the lobby to the same adjacent building located next to the hotel. This bar can be accessed from the lobby by exiting the front of the hotel, turning right and walking to the edge of the building and finding the bar sing above the doorway. The bar serves Taedonggang Beer, as well as their own larger and very tasty dark beer.
The Karaoke Room (KTV) is available in the west wing of the lobby with rooms being available for $10 per person and you can stay as long as you want. Both foreign and domestic songs are available, fairly varied.
Mezzanine Floor (second floor)
Breakfast restaurant – where most tour groups will eat their breakfast before departure.
Foreign Bookshop – here you can browse and purchase books, magazines, newspapers, posters, magnets, flags, and shirts.
Billiards – two billiard tables with friendly staff willing to play if you invite them
Bar –a smaller more classic bar, perfect for quiet conversations with friends and Korean guides. Serves imported and local drinks.
Meeting Rooms – rooms are available to rent for conferences held at the hotel
Basement
Swimming Pool & Spa – a 25-metre-long swimming pool, spa and massage jet pool.
Gym – a basic gym with treadmills, dumbbells and fixed bicycles
Massage Parlour – One of the better massage services available in Pyongyang but quite pricey.
Tailor – Here you can have your very own tailored North Korean suit made. See our North Korean tailor blog here for more details.
Golf Simulator, Chess & reading room – a quiet area of the hotel with a golf simulator, chess tables and couches available to kick back and read a book on
Koryo Hotel Rooms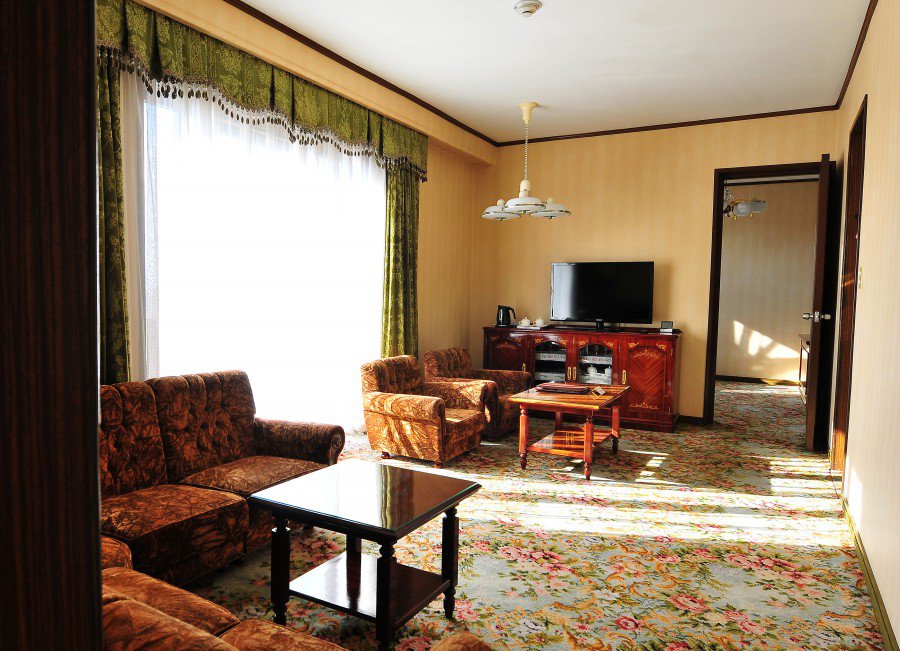 The rooms at the Koryo Hotel are wonderfully retro, they were not apart of the renovation project but have been maintained very well. Each room are spacious, complete with a living room, a coffee table, bedroom with twin or double beds, a toilet with shower and bath. All rooms have air-conditioning and the televisions here show numerous international channels.
Tips
Take advantage of the location! – The hotel is located next to the Pyongyang Central Stamp Shop which holds most impressive collection of North Korean stamps which are also available for sale. Worth checking out during your visit, you can simply let your guide know and they will help arrange.
The Pyolmuri Café – Pyongyang's first modern café is located a short stroll from the hotel. Famous for serving great coffee, delicious Pyongyang Cold Noodles and not a bad pizza!
Revolving Restaurant – one of the revolving restaurants are permanently closed, however the other is opened during the evenings. If the staff are quite pushy to close early simply order more from the bar or slip the staff a tip. If the restaurant isn't revolving a bigger tip may encourage them to turn it on.
Ask for a room with a view – during 2019 there was a government initiative to prevent viewing Pyongyang city from certain angels as sensitive construction was happening around the Pyongyang Forbidden City. The Koryo Hotel is located right next to this zone and unfortunately most rooms have had window mist added to the rooms to prevent having a clear view out of Pyongyang city. Simply ask your guides and the reception for a room without mist so you can enjoy one of the greatest and busiest views from any hotel in Pyongyang.
Celebrity watch – over the years the hotel has seen important delegation visits from Dennis Rodman, the Globetrotters, the Socceroos (Australian National Football team), Michael Palin, and even former US president Jimmy Carter. Keep an eye out and you may find yourself crossing paths of a celebrity, or a foreign journalist… or a dodgy businessman.
Don't be tempted to sneak out of the hotel – if you're travelling to North Korea as a tourist, it is against the law to wander the city alone without your local guides. Given that the Koryo Hotel is located downtown and on a busy street, you will be breaking DPRK law if you attempt to leave the hotel alone. If you wish to go for a walk along the streets, you will need to inform your local guides and they will escort you.
Any other Koryo Hotel bases trivia you can share with me?
We thought you'd never ask! When Rodman and his crew came to North Korea they stayed mostly at the Koryo Hotel. We are privy to some pretty insane stories about what went on here, but needless to say it was quite the party by all accounts.
The Koryo Hotel During Covid-19 – 2023
So, what happened to this wonderful hotel during Covid-19? Unlike in other countries it probably did not close for all that long, but that is not to say that many people would have stayed here. And of course this means no money has been coming into the place.
When finally do get back into. the Koryo, we can expect things not to be working as well as before, as has been seen in many countries after they first reopened to tourism. Just when North Korea decided to reopen though is the big question.
How can I stay at the Koryo Hotel?
We have a few scheduled group tours that includes staying at the Koryo Hotel. However, we can also arrange your deluxe accommodation at the Koryo on your very own independent North Korean tour
About Post Author
.