Introduction
Shopping with North Korean locals isn't usually the first thing that springs to mind when planning a trip to North Korea, but it can actually end up being one of your top tour highlights.

The Kwangbok Department Store and Kwangbok Supermarket is the largest and most successful three-floor shopping mall located on the busy residential area of Kwangbok Street in Mangyongdae district of Pyongyang, just down the road from the Chongnyon Hotel. It was first built and operated by a joint venture program with a Chinese corporation Feihaimengxin International Trade Company based in Beijing. Kwangbok in Korean translates to Liberation.
What makes this department store so popular and famous with the locals in North Korea is the frequent restocking of items, the amount of locally made and imported items available for sale, the cheap cost, and the delicious Korean food court on the top floor.
What makes this such a highlight for foreign tourists in Pyongyang is being able to mingle with the flocks of locals shopping and enjoying their off time with family or friends, but also tourists exchanging foreign currency (USD, EURO, Chinese RMB, Japanese Yen) into local North Korean won currency and spending it within the mall.
This is the only area in Pyongyang where you're able to spend DPRK won. Hotels, restaurants and other places outside of Kwangbok Shopping Mall will not accept local money from a foreigner. Also, technically you're not allowed to take the currency with you outside of North Korea.
For further information regarding spending currency in North Korea read our FAQ page. Whilst we're at it the best place to openly spend North Korean currency in the DPRK is within Rason, the Special Economic Zone where markets and banks are accessible to foreign visitors.
The layout of Kwangbok Department Store
The first thing you'd want to do when you walk into Kwangbok department store is head straight to the foreign currency exchange desk. Here you'll be able to exchange foreign currency (USD, EUR, Chinese RMB or Japanese Yen) to local DPRK Won currency. The exchange rate is usually around ₩8000 for $1USD, ₩8800 for 1 euro, ₩1100 for 1 Chinese RMB, and ₩70 for 1 Japanese Yen.
We recommend first exchanging about 50RMB, 5 euros, or $5USD as this will give you enough to do a light shop of items you'll need for the tour, as well as trying some legit North Korean dishes from the food court on the third floor which I'll breakdown later in this article.
First floor
On the first floor, you have the supermarket which takes up more than half of the large floor space. You also have a joint stationary and cosmetics shop selling locally made and imported items from Japan and China.
An electronics area selling locally made Potonggang, and Arirang TVs, imported washing machines and speakers. There's a small fast food kiosk that can prepare hotdogs for ₩5000, ice-cream for ₩2000, and Korean dumplings or street food starting from ₩1000.
There's also a bicycle shop with locally made bicycles (May Day models) that are available for purchase. This is where we acquired our bikes for our Pyongyang bicycle tour held every year.
Second floor
The Second floor comprises a retail store selling both locally made and imported clothing for the current fashion trending in North Korea, which as funny as it sounds there is a trend! Feel free to read our North Korean suit tailoring blog here. There's also a pharmacy selling local traditional medicine such as Viagra, and other imported items such as diarrhea pills which are very handy to have if you're not accustomed to Asian cuisines. There's also a controversial furniture store named IKEA, although none of the furniture is from IKEA. They have display rooms much like how IKEA showcases their furniture but instead with a mixture of imported Chinese furniture and locally made bedding.
Third floor
The highest floor of the shopping complex consists of the most incredible Korean food court in the country with offering Pyongyang Cold Noodles for as little as ₩5000, drafted beer for ₩1000 (which probably makes it the cheapest drafted beer in the world), a variety of Korean dishes.
What to buy when you visit Kwangbok Department store?
Supermarket
Some items I'd highly recommend buying for use during your tour would stocking up on tissue packs and hand sanitizers as North Korean toilets don't usually run water or have toilet paper available in the stalls (excluding your hotel toilet). If you're taking the train back to Dandong or Beijing, I'd recommend buying instant noodles, cans of beer or Korean soju in plastic bottles as glasses tend to weigh your bag down. I also recommend buying North Korean candy, some are great but others are a hit and miss but still a great thing to share with friends and family back home.
The supermarket has a fruit section and I tend to find myself buying a bunch of bananas to split them with mates and Korean friends, a bag of apples and Korean watermelons which are usually the size of your fist.
Food Court
Some of the most popular dishes I hear great feedback from are the roasted duck for ₩8000, steamed clams from the West Sea of Korea for ₩10,000, Okonomiyaki (Japanese Pancake) for ₩12,000, Korean Tteokbokki (Spicy Stir-fried Rice Cakes) for ₩7000 and the delicious Mandu (Korean dumplings) a plate for ₩4000.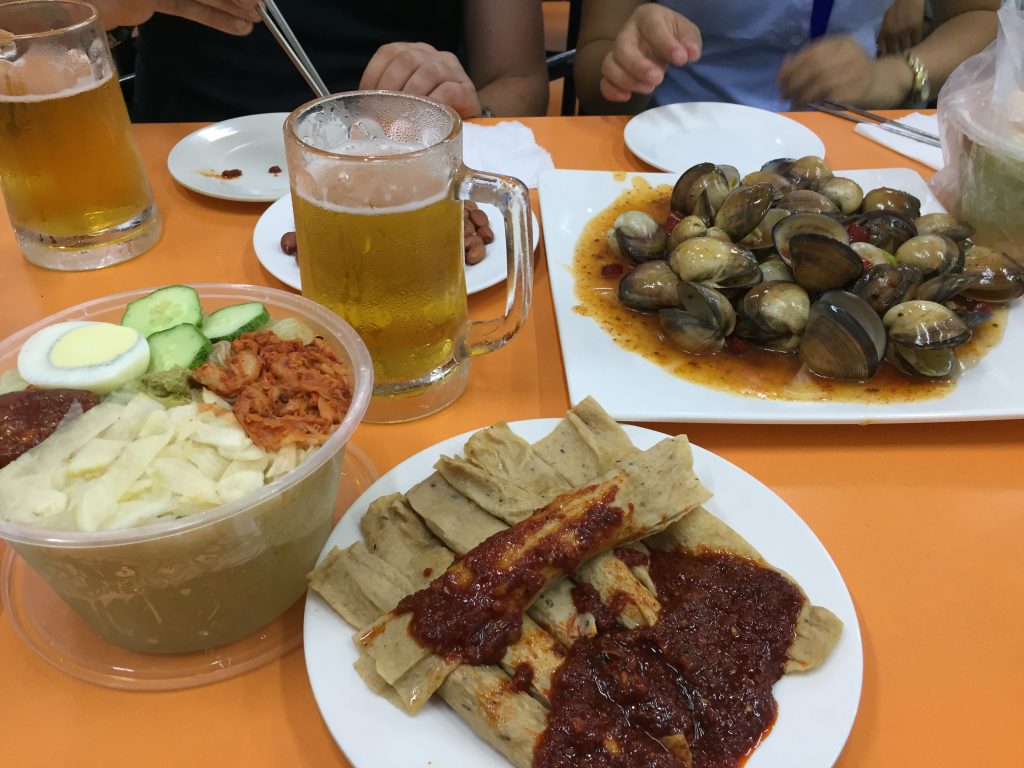 Tips and advice
Photos inside the Kwangbok department store are not permitted unless permission has been granted beforehand.
You are allowed to roam freely within the department store. We recommend spending an hour here to fully explore the mall and to try and see as much as you can. Make sure to confirm the meeting point with your local guides.
It's best to leave backpacks or camera bags on the bus before you enter as you'll need to wait and line up to put your bag into a security bag that the staff will hand to you before entering the supermarket. This line can sometimes take up to 10 minutes.
If you still have lots of Korean Won notes leftover you are able to exchange this back into foreign currency.
If you need more Korean Won to purchase more items feel free to head back to the exchange counter to exchange more.
This is a great place to pick up gifts for friends and family back home.
If shopping isn't your thing – feel free to head to the carpark of the department complex, grab a coffee or a beer, and enjoy one of the best spots in Pyongyang for people watching.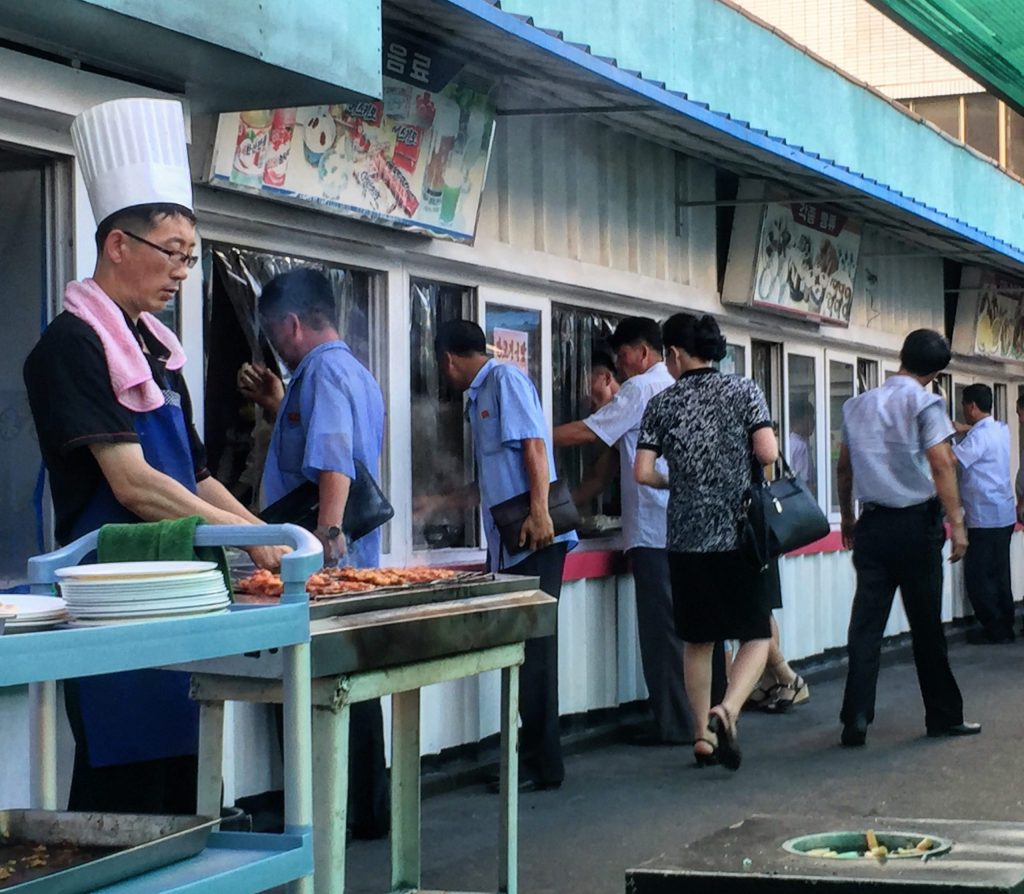 We arrange visits to the shopping mall on every single one of our trips, even our Ultra Budget tours. If you're wanting to join us on your very own private tour we can also arrange a stopover for you for as long as you want.
About Post Author
.