Kim Il Sung stadium is the large stadium situated to one side of the Arch of Triumph in the central district of Pyongyang.
Here, many sporting events are held including local football matches and the annual Pyongyang marathon.
---
Kim Il Sung Stadium – History

Kim Il Sung Stadium functioned as the site of Kim Il Sung's victory speech on 14th October 1945 after the liberation of Pyongyang city. This speech was called "Every Effort for the Building of a New Democratic Korea".
It was renovated in 1969, and again in 1982. Originally named Moranbong Stadium, it was renamed in 1982 in honour of Kim Il Sung.
It has a seat capacity of 100,000. Today, it is mainly used for sports events. It is the home ground for the North Korea national football team and the North Korea women's national football team. This, as well as functioning as the home ground for the Pyongyang City Sports Club and the Kigwancha Sports Club.
Kim Il Sung Stadium – Visiting
It is found in a very convenient location just outside the Arch of Triumph, the victory arch built to commemorate liberation from Japanese rule, and just outside of the Pyongyang metro station. Just a two minute walk away and you can find the Kaeson fun fair, and just across the road a great souvenir shop.
You can pay a visit to the stadium and football fans can enjoy a football match. It's sometimes difficult to plan ahead to get to see a match, as times aren't so readily available. However, all football match times are listed on a billboard outside of the stadium.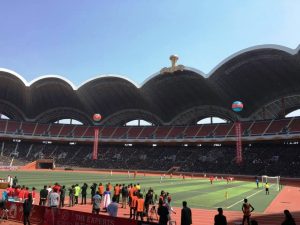 Wanting to catch a football match? Contact us for information on an independent tour.
If you're content with just a look at the impressive building from the outside, you can head out of the metro and take the short walk over to the Kim Il Sung Square. Plan your visit carefully, and you may be able to visit the newly erected markets that are new to 2018. These are set out on any days of celebration, or whenever there is a football match on in the stadium. At these markets, you will be able to buy local goods. This includes clothing, electronics, beauty products and food produce. You can also grab yourself a burger!
A favourite, however, is the central beer tent which is home to some of Pyongyang's cheapest beer – and great BBQ for great prices.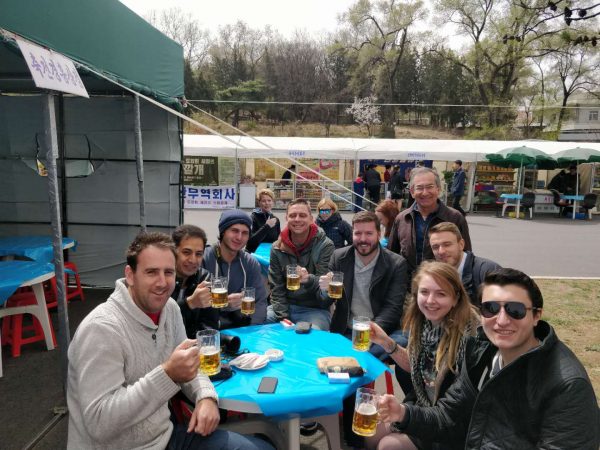 The ultimate Kim Il Sung Stadium experience, however, is for the Pyongyang Marathon.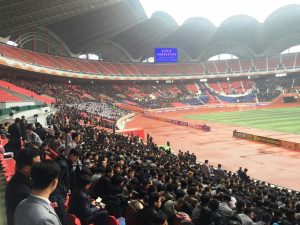 Take part in the marathon and you will walk into a stadium of 100,000 Koreans shouting and cheering you on as you begin the race. Run 5k, 10k, half, or full marathon around Pyongyang city. The streets along the roads are lined with North Koreans who are eager to cheer you on. As you enter back into the stadium to complete your run, you'll have the whole stadium cheering and clapping for you as you cross the finish line.
A truly once-in-a-lifetime experience you can't miss!
Private Tour to the Kim Il Sung Stadium
Whilst we don't include it in tours that don't have a sporting theme, it is indeed possible to do a tour of the Kim Il Sung Stadium, inclusive of kicking a few balls on the pitch and checking out the players changing rooms. On previous visits, we've even managed a kick around with some of the national youth players, and my word they were good!
---
Contact us for more information.
About Post Author
.