We live in an age where flights have never been cheaper and snapshot holidays have become a common thing. Itineraries that were simply unthinkable of for the common folk a few decades ago – visiting London, Istanbul and Seoul within a week, for instance – are now common occurrences. However, there is certainly a charm to doing things the old-fashioned way and ditching the plane for some overlanding adventure. While it does take much more time, overland travel allows us to see much more scenery and make incredible encounters with locals, often in regions where very few visitors pass by. Be it by train, boat or bus, touring overland is definitely a YPT favourite and here are 5 great overland adventures to look for!
Drive through the Sahara
Our first recommendation in this catalog is quite the adventure – overlanding through the mighty Sahara. The massive desert covers parts of all the countries of North Africa, and driving through the Sahara offers a sense of raw adventure. Travellers feel like they are in the middle of nowhere and the stillness of the desert is simply gorgeous, broken up by the occasional abrupt chaos of a sandstorm.
YPT organises a trip from Morocco to Mauritania, which is one of our favourites. Throughout this trip, we get to see the highlights of Morocco and Mauritania, while crossing both Morocco-controlled Western Sahara and the sliver of no man's land owned by the Sahrawi Democratic Arab Republic. It is not a trip for the fainthearted, but for those who are interested it's a fascinating window into the lives of the nomads – those who made a home amongst the practically uninhabitable wastes.
This trip would already be great but it also includes a train journey, and what a train journey it is! In Mauritania, we hop on the ore train, the longest train in the world, to spend a night being rocked around under a starry night of a jaw-dropping beauty!
While this trip cannot be completed solely via an overland route, due to political and safety reasons, this trip is preceded by a tour in Algeria and succeeded by another in Mali & Burkina Faso, which both involve quite a bit of solid overlanding!
Arctic Cruise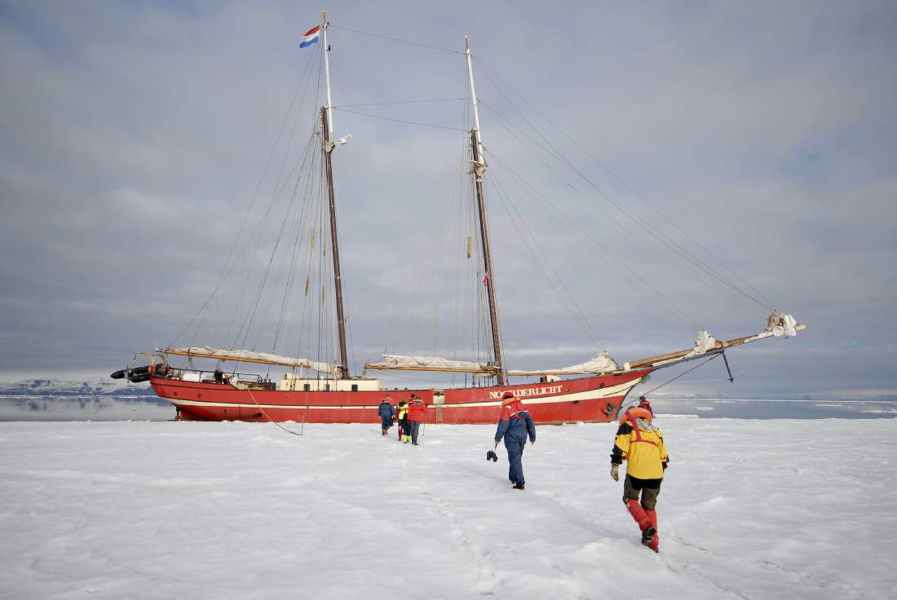 Not all overlanding trips are actually overland! To get where there is no road, the plane dodger has to get more astute. Since oversea-ing is not a word (my word processor won't even let me type it), we'll count long sea cruises as overlanding too!
You'll hear tales of people going from Europe to America by boat – the latest probably being Greta Thunberg by sailboat (overlanding is the green way to travel!) – and we find those stories really cool. Other people charter a spot on a freight ship and do crazy adventures. At YPT, we have to keep our trips slightly shorter and manageable, but that doesn't mean they are any less exciting. In 2020, we'll be chartering our own schooner and setting sail to the Arctic on our Svalbard tour.
What is there to see over there? After visiting Eastern Greenland, we knew we had to go again and we're going there for the Soviet colonies, ancient factories and Arctic research centres! Svalbard is also the land of polar bears and icebergs!
Drive along the highways of Central Asia
When it comes to road trips, this article wouldn't be complete without the Pamir and Karakoram Highways. From Pakistan to Tajikistan, the road overland is varied and filled with memorable encounters and sights. Think of Fairy Meadows, which is a place of pristine beauty and a dreamlike atmosphere. We connect both tours in Xinjiang – part of China, but closer to Damascus than Beijing. Why would you choose one part over the other though? Do both as part of our combo tour. Fearing that your hair and beard will get too long? Get your hair cut with fire in Lahore before starting!
Central Asia, which was a land of nomads before its sovietisation, is truly a place to be understood by overlanding it. It is only by going deep down these paths that you'll find far-out villages, the occasional soviet ruins and much more! The road might be steep and sometimes very, very narrow but, if you do it all, it will very much earn you hostel bragging rights.
Central Asia is also the land of the Silk Road, the quintessential overland adventure which merchants undertook to bring goods from China to Europe. YPT goes to all of Central Asia and we visit five of the seven 'stans as part of our Five Stans Budget Tour. So hop in and get the full five 'stans badge or do parts of it!
The ultimate Eurasian adventure
The first overland trip we launched, which has grown longer throughout the years, is one of the dearest to our hearts. Our Eurasian Adventure, quite simply, takes you through the whole of the Eastern Bloc and even more. Taking in over 21 countries, the trip starts in China and finishes in Poland. The range of cultures and people you'll encounter is simply mind-boggling. The pace is hectic and vodka and rakia abound (if you happen to partake). It took every ounce of our tour-planning genius to design a tour that would take you from the Trans-Mongolian, through the ruins of Chernobyl and all the way to the beginnings of World War II's Eastern Front. All of it while saying Hi to Mao, Lenin, Ceausescu and Tito!
The longest train journey in the world.
It only makes sense to conclude this piece by talking about the world's longest train journey. The trans-Siberian train, originating in Moscow and terminating in Pyongyang, is something we cover on our very aptly-named Moscow to Pyongyang by Train Tour. After paying a visit to Lenin and the USSR Disneyland of the VDNKh, we hop on the train for more than a week! Think it is boring? Think again! The trans-Siberian offers a fascinating insight into the multiple sceneries of Russia but also a great sociological study of the country, as people from all Oblasts and ethnicities of Russia take the train. Expect to be sharing weird horse sausage with Buryats and breaking bread with Spetsnaz in the canteen.
In itself, the trans-Siberian is an adventure worth undertaking, but then add on top of that the train journey between the Russian-Korean border in Tumangang to Pyongyang, with all its secretive and barely seen-before sceneries, and you know you've got an unmissable trip. Very few tourists to the DPRK get to take a domestic train in the country. YPT was the first tour company to organise a scheduled tour by train from Moscow to Pyongyang, jump in while it's still fresh and hot!
About Post Author
.