It's somewhat well established that we at YPT love our trains, and taken them as often as possible. There's something wonderful about no baggage or security checks, no check-in, no ridiculous restrictions on lighters and liquids, and enough room to avoid the dreaded curse of deep-vein thrombosis.
It was therefore that we relished the opportunity to take the Trans-Siberian this year, as part of our Moscow to Pyongyang tour. Before crossing over into North Korea, however, we decided to take a pit-stop in the Russian Far East city of Ussuriysk. That meant only six days on the train rather than eight.
Being the hardcore ferroequinologists that we are, we naturally decided upon the 'platzkart' berths – four-berth open compartments with a further two berths across the aisle. The berths were, as is the wont of the Russians, upholstered in red pleather and equipped with under-sheets, blankets and towels.
Drinking vodka and making friends on the Trans-Siberian
Night one on the Trans-Siberian ended up in a somewhat messy fashion, as we got really quite drunk and upset our hitherto-friendly across-the-aisle neighbour, a Russian man who had some faculty with the English language. He loudly told us to shut up, and the next day our stern, matronly conductor came to berate us (in Russian). This contretemps ended up with our neighbour eventually relocating to the other end of the carriage, despite our sincere displays of contrition.
From that point onward, we all agreed to drink less and in a fashion that would not disturb our neighbours. This decision was abetted by the matron's confiscation of our remaining bottle of vodka.
Drinking was henceforth restricted to the dining carriage, and this led to much more time watching the unbelievably beautiful scenery of summertime Siberia zipping by. Many card games were introduced and played, and at one point we were so bored chess was even a brief thing.
The dining facilities on the Trans-Siberian
In order to keep those pennies, you're much better checking out the train's schedule (posted in each carriage) and planning your food/drink/alcohol runs by descending upon remote Siberian towns like latter-day reavers (but ones that pay and say thank you). This is significantly cheaper than the dining carriage.
Which is not to say the dining carriage is bad, exactly; they served perfectly serviceable Russian staples like borscht and schnitzel (dubiously Russian, I know). The prices were slightly north of what you might like to pay, however; each meal would set you back between 500-1000 rubles.
Actually making friends for real though
We met some lovely fellow travellers on our journey; our group became friendly with a multitude of nationalities, from German to Russian. OK, that was it really. There was also a Norwegian chap, but he missed the train whilst out reaving in Irkutsk and was forced to make alternative arrangements.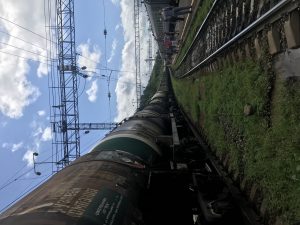 We met a splendid Russian soldier named Yuri, who helped us out many times in translating the matron's terse commandments. Yuri was also a font of knowledge on Buryat window frames, an ability which we all agreed was pretty damn random.
How do I get in on this sweet Trans-Siberian action?
Luckily for you, we are running another tour there next year. Simply pop along to our Moscow to Pyongyang by train page and book today!
About Post Author
.