In case you missed it, here at YPT we're celebrating our 10 year anniversary of running tours throughout the DPRK and indeed all over the world.
We have a chat with CEO Troy Collings to get an in-depth look into YPT and the brains behind it.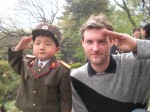 ---
1. Why did you start YPT?
Although I co-founded YPT, the idea was originally Gareth's. I'd moved to Xi'an a short time beforehand and we became good friends and he mentioned his plan to me. It sounded fantastic, in the true sense of the word, but I had always been fascinated with the country since I'd seen A State of Mind many years ago.
I took a trip with him and realised that they were keen to encourage tourism and in my contact with people there, I saw the potential tourism had to help the locals and to influence the country's development. More importantly, I made some real human connections with people I met that had a profound effect on me and I decided during that trip that this is what I wanted to dedicate my life to.
2. What hurdles did you come across when setting up a company working with North Korea?
There were fewer than most people would expect, but that was mostly due to good relations, with good partners we had formed in Pyongyang over our visits. The biggest hurdles of starting a business working in North Korea are ones many business owners would be familiar with – getting a foot into the market, finding staff as the company grows, working long hours etc
3. Where do you see YPT in another 10 years' time?
The first five years were mostly spent establishing ourselves in the market and proving we were a premium choice for a North Korea tour. That was definitely the hardest time for the company; getting established in any business is always hard work. After that, we focused on developing new tours in North Korea, such as our Pyongyang City Cycling Tour, our North Korea Study Tours and the overland crossing from Tumen to Namyang in the North East of the country. We also began to develop our range of International tours which now span from tiny Pacific islands like Nauru to Eastern Europe, Africa, Latin America and much more.
Over the next ten years we want to make the most of the position we've formed in North Korea to expand on our charity work, such as our partnership with the Pyongyang Center for the Deaf and Blind, our sponsorship of local co-operative farms and disaster relief assistance when necessary, like during the floods that wreaked havoc in North Hamgyong in 2016. We also have ambitions to strike up partnerships that help with medical care in the country and to assist with developing foreign partnerships in North Korea.
4. Where was your favourite tour over the 10 years?
For me it's North Hamgyong, no doubt. It's a world away from Pyongyang in every sense and has so much to offer. From the stunning views of Mt. Chilbo to learning Ssireum in a homestay village, or having a bowl of carp soup or barbecued market clams on the shore of lake Muge, it's always felt so authentic to me. Watching North Hamgyong's Provincial Art Troupe perform in the theatre in Chongjin amongst a crowd of curious locals is also an experience to remember.
5. Where is the next destination you want to conquer?
I leave the international side of the business to the much more suitable hands of Gareth, John and Shane, so I'll stick to a North Korea location and it's got to be Kangye city.
The capital of Jagang, a Province that largely remains closed to Western Tourists, I've wanted to visit ever since I first saw it pictured in paintings of the seven scenes of Songun Korea. It's one of only two provincial capitals I've not visited and the only one I've never seen in real life.
6. What are the biggest changes you've seen in the DPRK in 10 years?
The biggest changes for tourists has been a continued increase in the access afforded to us in terms of locations and events. In terms of the country itself, it's definitely economic changes – people seem to have more disposable income and access to consumer good such as cell phones, video cameras and MP3 players etc. There is also a wider provision of services – many many more taxis than there used to be and much more in the way of leisure activities. There is also a lot more traffic on the roads and people's clothes have become more fashionable and varied in style and colour.
7. What have you learnt from 10 years of working in North Korea?
I've learnt a lot but the biggest lessons have probably been to examine my own biases and view everything with a critical eye. People talk all the time about North Korean propaganda, but it's naive to think we aren't inundated with our own. Things aren't black and white and agendas are everywhere, don't just form opinions based off the last book or article you read or speaker you saw but reserve judgement until you really have an understanding of a situation.
Along with that, it's to never let the perfect be the enemy of the good. If you are passionate about something – do the best you can within the framework that exists and ignores the criticism from those who speak from a place without real understanding.
8. Is there one moment that stands out for you in the 10 years as your proudest YPT moment?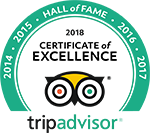 There isn't one single moment that really stands out though recently we made the TripAdvisor Hall of Fame which is open to businesses that receive a Certificate of Excellence 5 years in a row. For me, it sums up all the moments along the road big and small in one package I think. I was (and still am) very proud of everyone who's helped us make that happen – our great staff, both former and current, our fantastic customers and our excellent partners around the world.
9. You will have seen some interesting things in DPRK over the years. What has surprised you the most?
Not much surprises me any more – in the beginning, the big surprise for me was how ordinary the people are. It sounds cliché but once you scratch the surface most North Koreans aren't that different from anyone else. They have a range of personalities and attitudes and many share the same goals and ambitions we do.
10. What do you say to people who say that tourism in North Korea is staged/fake?
Well firstly – guided tours are to some degree what they are and all countries want to put their best foot forward when they have guests. You can't have the same level of authentic experience in North Korea as you can in most other countries – couch surfing, wandering about on your own, hitchhiking, hiring a rental car etc, but what you see of daily life there is daily life.
Thousands of people visit North Korea every year – on any given day there is at least one group of tourists in the country. No country could afford to dress people up, give them cell phones, pay people to drive around in cars and buy things and ride the subway etc multiple times a day – if they could they probably wouldn't bother with tourism in the first place. If you're travelling with that kind of bias, it's better to just stay at home.
Pyongyang definitely has the highest living standard in the country – but it's very possible to travel to other cities – join one of our North East tours, go to Mt. Paektu, visit Sinuiju, go to Hamhung and Wonsan on the East coast – there are so many options and so much of the country you can see.
---
Contact us here for more information on how you can join on a tour.
About Post Author
.