Nauru as the least visited country on earth has cant information online about travel to the country. In fact, there are no indigenous travel agencies currently offering tours to Nauru, and very few international companies that specialize in travel to the country. Once again, we aim for a YPT first!
In 2017 we ran our first ever "Least Visited Countries Tour", which involved us spending 5 days inclusive of New Year's Eve in Nauru – something we will be keeping as an annual staple of the YPT schedule. We are now pleased to announce that we can offer independent tours to Nauru.
Why visit Nauru?
---
From a traditional tourist perspective there isn't much on the island to attract people to Nauru, bar the fishing which is excellent! However for our brave Pioneers, we understand the fact it's the least visited country in the world; which makes it a cool enough reason to visit!
Nauru is home to some fabulous WW2 relics such as the remains of Japanese guns, bunkers, prisons, and pillboxes. These can all be visited via a circular road that goes all the way around the island, giving you the option to drive, cycle or walk around an entire country! Driving would take around 25 minutes, but what's the fun in that? Walking the entire island takes around 6 hours but you will come across some of the best scenery in the South Pacific, along with some of the earlier mentioned war relics. The island also hosts a controversial immigration processing centre for Australia, and can be seen as a contemporary hotspot of amazing interest.
The seafood in Nauru is sublime! Seafood is very popular, with most restaurants offering delicious seafood dishes. You'll find plenty of fresh mussels and oysters, but you can eat pretty much whatever you fancy from the ocean! You will also come across food stalls on the roadsides where locals will cook up some of the finest barbecue you'll ever see! Combine this with a few drinks, golden sands and crystal clear waters, it makes for the perfect island paradise setting! No wonder Nauru has a serious obesity problem!
Find out more about what it's like to visit here.
Independent Travel to Nauru
Tour guide in Nauru
We offer full day guided tours (inclusive of driver for $110 a day.) Our guides are excellent quality, and will be able to tell you anything and everything about the island. You'll be able to explore every last inch of this island! They are especially open to explaining the recent controversial issues that Nauru have faced over the last few years. They'll also happily answer any difficult questions you may have about these issues, all round great guys!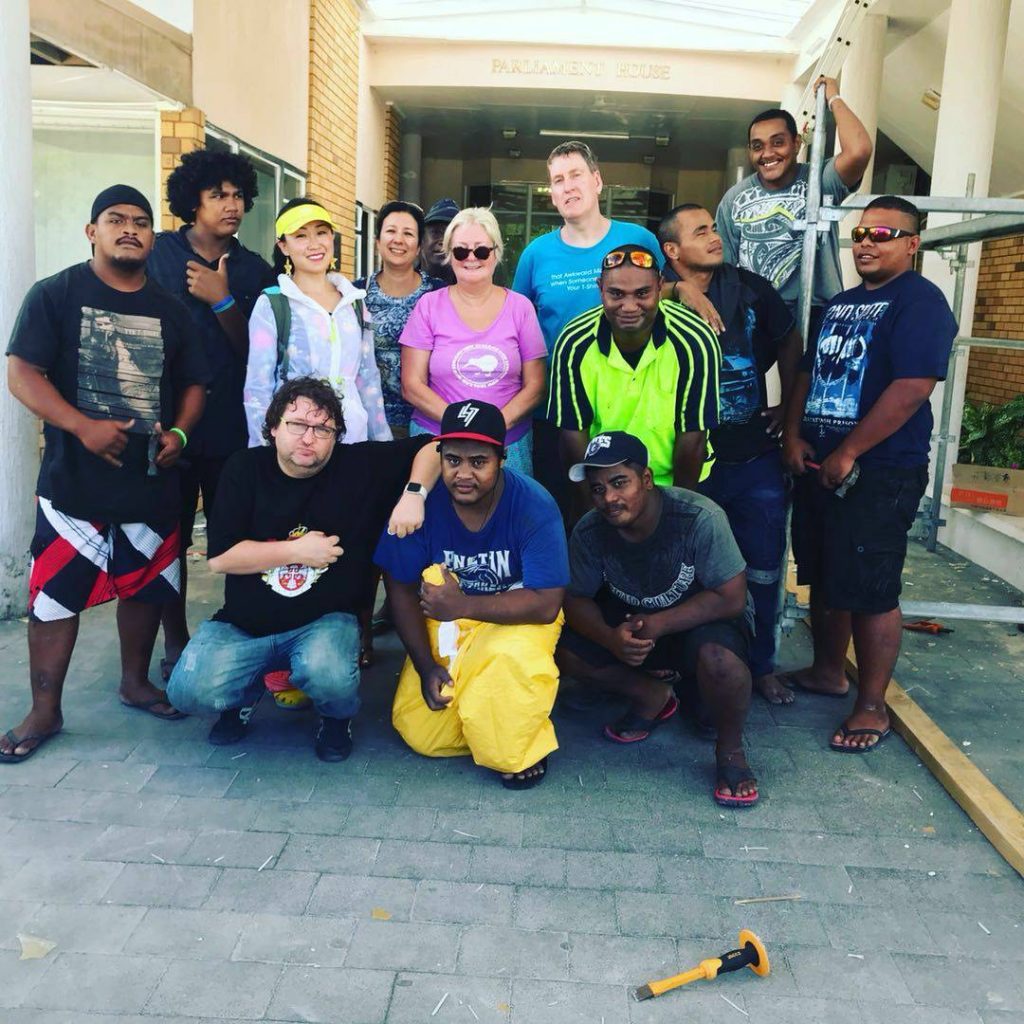 Many say there isn't much to do here, but YPT will happily design you a stacked itinerary that will have you busy doing stuff throughout your time in the country. Granted you might not want to stay a month though!
The choice of hotels on the island are limited, but are of reasonable quality.
Menen Hotel – The most famous hotel in Nauru, boasting a great restaurant, one of the best bars/clubs and a saltwater swimming pool. They also have a liquor store, gift shop and can arrange transport around the island. Yes it does resemble a Soviet era hotel (which we love), but it is by far the best hotel in Nauru.
We have also spent every New Years Eve here since 2017, with the exception of Covid-19 in 2020-2021. We can now arrange invitation letters for independent tourists wishing to stay here that need them.
$80-120 per room
Budapest Hotel – The newest, cleanest and most expensive hotel on the island. The location here is not great, and you will require transport or a driver to get there. One bonus is The Budapest Hotel can provide invitation letters for Australian residents. The hotel like to promote that they have the cleanest rooms on the island, all very well, but the lack of amenities (there are none), and its location pretty much make it a non-starter unless you hire a car in Nauru.
$150-300 per room.
Od'n Aiwo Hotel – The third hotel in the country and the lowest quality of rooms. There is a Chinese restaurant connected to it, and a bar (that again serves booze). The bar is most famous for providing "pokies" for th Australian expats here.
Rates start at $120 per room.
There is now a 4th place offering rooms, next to the main supermarket in Nauru. These have been spoken highly of by those that have stayed there, but for location alone, you still cannot beat the Menem.
For most nationalities, we can easily arrange a visa to Nauru which we can get pre-approved so you can print prior to your trip.
For citizens and residents of Australia and New Zealand, we will need a local partner to provide a letter of invitation, which may affect the choice of hotel we need to use.
Traveling to Nauru with Young Pioneer Tours
We run tours to the pacific islands annually. Join us on the prequal to our Least Visited Countries tour, alternatively we can arrange an independent tour to the country. Please get in touch for a quote.