Behold! the YPT ultimate Angola map guide! Now, there's not too many map guides of Angola, however, this author will help you with your geographical understanding of Angola with a few extra details of information about this southwest African nation.
From a global standpoint…
Take a look below. If you're wondering where the Republic of Angola resides, well now you know. It may look like a small nation from a global perspective, but the total area is 1,246,620 km2 (481,321 sq mi). In fact, the landmass itself is so large that the Portuguese didn't start colonizing its interior until much later in its history.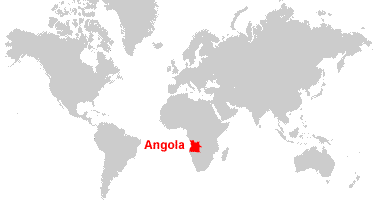 The Republic of Angola resides along the South Atlantic Ocean. There are four neighboring nations: Republic of Congo, Congo DRC, Namibia, and Zambia. As expected, the capital city of Luanda is a coastal city and is one of the most expensive cities in Africa! This is due to the fact that the city is going through an architectural boom and imports most of its goods, thus increasing prices and demand.
Map of Angola..in southwestern Africa
You would think that there are three countries bordering Angola, but no! If you notice the Angolan province of Cabinda, it juts out into the Congo. Cabinda is important because it contains more than 60 % of Angola's oil reserves.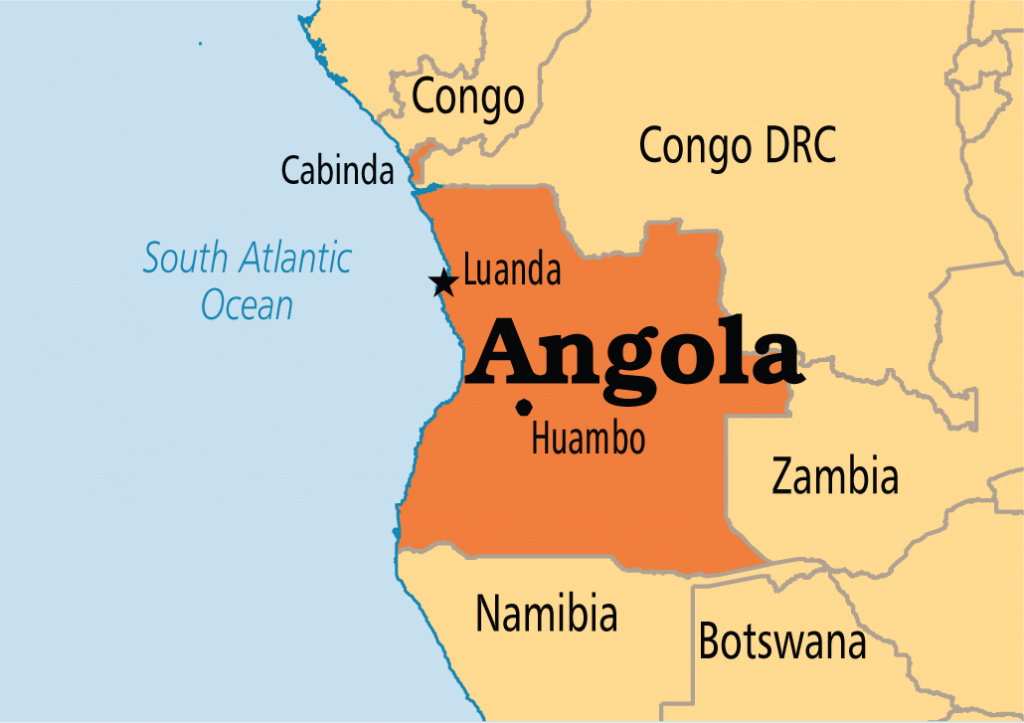 Sunshine or rain?
Angola is located in a tropical zone, but doesn't have the weather characteristics of a tropical zone. The heavier rainfall and tropical characteristics are definitely present along the coastline, however, the influence of the geographic terrain of Angola's interior, as well as the dry air from the Namib Desert intermingles with the weather patterns. The cold Benguela current coming in from the south coast mixes cool water with warm, tropical air.
Angola is divided into eighteen provinces. This leads to a total of 162 municipalities and even 559 communes! The Moxico region in the east consists of hundreds of diverging rivers. As you go to the northeast, you'll experience vast savannas and a more arid climate. The southwest contains deserts as well.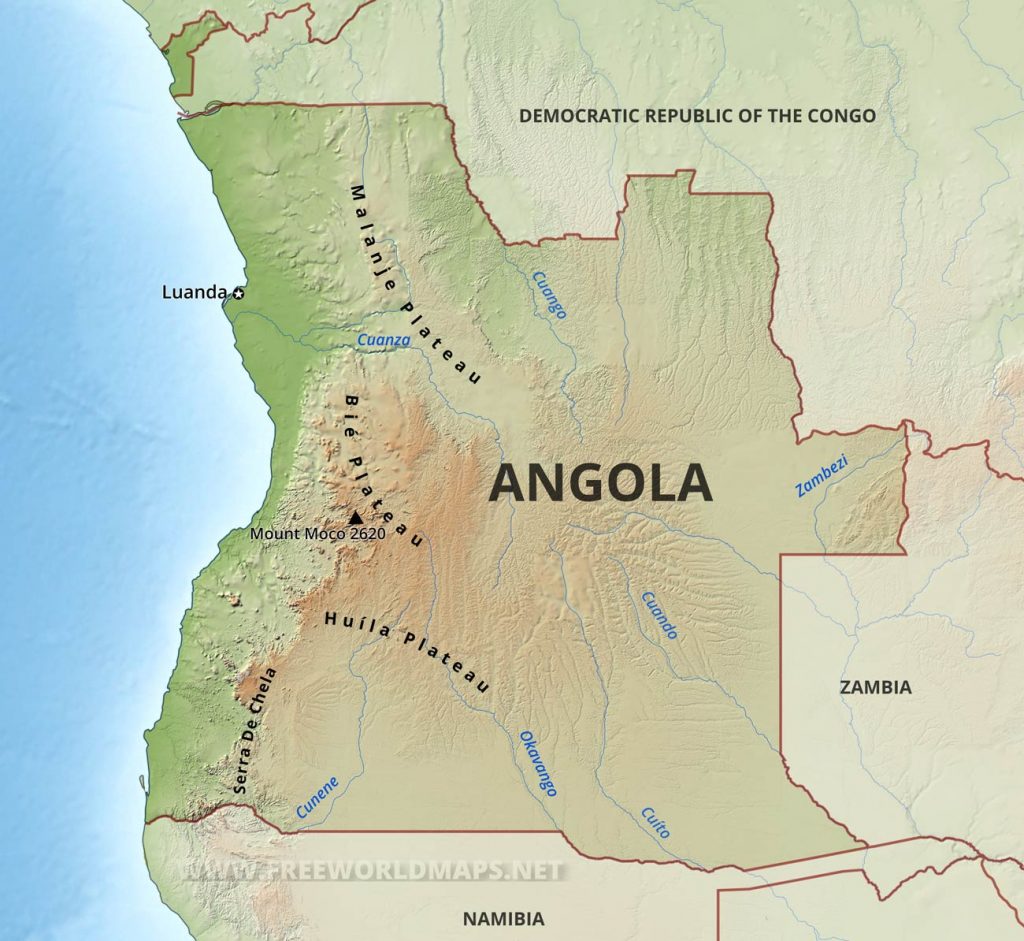 Map of Angola: Demographics
There are 31 million people living in Angola. Out of all of the tribes, the Ovimbundu make up the largest portion of the population. Below is a list of the various groups native to the country. There still remains a small Portuguese population of about 1%, and 1% Chinese population. The Chinese population is a recent development, as China has invested a lot in Angola's economy, primarily with construction projects.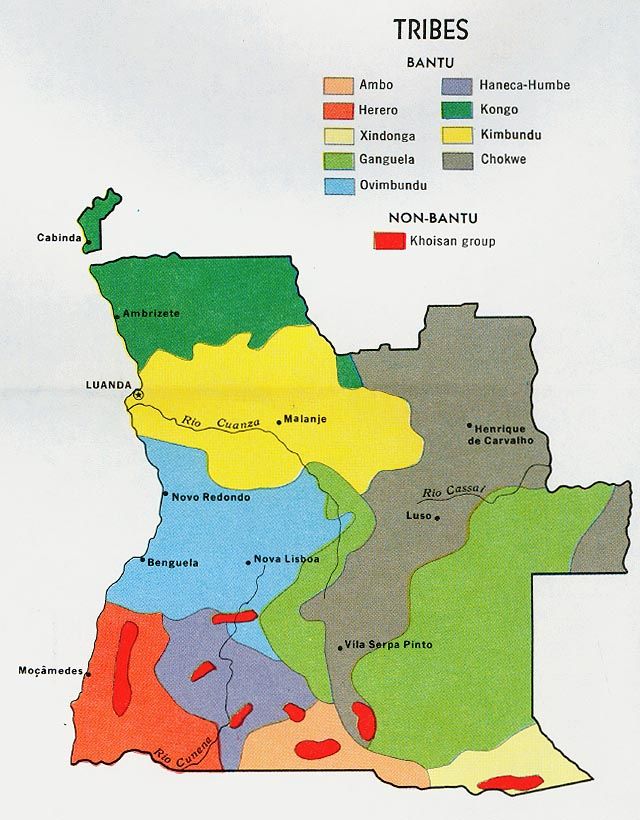 Ever wonder why you should visit Angola? We have SIX reasons for you here!!
Don't worry, Young Pioneer Tours will help you out with getting an Angolan Visa.
Remember earlier I mentioned that Angola is importing Chinese business for development projects? Well, they've also been developing the infrastructure; specifically the road system. A Chinese contractor has been awarded with a major project to construct bridges and continues evaluating solutions to connect Luanda with the more rural interior. There's more information on China Railway 20 Group International here.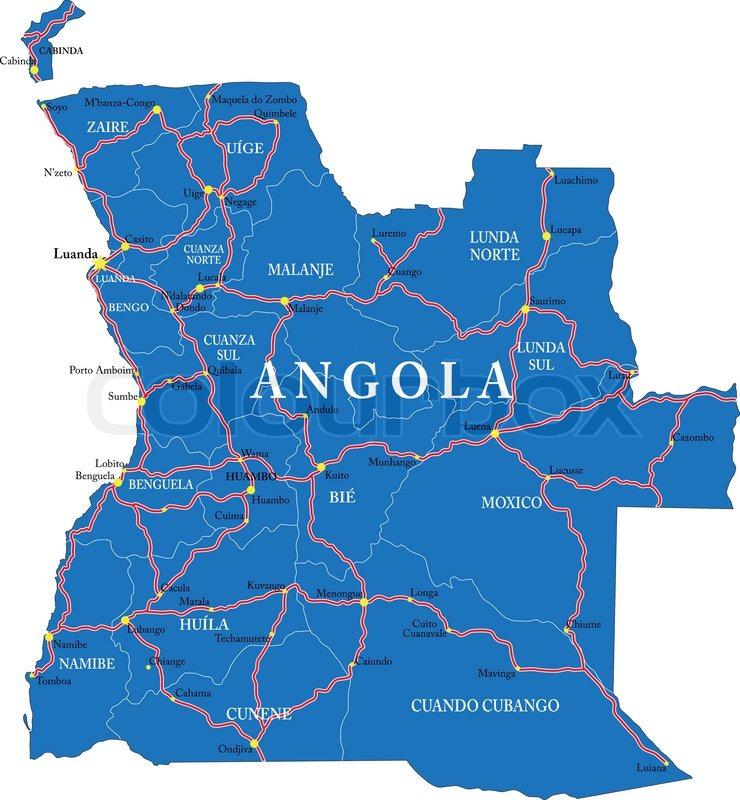 Cities, Regions, and Places to See
You can get a better picture of what you'll do in Angola with our Angola Carnival in Africa tour here! Otherwise, you have plenty of places to see in Angola.
Luanda: Mussulo Island is great for beaches and other aquatic activities. Check out the Benfica market for your souvenirs and rest along the Kwanza River.
Benguela:take a stroll on Baia Azul for wonderful desert beaches. There's plenty of Art deco architecutre in Beguela as well as ice cold draught Cuca beer.
Kwanza Sul – for nature lovers you have Cubal Canyon, Conde Hot springs and Cachoeiras / Binga Waterfalls. On the Kwanza river you have the Cambambe Dam. Waku Kungo plains has fantastic wildlife scenery for the more adventurous types.
Malange – Behold the spectacular Kalandula Waterfalls and Pungo n'Dongo Black Stones.
Namibe – Visitors can see Arco Lagoon, various beaches and deserts . You can meet and interact with Mucubais Tribes People.
Huambo – Enjoy the Alto Hama hot springs, and fantastic scenery. Yes, fantastic scenery is a common theme in Angola.
I hope this sparks an interest in this beautiful and upcoming nation! Stay tuned for more tours to Angola.
About Post Author
.