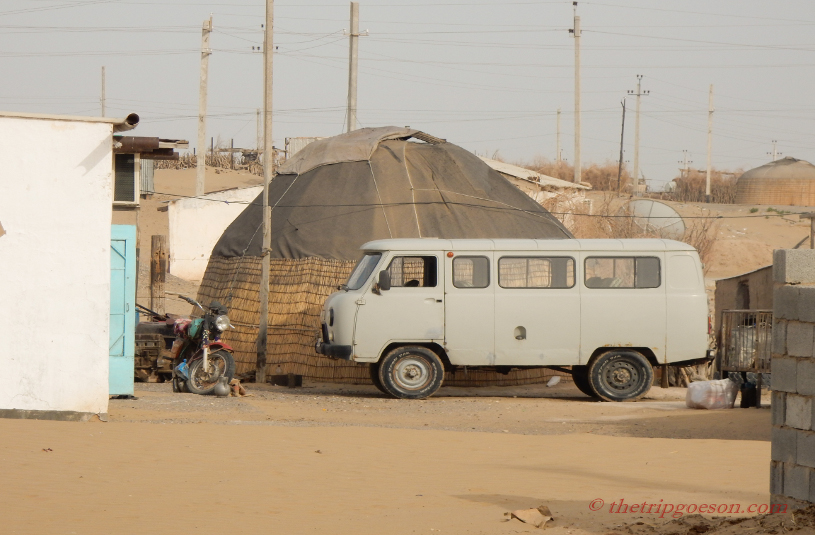 If you're travelling overland and planning on entering Turkmenistan, you're going to need to know which border crossing you will be using.
Chances are you'll either be applying for a tourist visa to Turkmenistan, in which case we'll need to know where to expect you and which crossing to apply for, for your visa. If not a tourist visa, then a transit visa, in which case you'll need to make sure you choose the right crossing, not only for forms but also for your own benefit.
So here is a comprehensive list of all the 'possible' Turkmenistan border crossings.
To/From Uzbekistan
Farap – Alat Border Crossing
If you're travelling from Bukhara or to Bukhara, this will likely be the Turkmenistan border crossings you will use. This is probably the most used border crossing from Uzbekistan, as Turkmenabat on the Turkmenistan side, is known for its market. This is the most logical route if you're heading to/from Mary/Merv or anywhere else in eastern Turkmenistan.
Shavat – Dashoguz Border Crossing
Another very common border crossing mostly used by those on transit visas and tourist visas alike as it is the most convenient for those whose top priority is the Gates of Hell (Darvaza).
Hojayli – Konye-Urgench Border Crossing
This is the closest crossing to Nukus on the Uzbek side. This crossing, as the name suggests, is great for those who wish to visit Konye-Urgench as it is the closest, although it's still not a huge distance from the Dashoguz crossing.
Talimardzhan Border Crossing
This border can only be used by Turkmen or Uzbek nationals and not by foreigners.
To/From Iran
Gaudan – Bajgiran border crossing
This is the main Turkmenistan border crossing from and to Iran and almost everyone going overland uses this crossing. Whether you've got your own car or you're catching another form of transport, this is the easiest. Less than an hour from the centre of Ashgabat, you can easily get transport to/from Ashgabat and to/from Masshad on the Iranian side.
You can easily change money on the Iranian side, but not on the Turkmen side.
Sarakhs – Saraghs
This is also an extremely popular border and is used by lots of overland travellers who don't want to go to Ashgabat or the Gates of Hell. Instead they can head straight to Mary/Merv, then on to the Uzbek border at Farap, or vice versa. We can't for the life of us understand who would want to miss out on Ashgabat or the Gates of Hell, but it of course takes all kinds.
This crossing has slightly smaller opening hours, opening at 8am and closing at 3pm, Turkmenistan time. Also due to the limited afternoon hours, transport to Mary is scarce in the afternoon and just more difficult in general than the Gaudan – Bajgiran crossing.
Lotfabad – Artyk Border Crossing
This crossing is also close to Ashgabat, but just slightly further away. This crossing is also closed on the Iranian side on their weekend, which is Thursday and Friday.
According to online reports, a lot more scammers operate on the Iranian side at this border than the other possible border crossings.
Gudri-Olum – Incheboron (Etrek – Gorgan) Border Crossing
This crossing is for the more adventurous as it is in the far west of the country and takes quite a long time to get to. The road is very poor and would take a whole day to do the couple hundred kilometres from Serdar or further from Turkmenbashy.
It is possible to catch the train on both sides of the border, just one a week operates on the Turkmen side, but you would be one of the few foreigners to have ever caught that train and that includes this writer!
To/From Azerbaijan
Baku-Turkmenbashy Ferry
Not for the faint hearted and definitely a goal of a lot of overland travellers.
We usually try to discourage people from using this Turkmenistan border crossings due to the issue of visas expiring while you're still waiting for the boat to depart.
There are two ferries, a Turkmen one and an Azeri one. The two ferries travel alternate directions. We have heard that the Azeri ferry is more fun than the Turkmen one.
You'll need to head to the port in Baku to see if the boat is departing that day. The longest we've heard of people waiting is about a week after the scheduled departure and quite a few have missed their transit visas all together and been unable to travel through Turkmenistan. The same can happen with a tourist visa, but it is easier to ensure that a tourist visa will allow enough time in a worst-case scenario.
To/From Kazakhstan
Temirbaba Border Crossing
Has been closed since 2018 to tourists and does not look like opening any time soon. Be careful with this crossing on your itinerary as last year (September 2019) I came across a transit visa holder who had put this crossing on their transit visa and was approved (which is surprising in itself). He then got to the border to find it was closed. This unfortunate traveller had to then travel back to Ashgabat to have his visa extended and his route altered to allow him to exit via a different border crossing.
To/From Afghanistan
Even when the border with Afghanistan is officially open, it's almost impossible for any tourists or those transiting to be approved for a visa if they are hoping to use this crossing. There are Taliban control areas on the Afghanistan side of the border and thus it's an extremely sensitive border. It's not completely unheard of to be able to cross here, but our bet is you'll never be approved to enter Turkmenistan if this border crossing is on your itinerary. Some of you will be thinking 'ah, I just won't put this border crossing on my intended itinerary'. However the Turkmen officials simply won't let you cross either way if it's not on your paperwork, or in fact even enter the area.
About Post Author
.