Papua New Guinea, or PNG, is one of the most unexplored countries on the planet. With an array of diverse tribes and stunning scenery, this country is one that is certainly worth the journey it takes to get there.
PNG is not the easiest place to travel to, so here are a few tips to know before setting foot in the country.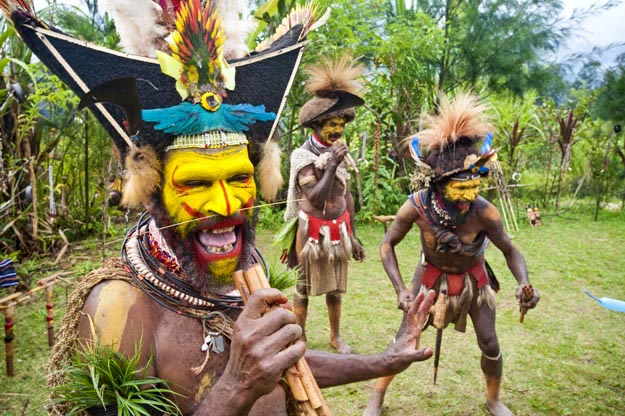 ---
#1 Visa on arrival
For US, Canadian, Australian, and EU citizens there is a free visa on arrival for 60 days which you can get at Port Moresby International Airport. This is also available for most other Pacific Island nations and some Southeast Asian countries such as Malaysia, Thailand and Indonesia.
#2 Where to fly from
Flying into Port Moresby (the capital) is not the cheapest, however, if you are looking for cheap flights then your best bet will be from Singapore, Australia or Manila. There are other flights from other Pacific Island countries, but these can be extremely expensive.
#3 Plan your trip in advance
Papua New Guinea is not the type of place you can simply rock up and explore. Planning ahead will save you an incredible amount of money and will make your trip much safer, especially if you are planning on traveling around. If you are wanting to see festivals such as the Mt Hagen show, then look into tours which have all-inclusive packages. Young Pioneers Tours has the cheapest package out there and offers internal flights and hotels with local experienced guides. If you have booked internal flights, leave a day or two in between your departing flight from Port Moresby in case there are delays from weather, which is not unheard of.
#4 Mobile coverage is limited
You can purchase a SIM card on arrival at the airport in Port Moresby and you can get 3G access throughout the capital. In the Highlands, you will have some service, but don't expect to be able to watch Netflix. SIM cards are easily topped up with cards that can be purchased at many stores throughout the country.
#5 Bring a jumper
Despite PNG being a hot tropical country, some of its locations are at high altitudes and with that comes lower temperatures. It's not going to be freezing, but weather in the highlands can be surprisingly cold when compared with Port Moresby or other coastal areas.
#6 Don't travel alone or at night
PNG can still be a very dangerous country and so it is recommended that travel is done only during daylight hours, even in Port Moresby. If you are by yourself use known taxis and go with a security guard to the ATM if you need cash. Travel in groups is best for your safety and women should also not where revealing clothing.
#7 Bring Malaria medication
While the hospitals are well equipped to deal with malaria, they a few and far between in some of PNGs more remote locations. Malaria and Dengue fever exist in the low lying areas of PNG so it is recommended you begin a course of either Doxycycline or Malarone when planning on entering the country.
#8 Spoken language
Many people speak English or a Pigeon English, however there are over 800 known languages that are spoken throughout the country. Ask what the local language is in the area you are and try and pick up some basic phrases.
If you're thinking of heading to PNG then check out YPT's Mt Hagen festival tour which brings you into the highlands to one of the most spectacular tribal displays available in the country.
---
The tour runs from the 14 th to 20 th of August and has limited places available.
Click here for more information.
About Post Author
.