Few people have heard of Papua New Guinea as it is one of the least visited countries in the world. Eager documentary enthusiasts might have seen the beautiful costumes and traditions of the country, but people digging in information about the country often gets this message: Papua New Guinea is a violent country and very dangerous. Is it true? In this post, I will try to explain how reality is much more nuanced and complex than this stereotype.
Crime and punishment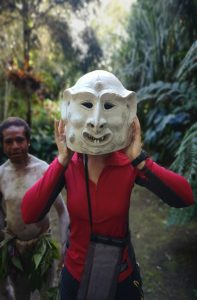 Is it true that Papua New Guinea is a violent country? The answer is, sadly, yes. Papua New Guinea has a serious problem of tribal feuds which often end in murders. It is also ranking amongst the worst nations for domestic violence. There is no way to sugar coat this. However, I still argue that tourism there can be extremely safe and even positive for the country.
During our first YPT trip to Papua New Guinea, never have we felt even remotely threatened by anyone or anything. Everywhere we've been, we've been greeted extremely eagerly. Entering a village or a school will prompt all its inhabitants to stand up in line for a chance to shake hands with the visitors. People on the street would systematically wave at our bus and often people would say "Thank you for visiting Papua New Guinea! "
The truth is, as with anywhere in the world, there are some great people and I would say that the majority of the people of PNG want this image of their country to change. Tourism is, for them, a way to showcase and save their century-old traditions in the face of consumerism and globalism.
Now while crimes still happen in PNG, well-informed tourists can avoid all of this altogether. By teaming up with local experts who know where and when to go places, PNG becomes a wonderful country. Of course, similar to DPRK, free movement isn't encouraged. Even then, we visited the surroundings of our hotels and went on a field to see teenagers practice rugby and cricket. The restaurants and hotels of PNG catering to tourists are all in secure compounds with armed guides, which mean there's nothing to be afraid of there. While it wouldn't be wise to visit a club or stay out past dawn, hotels have safe bars where a group can bring life to the party. Tourists should be accompanied by a driver, a guide and a security guard. Just the sight of this local team is enough to dissuade any wrongdoer from attempting anything on foreign tourists
Mount Hagen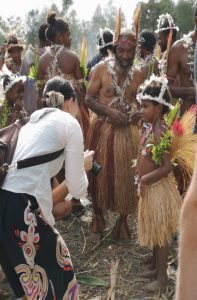 Same goes for the Mount Hagen festival. It is safe and secure and still offers you the possibility to mingle with hundreds of locals. I'd say the security there does a wonderful job of keeping the trouble-makers out. Village stays are also safe since violence is often between tribes rather than within one tribe.
As for domestic violence, mentioned earlier, I think tourism is a great opportunity to help solve the problem. Coming from all over the world, tourists offer a different model to the local population which can be inspired from those values of care, equality and pacifism. Also, the tourism industry provides many jobs to women in the quite traditional setting of PNG. These jobs allow women to leave the house and make their own income, thus empowering them.
While you should be careful about simple things like minding expensive belongings at all times and such, a tour to Papua New Guinea offers many opportunities to see the country and interact with its people in total safety. While I wouldn't recommend solo traveling there, for now, I know the people of Papua New Guinea are very hopeful to get more and more groups of tourists.
The truth is had we not heard of its violent reputation beforehand, we would have never guessed PNG could be violent or dangerous. Once a good team is hired and the itinerary set, there's nothing to worry about for a tourist to PNG. And hopefully, tourism will help positively influence domestic issues.
To experience Papua New Guinea up close while still being totally safe, why not join us on our next tour to the Mount Hagen Festival?
.