While the discussion of whether or not Tibet is part of China can't be resolved here, one question with an easy answer is "Should I go there?"
Absolutely.
---
Now that that's solved, and you're booking your tour to Tibet, you're curious about vegan food. While you may be tempted to think everyone there is vegetarian, because it's one of the goals of Buddhism, you'd be very shocked at the sheer amount of meat being consumed here.
However, there is still amazing vegan food to be found in Tibet, so let's check it out!
Depending on whether you're taking the train in, coming overland, or stopping at restaurants on day trips outside of Lhasa, you're going to wind up at somewhere that's not vegetarian-only, but there are tons of options. Rice is obvious. You should also be able to get plain vegetables in some kind of sauce, but make sure to mention that you don't want fish sauce. Vegetarian dumplings (momo) should be available in many places, as well. Steamed or fried, you can't go wrong. Tofu does exist and is popular, but it seems to come in "tofu + (type of meat) + vegetables", so good luck on this one. A little bit of discussion with your tour guide and restaurant staff should be able to lead to a great meal. When in doubt, if you have The Vegan Passport (book), this is always a great tool.
Within Lhasa, you have many options for vegetarian restaurants. Group tours to Tibet aren't as strict as some other places, and you will have time to wander on your own to find these.
Right off the open courtyard in front of Jokhang Temple, when facing the temple, look to your left. You'll see the sign for Zong Lion.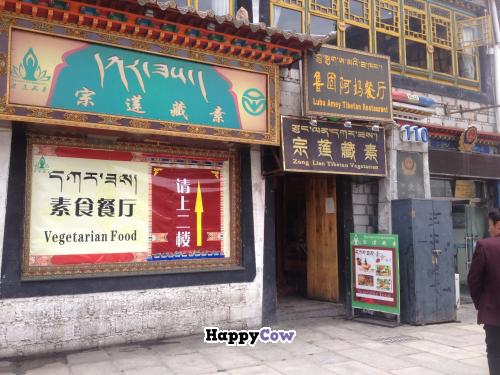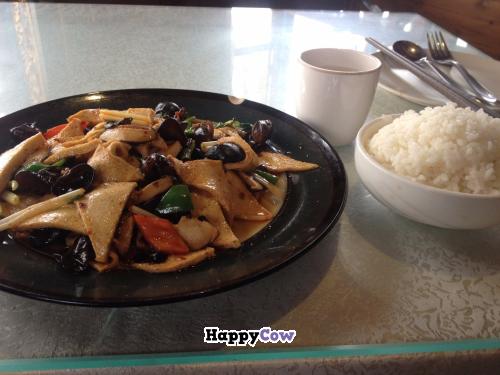 Image from https://www.happycow.net/
There are pictures on the menu to help, since there's no English spoken and no English on the menu, but I found that the pictures didn't exactly match what I received, so that was a bit confusing. The food was good, prices weren't bad, and service was mediocre. Look for this 'vegetarian food' sign and go up the stairs to the 2nd floor from this entrance.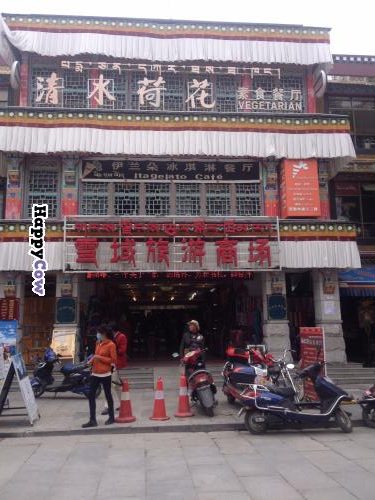 From Jokhang Temple out to the main road, Beijing Road, you'll go down Danjielin Road, lined with restaurants and shops. Look up. Above a shopping center on the right side, you'll see a gelato café on the 2nd floor and 'vegetarian' on the 3rd floor. Pass through the shopping area to some stairs on the right side or an elevator further back.
This is how you find A Lotus on the Water. This is definitely pricier than other options in the area, but the views out towards the city and temples are awesome, English is spoken, credit cards are accepted, and there's English on the menu, too. The options were incredible. Nothing here disappointed. For a nice meal, go here for dinner one night.
Want to eat where the locals eat? Continuing up Danjielin Road, turn right on Beijing Road and make an immediate left (AKA there are 2 roads in front of you, so don't go straight but take the one to the right). This unnamed alley leads toward Cemenlin Community School. Before you get there, the first block has Father Vegetarian Kitchen. Look for the sign on the left, at a tiny restaurant that probably has some monks hanging out on the steps. Minimal English is spoken here, but enough for you to order. The momos here were amazing, and I ate here almost every day. Good prices, and cash only. Feel free to share a table with others, since seating is limited. The monks are super happy to make space for you at their table, and a warm smile is the only thanks they expect.
Further away from the main tourist areas in Lhasa, near Tibet University in the southeast of the city, you'll find Wonderful Vegetarian on Linju Road, which runs North-South along the side of the university. You may be the only person when you go here, and the staff are super friendly. The English and pictures on the menu are very helpful, and I definitely recommend the fried dumplings. Prices are good, the food and service are even better. Cash only.
This was my favorite spot in Lhasa.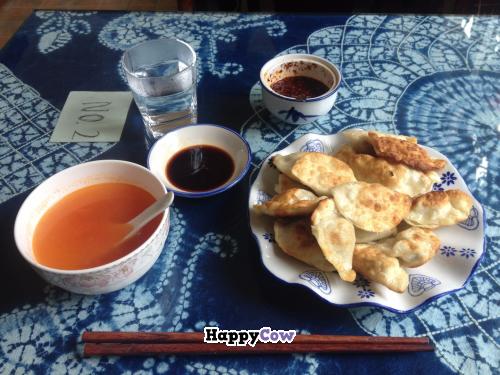 Most restaurants in Lhasa and even the surrounding areas can offer you vegetarian and vegan options, but their idea of vegetarian food may include fish sauce, so a little effort is necessary. Tibet is an incredible place, and the food is definitely incredible, as well. Enjoy it!
Please note: To travel to Tibet a travel permit is required.
---
Think you're ready to go?
Click here for more information on booking your tour to Tibet!
About Post Author
.