The Changgwangsan Hotel was first opened in 1975 to celebrate the nation's 30th Anniversary of defeating the Japanese during World War II also known as Liberation Day. The hotel is classed as a budget hotel with a North Korean three-star rating.
The hotel is a twin-towered 18 storey building with 420 rooms. It went under minor renovation during 2006 and again under 2018 with most of the exterior being renovated, rooms refitted and a major upgrade to the gym and indoor swimming pool.
Location
The name Changgwangsan translates to Changgwang Mountain which is located near the hotel towards the direction of the Koryo Hotel. The hotel is situated in Central District in Pyongyang, opposite the Pyongyang indoor stadium (where the majority of Mass Dances happen), the Pyongyang Ice Rink, Ryugyong Hotel, and Rakwon (Paradise) Department Store and Beer Bar.
The Pyongyang International Railway Station is a 5 minute drive away, 5 minutes to Kim Il Sung Square or 30 minutes to Pyongyang Airport.
Facilities
Ground floor (lobby)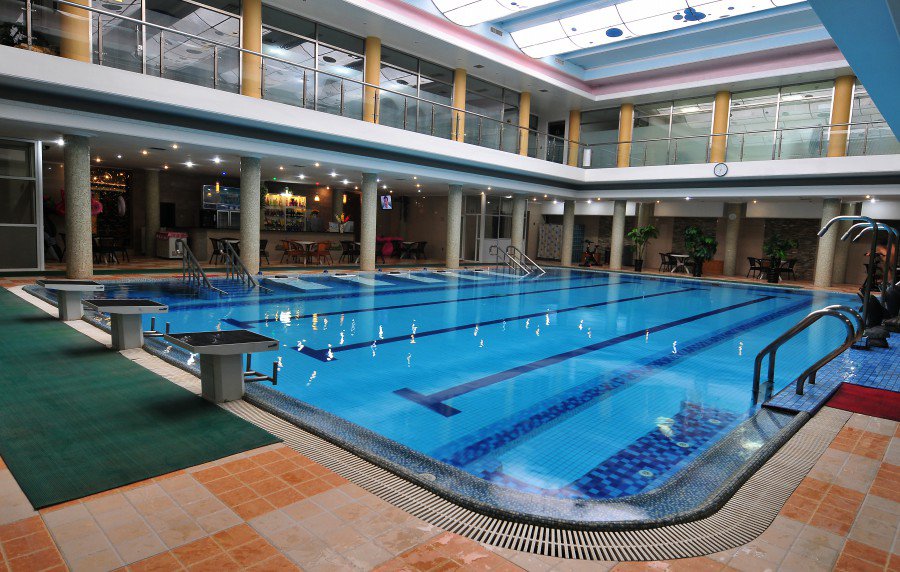 Café – there is a small café located opposite the reception desk that serves fairly decent cocktails from $5USD, local and imported beer as well as imported spirits.
Pharmacy – the best pharmacy in any of the hotels in Pyongyang. Here you'll find imported medicine from Thailand, China, Russia and India. They are well stocked and the pharmacist speaks English.
Shop – a simple shop selling local and imported the snacks and drinks you'll need for your tour throughout the day. They are usually stocked up very well on Coca Cola.
Indoor Swimming Pool & Gym – after undergoing major renovations in 2018, the indoor swimming pool and gym is very impressive for a city like Pyongyang. Quite popular with locals as the amenities are cleaned and maintained very well each day. The swimming pool is 20 meters long, includes a separate spa and massage water jet seats. Entry is 30RMB.
Restaurant – the breakfast hall is located towards the back of the hotel. Chinese, Korean and Western breakfasts are available.
Second Floor
Barber Shop & Beauty Salon – very friendly staff who are able to give local and take requests for haircuts and shaving.
Tailor – whilst the Yanggakdo Hotel tailor is most famous in the city, the Changgwangsan Hotel tailor offers a very good North Korean tailored suit at almost half the price.
Massage Room – opened quite late you can have a traditional Korean massage or opt for a Chinese massage from 100RMB
Billiards – two billiards table accompanied by friendly staff and a bar
Rooms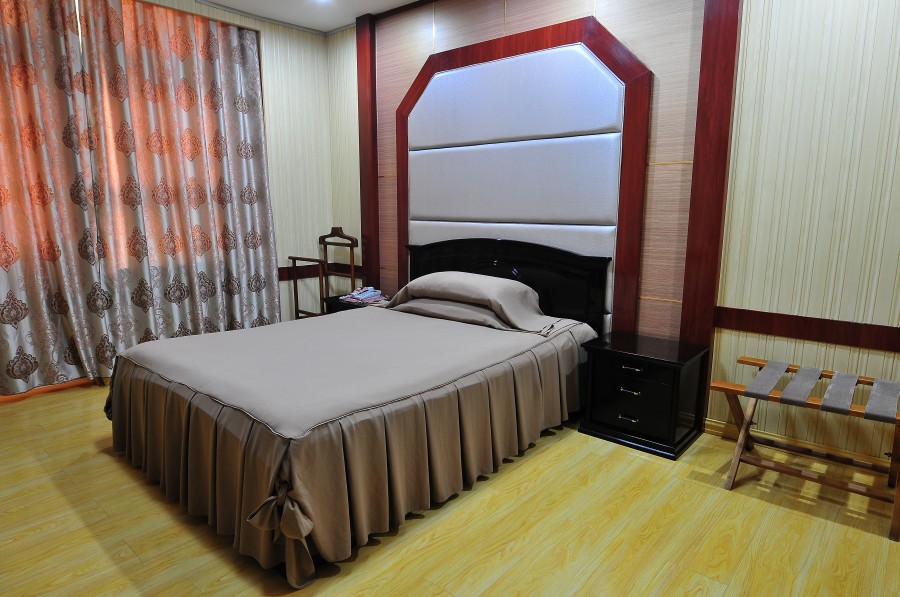 Whilst the rooms at the Changgwangsan Hotel have been refitted and well maintained, it still feels a little outdated but keeps its niche retro look. Each room comes with twin beds, air-condition, slippers, complimentary toiletries, towels and the televisions here show numerous international channels such as RT and Aljazeera. Suites are available on request.
Tips
Best pharmacy in Pyongyang – even if you're not staying at this hotel and if you're feeling unwell, this pharmacy would be your best bet on finding what you need at a decent price.
Best indoor swimming pool & gym – if you're expecting to stay long in Pyongyang and need to keep up with your fitness, we highly recommend the pool and gym at the Changgwangsan. Weekly and monthly memberships are available.
Meeting North Korean Japanese students – also known as Chongryon, these students regularly stay at this hotel when they make their fatherland visit to North Korea. They've been brought up in Japanese culture and are well accustomed to English and having a beer or two. Be sure if you bump into them to say hello and you may hear an interesting story or two.
Fancy a cocktail? – the bartenders here have read a cocktail book somewhere and are putting it to good use. Whilst $5 may be steep, they aren't shy on the alcohol. One of the best whiskey sours we've tried in North Korea.
Rakwon Department Store – not technically apart of the hotel, but if you ask your local guides, they can assist you to the "Paradise" department store that is well stocked with imported and local items. The microbrewery that's attached to the department store sell one of the cheapest pints in town and well worth a try.
The best Sushi in town – Kim Jong Il's personal sushi Chef – Kenji Fujimoto – has opened his own sushi restaurant located right above Rakwon Beer Bar, worth checking out and experiencing this unique sushi bar.
HOW TO STAY IN THE CHANGGWANGSAN HOTEL?
The Changgwangsan Hotel being more of an underdog when it comes to hotels in Pyongyang, it's not often you'll see tour groups staying here. However, with a perfect location, Rakwon Department Store, indoor swimming pool & gym, it is our top nomination to stay at when we do our Pyongyang Language Study Tour and experience what it's like to be an expat in Pyongyang. We can also arrange your stay here for your independent tour to North Korea.
About Post Author
.