Kenji Fujimoto is famous as being the former chef of Leader Kim Jong Il. He has also written a few books, and publicly maintains a close friendship with Marshal Kim Jong Un, which led to him coming back to Pyongyang and opening a restaurant.
So, what is the Kenji Fujimoto restaurant all about? In 2019 we ran a specific culinary tour to see what all the fuss was about.
The Kenji Fujimoto Takahashi Japanese Sushi Restaurant (quite the mouthful) was opened in 2017 as a venue for tourists and locals alike to be able to dine on food prepared by him.
In 2019, when Alex Sigly of Tongil Tours was detained in the DPRK, it was reported that Kenji Fujimoto had also been arrested. Despite these rumours, he showed up soon after cooking up a storm at his restaurant. The Takahashi restaurant is very much open for business!
What cuisine do they serve at Kenji Fujimoto's restaurant?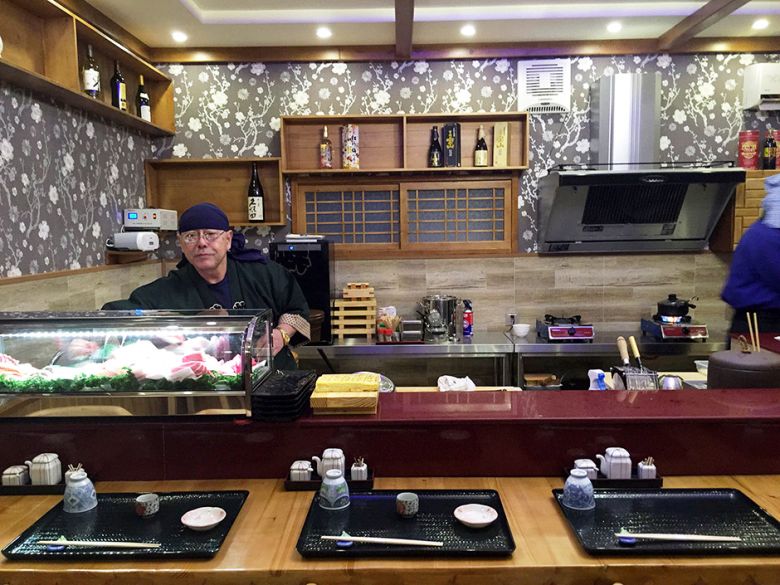 Would you believe it: they serve Japanese food, such as sushi and sashimi. The giveaway is in the name, I guess!
Where is Kenji Fujimoto Restaurant?
It is located in Pyongyang near the Air China office and the Rakwon Department Store and Beer Bar. It is located on an upper floor, and is actually quite a small place.
The interior is very cosy and Japanese-style with a small bar and an eating area.
Is Kenji Fujimoto's restaurant expensive?
By Pyongyang standards it certainly is, costing $30-50 per person depending on what you eat or drink. It could also be argued that it is the most exclusive restaurant in Pyongyang, so in reality not all that expensive.
What is on the menu at Kenji Fujimoto's restaurant?
The menu is actually quite simply, consisting of Japanese-style sushi sets, sashimi sourced from local fish, tempura, soup, and Japanese speciality noodles. And sake, of course, if you need a break from North Korean soju.
Can I visit Kenji Fujimoto's restaurant?
Yes and no: the restaurant is quite expensive by North Korean standards, so we tend not to include it on our group tours, but we do visit on our culinary tour, and it is easy to include on a private tour to North Korea.
About Post Author
.