Fun fact, kids! The best North Korean footballer (arguably) is a chap called Jong Tae Se. AKA The People's Rooney, he was not actually born in North Korea and essentially holds 3 de facto nationalities: Japanese, North Korean, and South Korean. So what is a guy born in Japan doing representing North Korea in the World Cup? The answer is Chongyron.
The General Association of Korean Residents in Japan, AKA Chongryon, is one of the two main groups in Japan representing the Zainichi Koreans: the long-term residents of Japan that moved there before 1945. In some cases this was by choice, and in others due to forcible relocation.
The other organization representing Koreans in Japan is known as Mindan: The Korean Residents' Union.
Following the conclusion of World War 2 and the setting up of the communist DPRK and the capitalist ROK, Japan did not have diplomatic relations with North Korea. Koreans in Japan were given the choice of either taking citizenship of the Republic of Korea (South Korea) or Joseon nationality.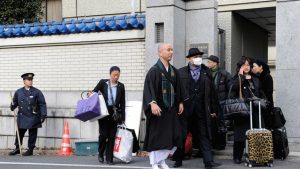 Joseon nationality was essentially a compromise; the Japanese do not recognize North Korea, and thus those who choose Joseon are kind of considered North Korean citizens.
About a quarter of the Koreans in Japan who have not taken Japanese citizenship are affiliated with Chongryon, who as well as operating a massive business empire also operate over 60 schools.
These schools are another amazing anomaly as they have portraits of President Kim Il Sung and Generalissimo Kim Jong Il on the walls, and controversially teach the North Korean school curriculum.
This has obviously not been without a fair bit of controversy with regards to lots of things, such as the families who took their Korean partners back to North Korea in the 60s and 70s. There was also the Mangyongbong-92 ship that used to have a weekly service from Japan to the coastal North Korean city of Wonsan, and was allegedly used to smuggle nuclear data into the country.
Another quirky element of Chongryon is sending students on educational exchanges to Pyongyang, and it quite a strange sight to see Japanese-Koreans truly embracing multiculturalism – Korean uniforms, Japanese haircuts and extremely Japanese selfie-taking! Quite a regular sight when you visit North Korea a lot!
And that in a nutshell is what Chongryon is. If you happen to be in Japan, it is worth going to look at one of their schools!
About Post Author
.