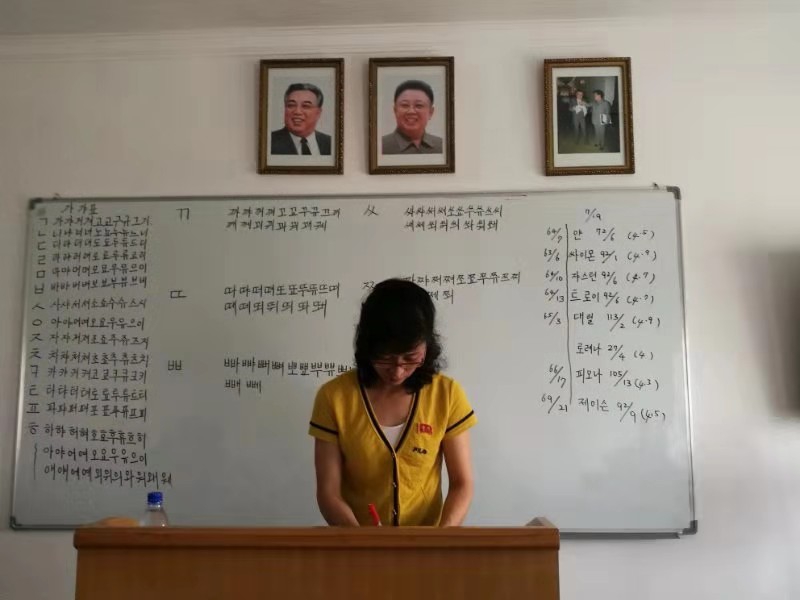 After arriving in Pyongyang on Saturday and spending the night in the Changwangsang Hotel, we headed to Kaesong for the usual DMZ visit.
Daily life studying Korean in the DPRK
Monday was when things got interesting on our first day at Kim Hyong Jik University. Our teacher is lovely with a surprisingly quick pace and a teaching style that is very East Asian. However, the class is a lot of fun and we've all learned a lot despite the fact it's not even the end of the first week.
At times the class is so intense it's easy to forget where you are, so I often have surreal moments where I suddenly remember that I'm studying Korean in North Korea. There is a small shop on our floor where we can use North Korean money to buy drinks, snacks and so on. There are Korean and Chinese students studying on our floor, so we get to interact with them as well, though a lot of the Koreans are a bit shy.
Our hotel is also filled with a massive group of Chongryon Koreans. For the uninitiated, these are Koreans who live in Japan and recognise Pyongyang as the legitimate government of the Korean Peninsula. Many of them also hold North Korean passports still. It's fascinating to watch them talk to local Koreans and they often meet by the lifts on various floors and sing North Korean songs or have meetings.
In contrast to our classes, the pace of touring is nice and relaxed and we have time to drop in and shop at Kwangbok Department Store, walk the streets and sample items at various roadside kiosks or hang out in the outdoor beer garden and eat BBQ. There's a feeling of this being much more like expat life than usual tours.
Afterschool activities
Yesterday, we took in a new opera show at the Pyongyang Grand Theatre. With the performance structured as a "highlights of revolutionary opera history," the show featured several scenes from the five most famous revolutionary operas in North Korea, including, "The Flower Girl," "Sea of Blood," True Daughter of the Party," "A Song of Kumgang" and "The Forest Tells a Story." The show was spectacular and we were surrounded by Children's Union members who were attending the show with a group of military officers in the balcony above. For only 20 euros it's an incredible show and definitely a great stroke of luck for our group as a full revolutionary opera can be a bit difficult to follow for Korean novices.
Tomorrow is our first big test. Afterwards, we head to Masikryong Ski Resort in the evening and on to the East Coast beach city of Wonsan for some beach side R&R as well as visits to the Songdowon School Children's Camp and a local co-operative farm. In a couple of weeks some of us will also join our chartered flight from the Victory Day tour to visit Mt Paektu.
The experience has been incredible so far and I'm really looking forward to the rest of it. Stay tuned for more updates!
If you would like to study Korean in Pyongyang join next year's edition of our
Pyongyang Korean Language Study Tour !
About Post Author
.