The Democratic People's Republic of Korea and the city-state of Singapore may seem worlds apart. To the outsider, visions of Singapore being a liberal free-market zone emphasizing cosmopolitanism and religious pluralism hold themselves in stark contrast to the view that most foreigners cling to regarding North Korea. How could Singapore, a state that welcomes nearly 20 million tourists a year, be mentioned in the same breath as one like North Korea, which sees only a few thousand? The truth is that these two nations share far more than meets the eye in both history and diplomacy.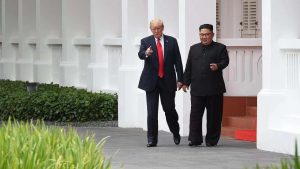 Here is the cheapest way to get from North Korea to Singapore.
Firstly, it pays to remember that both nations – as they exist in the modern sense – are quite new. It wasn't until 1948, following the defeat of Imperial Japan and the Soviet rubber-stamping of Kim Il Sung, that the DPRK was founded. And it was not until as late as 1965 when a young lawyer and politician of Chinese origin — Lee Kwan Yew — led Singapore to break away from Malaysia, fearing mounting religious and ethnic tensions between the native Malays and the Chinese majority population.
Doubtlessly, China is the cultural and political entity that drove both states to nationhood, and will be the host for most of your journey therebetween.
Your journey begins in sunny Singapore, which — lucky for you — is one of the premier international flight hubs in the world. Flights can be found to Malaysia, Indonesia, Thailand, Vietnam, Hong Kong, Macau, Philippines, Cambodia and more for less than 100 Euro return. We will be heading to mainland China as it is — for our purposes — the only gateway into the mysterious nation of North Korea.
To keep the price minimal, we will be flying coach with an airline that prioritizes dependability over opulence – even if it means featuring a takeoff time of 3:50am, as mine did last time I took this route. Flights to southern mainland cities such as Guangzhou or Shenzhen can be found for under 50 Euro one way. If you opt to fly to Hong Kong, you can read our blog about the best and fastest way to get from Shenzhen to Hong Kong, or vice versa.
Now that we are on the mainland, the real fun begins. You're going to want to make your way to the nearest train station. You can book your tickets online or buy them there. Note: you will have to bring a form of ID – probably a passport since you're likely not Chinese – to collect the tickets and claim your spot.
Chinese trains typically feature four classes – hard sleeper, soft sleeper, hard seat and no seat. If you would like to spend the next 20-30 hours not having to trip over industrial buckets, fans, pieces of farming equipment and the occasional piece of furniture that your jovial neighbours have brought along with them, I would humbly suggest getting a sleeper for an extra 300-400 RMB. You'll thank me later. If you'd like to cut costs to the bone then don't hesitate to read our blog on how to survive a standing train ticket in china.
The journey north will be one of a shifting landscape. The green hills of Guangdong will fade into the heartland of China. Hunan — one of my favourite provinces of China, just for being there – is sure to interest you with its mountains. Perhaps a stop in Shaoshan, the hometown of Chairman Mao — a Hunanese native — would interest you. If so, check out our Chairman Mao and Nanjiecun Collective Village Revolutionary China Tour.
After Hunan comes Hubei, where the massive "Three Gorges Dam" twisted the Yangtze to its will, and swallowed entire villages in its wake.
Into Henan — another favourite of mine — and its partner in crime, Hebei. The most populous non-coastal province of China (third most overall), Henan is often overlooked. Together with Hebei, its counterpart to the north, they account for 8 of the 10 cities with the worst air quality in China. Comprising almost 200 million people between the two of them, they make up the true industrial heartland of the country, and to my mind, can be a welcome breath of (un)fresh air when compared to the glamourous first-tier cities.
Arriving in Beijing, you may want to experience the hutongs, Tiananmen Square and The Summer Palace, not to mention the Great Wall, to which we offer extensions on most of our Ultra Budget Tours. We now begin your final stint into Liaoning and the DPRK.
Your options include taking the train directly to Dandong, the city on the border or going through Shenyang, a northern industrial city featuring the tallest statue of Chairman Mao Zedong in China! Now, if that doesn't interest you just a little, then maybe you have to re-evaluate the entire trip.
Dandong is the border city situated on the Yalu river. It is here that China comes into the closest geographical contact with North Korea. Just across is the city of Sinuiju, which you are welcome to visit overnight this April on the Tomb Sweeping Festival Overnight in the DPRK Tour. As you look across the Yalu, you'll be able to see what remains of a North Korean theme park. As you cross into the DPRK on the Sino-Korean friendship bridge, on your left you'll see the skeleton of a bridge blown up by the American bombing campaign of 1950.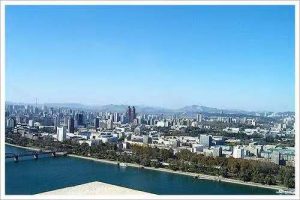 So there it is: the cheapest way you can get from the island nation of Singapore — a nation that shares close demographic ties and identity with China — to North Korea, one that has relied on China for two-thirds of a century.
If you want to make visiting North Korea a reality, it has never been easier. Check out our upcoming North Korea tours today for an in-depth look at one of the most interesting places to ever exist.
About Post Author
.