Understand
Hyesan is a city in North Korea's Ryanggang Province that borders China's Changbai Autonomous County. It has a population of almost 200,000 people.
Getting into Hyesan
From the Chinese side, the city is accessible via the Changbai-Hyesan International Bridge, and as of 1992 it has been possible for Chinese tourists to take 1-, 5- and 10-day tours via this route. Currently it is not possible for Western tourists to visit the DPRK via this route, but we are working on changing this.
The city is connected to the rest of North Korea via three lines of the Korean State Railway. It's currently possible for Chinese tourists on longer trips to first travel here before embarking on their onwards journeys.
Scenery of Hyesan
The city is located next to the Yalu ('Amnok' in Korean) River, as well as being close to Mount Changbai/Paektu. Needless to say, the scenery is spectacular!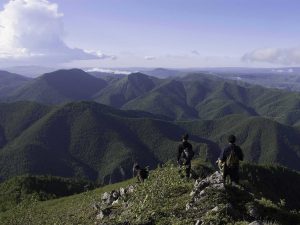 Where to stay?
In Changbai City there are lots of great hotels that are extremely close to the North Korea side of the border. In Hyesan itself there is the imaginatively-named Hyesan Hotel, a fairly bog-standard hotel for a tier-2 North Korean city.
What to do?
As with any North Korean regional city, there are enough revolutionary sites to keep even the most ardent communist happy. The standard dual statues of Kim Il Sung and Kim Jong Il can also be found here.
Getting out
Tour groups can travel from here to Pyongyang by charter plane. It's also possible to travel to Mount Paektu or the city of Samjiyon by car. It's also not too far from the Rason SEZ, as well as Chongjin and Mount Chilbo.
If you are interested in a DPRK trip that's really off the beaten track, check out our North-East and Rason tours, or watch this space for any developments on the Hyesan front!
About Post Author
.