For anyone who's travelled to North Korea – or has more than a passing interest in all things DPRK – it's no secret that a great many things are named after the founder of the DPRK, Kim Il-sung. Kim Il-sung Square and Kim Il-sung Stadium are just two examples in Pyongyang, for instance. But you may not know that there are a great many more that can be found outside the country; Kim Il-sung Park is just one of these places.
A brief history of Kim Il Sung Park
Kim Il Sung Park is found in Damascus, Syria, and was built in 2015. This is despite the country being embroiled in one of the worst military conflicts thus far this century.
The 9000-square-metre park lies in the southwestern Damascus district of Kafr Souseh, surrounded by signs of the catastrophic civil war that so recently (and still does) engulf the country. Not only does the park itself bear his name, but the adjacent street is also named for him.
Why did the Syrians build Kim Il Sung Park?
The official reason for Syria dedicating a park to Kim Il-sung was to thank the North Korean leadership for their support during the recent civil war with ISIS. As for the park itself, it is a pleasant, tranquil area that serves as a respite from the war-torn city around it – for Syrians and visiting North Koreans alike.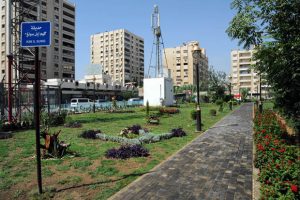 Can I visit Kim Il Sung Park?
This year, following a massively successful research trip to Syria, we now have a full programme of tours to the country. We will, naturally, be taking some time to stop by Kim Il Sung Park and grab some photos.
Check out our upcoming tours to Syria and get in touch with us for more details of the trip to this fascinating country!
About Post Author
.