With more and more people chasing the wonderful dream of visiting all the countries in the world (we're trying to be there to help!), we see a number of trends developing. On many of our tours, discussions about countries are sure to come up amongst the well-travelled and the subject of what counts as visiting a country comes up very often. Another subject is how to visit certain countries. Certain countries, judged too dangerous, are checked off the list by people who visit the capital of the country or one safe zone and then leave. South Sudan is one such country, with many people booking a flight to Juba, staying there overnight and then leaving. While when it comes to travelling, everyone is free to do what they want and there is no one 'right way' to travel, we personally think that only visiting Juba in South Sudan is a bit of a shame. Find out why below!
Juba is strict — very strict
As a new capital and the preferred staging point of NGOs in a region which has had a very turbulent history, Juba has some very strict laws. If you think that it is hard to take photos in North Korea, think again. Juba has some of the strictest photography rules in the whole world. Basically, if you have not acquired expensive photography permits and are not accompanied by a government agent to enforce these permits and ward off policemen, taking a photo of the most mundane thing could get you straight to prison. Reports of people getting beaten for photographing an apple or a house are not unheard of, so if photography is your thing, Juba is really not the place to be. That is not to say that a trip to Juba is unsafe. If you follow the rules, nothing bad will happen. But you might find that in Juba, the rules won't afford you much leeway.
That doesn't mean that South Sudan is not a photographer's heaven, which brings us to the next point.
The most incredible things to see in South Sudan are in the countryside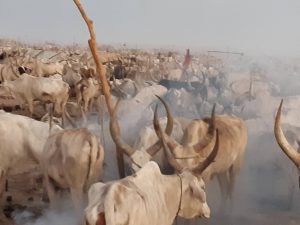 Mundari herders living amongst their cows in a sun-drenched dustbowl is one of the most gorgeous things you can see (and photograph) in the world. There are some stunning, completely unique cultures in South Sudan, and these have been preserved by the bucolic isolation of the countryside. If you want to encounter those sights, you will have to leave the city.
To see the most amazing things in South Sudan, you will have to embrace their necessary remoteness and drive a few hours out of the city. While there are some unsafe zones in South Sudan, a safe trip to South Sudan is possible when you hire people who know what they are doing and use their connection to bring you to safe places.
Not only are the most beautiful sights in South Sudan tucked away in the countryside, but also the photography rules there can be much more relaxed than in Juba. Some of the tribes are really keen on having their portraits taken and you are far from the government's watchful eye and regulations!
South Sudan is magnificent, but Juba does not represent that in the least!
There is not much to do in Juba
South Sudan is a young country; as such, its institutions are barely developed. Before the split, the government of Sudan was always very centralized and, as such, most of the museums and other sights are located up north. This also goes for the pyramids, necropolis and other sights of Sudan. South Sudan has always been a land of villages and did not even have a city until very recently. As such, Juba is definitely a boomtown and does not have much in the way of museums and monuments (although we do see all there is to see on our tour). It has a very interesting market where all the cultures of the country meet, and cruises on the Nile. It also has the John Garang mausoleum. All of this will keep you busy for a day or two, but if you are looking for a longer vacation or meaningful trip, you will have to leave Juba.
As it grows, we can hope that Juba will develop its own character; we can already see some interesting hotels and restaurants appearing on the scene. Museums should eventually appear, but for the moment, visiting Juba doesn't offer much more than visiting any nondescript city of East Africa.
It is not as expensive as you think!
Lots of people are put off by the price of organized trips to South Sudan so they think it is better to just fly to Juba, find an hotel that offers airport transfers, see the city for a day and leave.
It might seem cheaper to do it this way, but when you put it together, flying to Africa (if you are not based there) and then flying in and out of South Sudan — just to check it off the list — seems to us to be a very expensive thing to do. So why not stay longer and make it worth your while?
Our group tour is here to change that. While you can easily be charged €3-4000 by some companies to visit the country for a week, Young Pioneer Tours is the first company to offer an affordable week-long trip to South Sudan.
About Post Author
.