Guided Tours to Kuwait – State of Kuwait
Young Pioneers Tour are pleased to offer our 2023 and 2024 Kuwait Tours and Travel packages.
Kuwait historically was a part of ancient Mesopotamia, with its strategic location at the Persian Gulf making it a major trading port between Persia and India, with silks, spices and many other things traded then until this day.
A real crossroads of old and new Kuwait offers ancient Arabic and Greek sites, combined with one of the most modern cities in the world, this is not a regular destination!
Often overlooked by western visitors, there is much more to a Kuwait tour than merely ticking of the country – so why not join a YPT trip to Kuwait to see it all firsthand.
KUWAIT TOURS – GROUP TOURS TO KUWAIT
YPT have been organizing group tours to Kuwait since 2018, when we first entered Saudi Arabia. These Kuwaiti Group Tours are usually combined with Saudi, but can be done as standalone, or combined with other destinations (see below).
Our tours are capped at 16; this is to ensure you have a great trip and are not merely herded around like cattle. As we say group tours to Kuwait for people who hate group tours.
Kuwait City Persian Gulf Tour – October 15th – October 18th – $695
This tour is perfect if you would like to explore Kuwait City, filled with beautiful architecture from the Grand Mosque to the Al-Qurain Martyrs House surrounded by the modern developments of this fascinating country. You can visit the ancient Greek sites on Failaka Island and try out locally prepared delicious food.
Kuwait City Highlights Tour – February 7th – February 10th – $695
Did we mention we like Kuwait City? This features all of the main sites that we usually take in, but much more importantly this Kuwait tour can also be combined with not just Socotra, but also Saudi Arabia.
Tours can also be combined with other Middle-Eastern destinations on a group, or independent basis.
Keep checking our page as we're currently working on tours to Kuwait in 2024 and beyond, so bookmark this page or follow on our various social media pages for updates on travel to Kuwait.
KUWAIT INDEPENDENT TOURS
Recently there has been a huge demand for our independent Kuwait tours as it builds a bridge between our popular Middle Eastern destinations. YPT can cater for your requirements to create a personalised itinerary to fit into your schedule.
Your bespoke itinerary can be taken care of by YPT, we just need to know your timeframe, interests, and the level of accommodation you like and where would like to eat and drink – these factors and your group size will reflect our competitive prices
Our independent Kuwaiti tours can be combined with our group tours to Iraq, Iran, Socotra Island (Yemen), Syria, as well as Lebanon tours, both group and independent. Simply let us know your requirements and we will work around your travel plans to Kuwait and beyond.
Independent Kuwait Tour Itinerary
With Kuwait fascinating ancient history from Mesopotamia to Alexander the Great conquests to its recent time with the Iraqi Invasion and its mega cities from its lucrative oil rich resources – there's so much to see and do in Kuwait.
YPT can create a unique experience for you or your group in Kuwait see our example Kuwait itinerary;
Day 1 – Kuwait City
Arrival into Kuwait City, we can arrange to collect you at the airport.
Head out for a stroll near the harbour for dinner and discuss your personalised itinerary.
Overnight at hotel
Day 2 – Failaka Island
Morning
Breakfast at hotel and pick up in our private transport to the ferry dock
9:00am departure on ferry for an hour cruising along the harbour front of Kuwait before reaching the forgotten Failaka island
Visit the Sheikh Abdullah Al-Salem Palace – the eleventh ruler of Kuwait, built out of sea rocks and mud. Portraits of all the former rulers of Kuwait are displayed in the majestic foyer.
We'll then head to the location where the Failaka battle took place
Explore around an old resort on the island damaged during the war and completely abandoned
Afternoon
We'll have lunch on the island at a nearby café.
Visit what remains of the former Bank al Watani – one of the most war damaged yet standing buildings on the island.
Head to the tank graveyard. Discarded Soviet tanks, APCs, artilleries, military trucks and vehicles left behind by Saddam's military.
Drop by the heritage village to see how villagers lived on the island before the invasion.
Board the 4:00pm ferry back to mainland and dropped off at hotel.
Head out downtown for dinner.
Overnight at hotel.
Day 3 – Kuwait City
Morning
Our first stop of the day is Kuwait's Grand Mosque – a dress code is required for women visiting which can be borrowed from the gatehouse. This enormous mosque is fairly unique in the region for its Andalusian architectural influence.
Visit Sadu House – a traditional Bedouin Kuwaiti house and culture.
Visit the National Museum which houses the knowledge of the Arabian Peninsula, the geography, history and civilization.
Stop by the Al-Qalalif Diwaniyah – the most important craft and profession in Kuwait of the past, manufacturing wooden sailing ships. This was taught down by generations. With over 450 members, most of whom are elderly.
Afternoon
Lunch in the city
Visit the must-see museum of Kuwait, which is not for the faint-hearted, the Al-Qurain Martyrs House which depicts the Iraqi invasion during the Gulf War. One of the documents on display is an official order found in an Iraqi vehicle instructing troops to "burn and destroy all homes on which there were slogans hostile to our leadership."
Make a special visit to the Ahmad Al Jaber Oil & Gas Exhibition – named after Kuwait's 10th ruler from 1921 to 1950, it was during his reign that the birth of Kuwait's oil industry began. The exhibition explains and shows in great detail the formation of oil, to its discovery and all of the ways that oil products are produced today.
Watch the sunset from the top of Kuwait Towers with great views over the city
Visit the old Souq Al Mubarakeya – one of the oldest souqs in Kuwait, and was the centre of trade prior to the discovery of oil.
Explore Kuwait's central fish market and Dhow Harbour
Dinner in town
Overnight at hotel
Day 4 – Kuwait City
Breakfast at hotel
Tour concludes – YPT can help arrange airport transfers or travel to your next destination.
INDEPENDENT KUWAIT TOUR EXAMPLES
Cultural Kuwait Tour – with recent development of the Kuwait National Cultural District, we can arrange a tour visiting various museums, cultural centres and palaces. With our experienced local knowledgeable guides can take you through the history of Kuwait.
School Trips to Kuwait – Kuwait is extremely safe for children and students to visit and has enough historical interest to fit many a curriculum. If you are interested in a school tip to Kuwait get in touch and let us know your ideas.
Kuwait Architecture Tour – Kuwaiti City is something spectacular with modern towers to beautiful mosques but there are also ancient Greek structures, as well as more simple dwellings as you explore the country.
Kuwaiti Military Tour – with the Iraqi invasion and occupation of Kuwait, there are memorials, and even an Iraqi tank graveyard. A definite must for all those interested in geopolitics and military history that led up to the Gulf War.
Islamic Cultural Tour – with rich Islamic roots, Kuwait is filled with Islamic history and sites. We can take you on a personalised tour exploring these fascinating sites and learning about the religion and cultural influences in the region.
Outdoor Adventure Kuwait Tour – one our most popular independent tour requested as we can provide outdoor camping in the desert under the stars while all in style in bespoke tents and chefs. Activities in the day include sailing, kayaking, scuba and snorkelling in the stunning Persian Gulf.
Kuwaiti Food Tour – try the national dish Mutabbaq samak! Kuwait cuisine is something enchanting, a fusion of Arabian, Iranian, Indian and Mediterranean cuisines make our food tours the best as we can take you markets to restaurants renowned for their specialities.
Kuwait Photography Tour – with the stunning city skyline and the natural beauty of the desert, Persian Gulf and Failaka Island, as well as ancient Greet settlements Kuwait makes a great place for photographs!
Family tours to Kuwait – Kuwait is extremely family friendly, with hotels featuring family rooms and it generally being extremely safe. We can therefore arrange our itineraries to Kuwait designed around your personal family needs.
Kuwait City Tours – If you just have a layover, or even a few hours in Kuwait then we can arrange the perfect Kuwait City tour, taking up as much as we can in the time that you have available.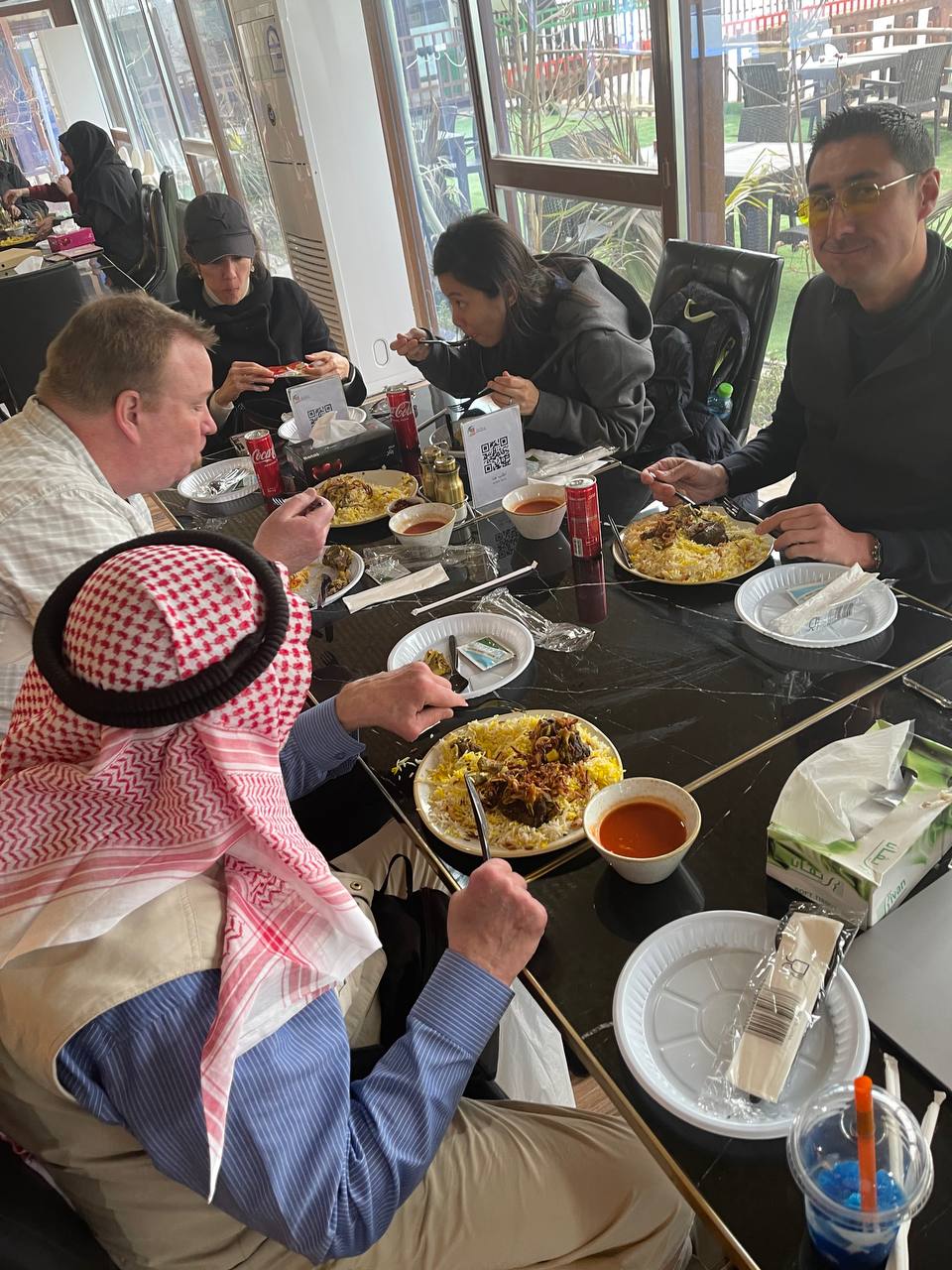 KUWAIT TOUR GUIDES
At Young Pioneer Tours when you book a tour to Kuwait, be it an independent or group tour to the country, you will always be joined by one of our local Kuwait based guides. Some are Kuwaiti nationals, while others are Arabs based in the country. Whichever it is we only work with the best tours guides in Kuwait.
On your Kuwaiti group tour you'll be joined by an experienced YPT guide and by our friendly knowledgeable local Kuwaiti guides. All our guides are fluent in English, but should you require a different language for an independent tour to Kuwait then please get in touch and we will see what we can do.
KUWAIT VISA
The visa process for Kuwait is a quick and easy process, if you're a citizen from the UK, EU, USA, Australia, New Zealand, South Korea, Japan and many more! You can get a visa on arrival or simply apply online for a tourist visa.
Young Pioneer Tours can assist you every step of the way and provide the required documents needed as part of your tour package – please don't hesitate to contact us if you have a question about a Kuwaiti visa.
KUWAIT TOURS FAQ
Can you visit Kuwait if you have previously travelled to Israel?
Yes and No, if you have previously visited Israel and have an Israeli stamp then this could potentially deny you a visa or entry on arrival. Therefore, it is best to travel on a passport that does not have an Israeli stamp in it.
Is it safe to travel to Kuwait?
Kuwait is probably one of the safest countries to visit as a tourist. The country statistic indicates a low crime rate and it's extremely rare for foreigners to be a victim of crime, as always take precautions and follow your guide's instructions.
Is daily life expensive in Kuwait?
Despite having the strongest currencies in the world daily expenditures such as meals and drinks are pretty much the same cost as western countries, but we can advise on how much money to bring when you book your tour.
Can you drink alcohol in Kuwait?
Simple answer is no. Kuwait is an Islamic country, consuming, possessing alcohol or even being intoxicated is strictly prohibited and can lead to serious fines. However, you can enjoy a nice cold non-alcoholic beer during the tour!
Is the political situation unstable in Kuwait?
Kuwait is an emirate and has an autocratic political system, its' very stable and demonstrations and protests are extremely rare. However in case of sudden large peaceful gatherings always listen to your guides instructions. With regards tosafety of travel to any destination always consult sites such as the UKFCO.
Why are your Kuwait tours capped at 16 people?
Simple answer, we believe in the quality of our tours ensuring we can provide the best experiences during your time with us. This would be difficult to do if we cared about profits over customer satisfaction.
Can you still visit Kuwait during Ramadan?
YPT tends to work around Ramadan to ensure you get the best culinary experience during our tours and to respect the local communities. However it is possible to visit Kuwait during Ramadan, however be mindful when consuming food or drinking water in public. We can provide lunches and drinks during the tours.
What should I wear to Kuwait?
Whilst it may be warm, it is also important to dress appropriately for both men and women. T-shirts are acceptable which don't expose the chest or shoulders and it's best to avoid shorts. Basically, nothing too revealing or tight, it also best for females to wear a scarf when visiting religious sites.
Is it safe for females to travel to Kuwait?
It's perfectly safe to visit Kuwait as a female; our tours consist of a mixture of males and females. Some of our local guides are female and the country is not nearly as strict as is often portrayed.
Is Kuwait safe for the LGBTQ community?
Unfortunately, there are some strict laws in Kuwait regarding relationships with the same sex or imitating the opposite sex – this extends to unmarried couples of opposite sexes. It is though still very much possible to travel here. You can read our guide on the matter here.