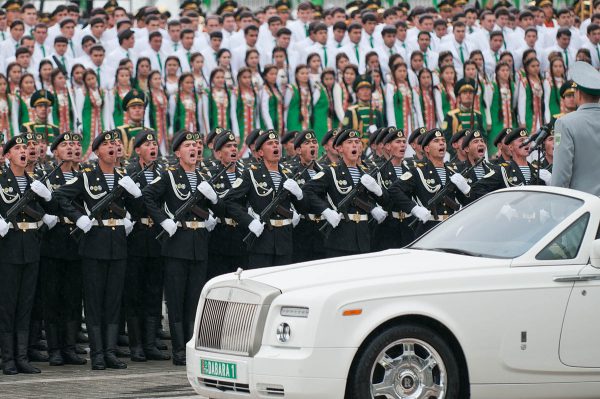 As everyone knows, we offer the cheapest, best value for money tours to Turkmenistan. They also happen to be some of the most comprehensive as well, but we do it as cheap as Turkmenistan allows to ensure everyone gets a chance to travel there. We also offer bespoke independent tours specially designed, professionally guided, and planned with your budget and interests in mind. Most people who travel to Turkmenistan independently still try to travel as cost-effectively as possible, however some like to live large and really enjoy themselves as they visit Turkmenistan in style. This is how to travel luxuriously in Turkmenistan.
Obviously you flew in to Ashgabat International Airport. If you're going to travel in comfort you don't really want to be slumming it at a land border crossing, having to walk across no-man's land, carrying all your own luggage and standing in queues of local traders. You might have even flown business class on Turkish Airlines or Lufthansa.
While we normally stay at the Ak Altyn Hotel (a former Sheraton and somewhere between a 3 and 4 star hotel) in Ashgabat, you'll want to go 5 star. Ashgabat, of course, in all its marvellous marble and gold has its fair share of 5 star hotels. Some of the most over-the-top experiences one can have. At the higher end of the scale you have the Oguzkent Hotel, Nussay Hotel or the Olympic Hotel. However if you're going to go for the best, then it has to be the Yyldyz Hotel. Shaped like the Burj Al Arab in Dubai and atop one of the highest hills in Ashgabat, you'll have views over the entire city. With several dining options and all the grandeur of a royal residence, you'll not have to leave if you're staying here.
There are of course the usual sights that everyone wants/needs to see in Ashgabat, but how many chances do you get to play a Jack Nicklaus designed championship golf course. That's right – you can play golf in Turkmenistan, at the country's only course. It will cost you roughly $150-$200USD depending on what equipment you need to hire, but it's certainly worth it for the experience.
Despite staying in absolute comfort in Ashgabat, you're probably going to want to visit other parts of the country. So why not pop across to the Caspian Coast and maybe lounge at the yacht club. Often on tours we'll drive or catch the overnight train, however you're travelling in style, so back to the airport and on to one of Turkmenistan Airlines' domestic flights. You can even book a business class ticket and take advantage of the lounge at the airport. It's a pretty basic lounge and all you get extra on the flight is a bigger seat, but you're worth it. It's around US$300-400 for business class compared with around US$140 for economy.
After arriving in the port city of Turkmenbashy, you'll be whisked away by limousine to the coastal resort of Avaza, otherwise known as the National Touristic Zone – Avaza. Rather than staying at one of the regular hotels such as the Berkarar, Serdar or Seyrana, you'll be staying in your own 1500m2 villa at the Yelken Yacht Club. With features like your own private beach, access to the many bars and restaurants the club has to offer, your own kitchen, space for two cars, satellite tv, 24-hour room service, you'll never want to leave. Chances are you will be the only person staying there though.
Throughout your stay in Turkmenistan you'll be taken to the best sights in the newest 4WDs when the roads don't allow for the classy experience. Imagine arriving at one of the world's most secluded canyons which a table and chairs and private lunch ready for you. It might not be for everyone, but whether you want a budget tour of Turkmenistan or travel to Turkmenistan in style with a luxury Turkmen tour, contact us if you want the Bespoke Turkmenistan Experience!
About Post Author
.