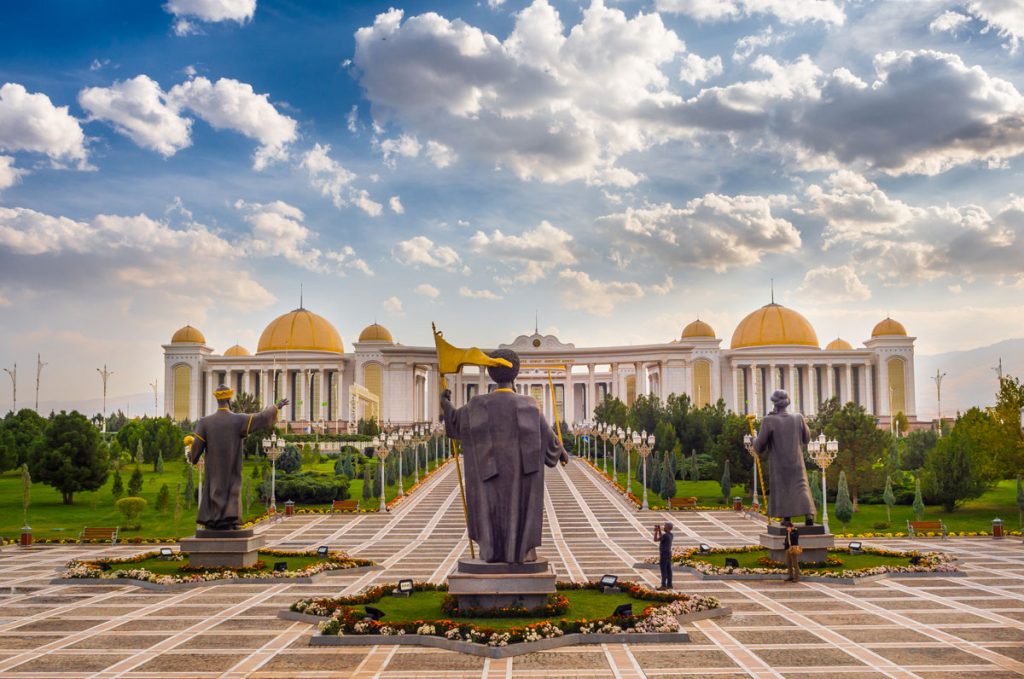 So you've just arrived in Ashgabat, you're on a group tour as everyone needs to be on to get a tourist visa and you've decided to arrive a day early. But how should you spend that extra day? These are my suggestions and how I regularly spend my extra time in Ashgabat. Although you need to be escorted when outside of Ashgabat, you are allowed to wander around by yourself inside the city.
The Russian Bazaar
Start the day with a walk. You'll probably need to stretch the legs after probably arriving at 3am and only getting a few hours of sleep, and there's no better way to start getting a feel for the place and to blend in with the locals. You're by yourself or in a small group and thus able to have those more intimate experiences. Whenever you wander, make sure you head towards the Russian Bazaar (also known as the Gulistan Bazaar). Here you'll see Turkmen produce, everything from herbs and medicines you've never seen, to Korean salads to lots and lots of melons. Although the produce is sold in the centre of the market, the sides are lined with local fast food options, pastries filled with meat, cheese and herbs, a great little bite in the morning. Make sure to head to the dedicated souvenir area, one of the few places in Turkmenistan where you can get magnets, keyrings, local hats, t-shirts and all the normal tourist paraphernalia.
Sha Coffee
If you're a caffeine addict, your next stop needs to be Sha Coffee. Only a small 10 minute walk away, it's centrally located in the Alley of Inspiration, dedicated to the famous writers, poets, musicians and thinkers of Turkmen history. On the way to Sha you'll pass the Altyn Assyr textile centre, where you can get Turkmenistan tracksuits, hats and traditional Turkmen clothing. Sha Coffee was opened by a Turkmen who studied and worked in London. When he came back to Ashgabat he wanted the same sort of hipster cafe experience he had grown to love there, all the avocado on toast and great flat whites that his heart desired. And so Sha Coffee was born.
Ashgabat Park
Next either take a walk or a bus ride down Magtymguly Street heading east towards Ashgabat Park. This section of the city has some of the original new white marble buildings, you'll walk past several ministry buildings and theatres. Most of this era of buildings are adorned with busts of the first President Saparmurat Niyazov Turkmenbashy. Just before you get to the US embassy, you'll pass the Ashgabat monument, one of the small monuments in the city, but still extremely impressive. You'll finally arrive at Ashgabat park, where amusement rides and families enjoying themselves are the order of the day. The locals are rarely seen without an ice cream in their hand or a bag of popcorn, both of which are cheap and readily available.
Merdem Restaurant
It's definitely lunchtime by now, so if you're hungry and want to experience a good Turkmen feed, then you should catch a taxi to Merdem restaurant. The gimmick here is airconditioned yurts with amazing seating and walls adorned with Turkmen bits and pieces. The food here is as good as Turkmen food can be, and luckily they have pictures of all their dishes on the ipads they present you with to order from. They do especially good Unash (a noodle soup) and great Yarma, a local stew made with meat, lentils and barley.
Berkarar Shopping Mall
The afternoon will most likely get hot, as it usually does for most of the afternoon in Turkmenistan, so you really need to pick one place you'd really love to see. For some it's the golf course, some like to head to the Berkarar shopping mall (the biggest in Turkmenistan and quite a site – here you can go ice skating, play amusement games, a game of 10 bin bowling, or just some shopping therapy), for others it's one of the huge phallic statues. With the huge distances involved and the near impossibility of crossing the massive, over-managed roads, as the city was not made for pedestrians, it's definitely time to catch a bus. When catching a bus in Ashgabat you just throw your fare in a bucket at the front, 50 tenne at time of writing. If you have a 1 manat coin, you can place it in and get yourself some change. It's the honour system on Ashgabat buses and everyone really does seem to follow it.
Independence Monument
Another great spot is the Independence Monument at the southern end of Independence Park. Across the road is the National Museum if that takes your fancy. From the Independence Monument you can walk downhill through the Independence Park and hopefully by later in the afternoon, some locals have come out to walk, have a picnic or even play some music. The Independence Monument is also a great place as it's a must-stop destination for wedding photos, so you'll often see a wedding party there.
After a walk through the park you'll have arrived at the Ashgabat Olympic venue, not something you can visit, but certainly a site to see from the outside.
By this stage it'll be late afternoon and time to head back towards the hotel. Depending on time, you can walk downhill north along either Turkmenbashy Avenue or Garashsyzlyk Avenue, admiring more of the amazing white marble buildings and even getting a glimpse of the Presidential Palace. But, remember not to take photos here!
Zip Bar
Your final stop for the day should be Ashgabat's favourite beer garden, Zip Bar! Here you'll be drinking 30-40 cent pints of beer and enjoying some of the best shashliks Turkmenistan has to offer. It's where the locals go and is the best place to meet people and recap on a pretty great day of exploring Ashgabat.
So that's it for our blog about how to spend a day in Ashgabat. If you'd like it better, why not hire one of our guide on an Ashgabat Day Tour extension?
About Post Author
.