With Marshal Kim Jong Un leaving his country for the first time after the US-DPRK summit in Vietnam, you might be interested in knowing how such a trip is doable. While we've previously covered how to get from Vladivostok to Pyongyang by plane and covered how to get from China to North Korea, here is how to get from North Korea to Russia.
By plane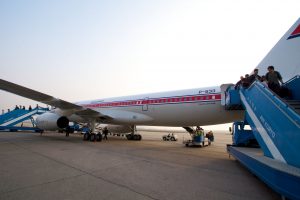 Vladivostok is one of the few destinations where Air Koryo, the national air carrier of the DPRK, has flights scheduled to, along with Beijing, Shanghai, Shenyang and now Hanoi.
Flight JS 271 leaves from Pyongyang at 8:00 am twice a week, on Mondays and Fridays.
The experience, as described in our blog, is quite interesting, with lots of Koreans using this route to bring goods in and out of Korea and the planes being some of the oldest (think Soviet-chic) planes of the Air Koryo fleets.
Tickets can generally be bought through travel agencies to North Korea, and this is a much safer way to acquire them than dealing with Air Koryo's website.
At the moment, apart from Pyongyang Airport there are no other international flights from the DPRK so if you plan on heading to Russia by plane, the last stop of your itinerary will have to be the capital city
Overland
If, like Marshal Kim-Jong Un, you wish to avoid planes and would much rather cross the whole country to reach Russia, it is technically possible although seldom done by non-Koreans. the Tumangang-Khasan border between Russia and the DPRK is only non-Chinese border crossing into the DPRK.
Although plans to make a road bridge are being discussed, this border is, for the moment, only for trains as it is a rail bridge, so you will have to catch a train to cross here. The line, which goes from Pyongyang to Ussuriysk in Russia, goes through thirteen stations in North Korea and three stations in Russia. While you can hop off the train at any of the stations in Russia (Khasan, Gvozdevo and Ussuriysk), chances are that, as a foreign tourist, you will only be allowed to board or leave the train in Pyongyang and Tumangang. There are also stops in Rajin and in Sonbong, which are the two cities forming the Rason Special Economic Zone.
While the Marshal has his own train, tourists travelling through the DPRK railway system can generally only travel in groups of three or more. The reason is that travelling on this train, like any travel in the DPRK, would require the services of a guide from North Korea to accompany you, which comes with substantial expenses.
From Ussuriysk, travellers have two choices: East or West. Connected to the Trans-Siberian railroad, Ussuryisk has trains which stop through the whole network, up until Vladivostok to the East and Moscow to the West. The train from Tumangang to Ussuryisk leaves on the 8th, 12th, 24th and 28th of every month, Korean local time.
Currently, YPT offers tours to experience this road from the other way around with our Moscow to Pyongyang tour which takes the epic Trans-Siberian route before visiting the Special Economic Zone of Rason and all of Pyongyang's highlights. Take this epic journey all the way from Red Square to Kim Il Sung Square!
About Post Author
.