When it comes to visiting North Korea, most people choose to either fly from Beijing or take the train and cross into the DPRK via the border in Dandong. Once in a while, you'll hear eccentrics saying they caught a flight from Shanghai.  Returners wishing to see more of Korea often cross to North Hamyong province via Tumen.  However, very few Western tourists even know of one of the last options since Malaysian flights were cancelled: flying to Pyongyang from Vladivostok.
The DPRK's infamous national carrier operates two flights per week from Vladivostok (VVO) to Pyongyang (FNJ). Flight JS 272 leaves on Mondays and Fridays from Vladivostok at 12:20. To head back to Vladivostok, Flight JS 271 leaves from Pyongyang at 8:00 on the same days.
Why would you want to fly from Vladivostok?
You might want to fly from Vladivostok to combine a Trans-Siberian trip or a visit to Russia with a trip to Korea. You might also want to avoid going to China and having to apply for a visa. You may also want to avoid having to apply for a Chinese double-entry visa and want to get in from Russia and out from China (or the opposite).
You probably need a visa to Russia if you choose to arrive or leave from Vladivostok. YPT can help you with that!
Also, citizens of 18 countries can get an e-visa, which is free and radically simpler than getting a conventional russian tourist visa for the region of Vladivostok. The e-visa does not require pesky hotel bookings or letters of invitations either. This means that if you are from one of these lucky few countries, you could fly from Pyongyang to Vladivostok (or the other way around) and spend up to 8 days in Vladivostok region without having to go to an embassy to get your visa.
All these reasons are valid, but in my opinion, are not as important as the following one: the Vladivostok flight to Pyongyang uses very old Soviet planes.  Indeed, contrary to the Beijing or Shanghai flights where Air Koryo and Air China share the air, Air Koryo is the only carrier in Vladivostok.  For some reason, this means that Air Koryo uses their oldest planes on that route. By taking JS 271 or JS 272, you are guaranteed to get the chance to fly on a green-carpeted, golden-wallpapered, pre-digital-screen Tupolev 154! Sit back, enjoy the mystery burger and reminisce about the golden age of air travel, 35 years ago,  when this flight was brand new.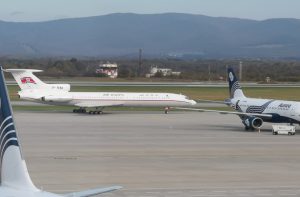 Getting the ticket
One does not fly to Pyongyang like one flies to Ibiza or Amsterdam!  To fly to Pyongyang, you'll have to get an Air Koryo ticket and have a guide waiting for you at Pyongyang airport.  While it is technically possible for you to buy the ticket on your own, know that you won't be able to buy it online or by phone even!  You'd have to go to the nearest DPRK embassy and start an exhausting procedure of paperwork and weird payments to a nation under multiple sanctions.
The best way to do it is to sign up for a tour, either a group tour or an independent tour, using a reliable tour operator such as Young Pioneer Tours!  Book a tour with us, specifying you'd like to fly from or to Vladivostok and let us secure a ticket for you through our network of contacts.  Not only will you have your ticket sorted, but your tour and compulsory guides will also be organised.
Getting a DPRK visa
Now, the final step before you are ready to fly is to get a visa.  If you are coming to China first, chances are your tour operator will be able to meet you there and give you your travel permit (a blue booklet you need to bring to Pyongyang along with your passport).
However, if you aren't planning on visiting China first, you'll either have to get the visa in a country with a DPRK embassy or – much more simply –  get it within one day at the consulate of the DPRK in Vladivostok.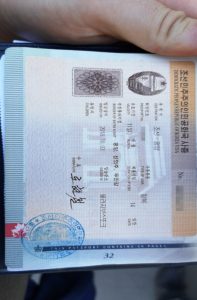 Vladivostok has a DPRK consulate located in the outskirts of town on Nevskaya Ulitsa, 12A. The embassy is surrounded by apartment blocks.  You'll need to have set an appointment with the consul, which we can arrange, and bring a 45cm by 35cm recent visa photo of you, a completed application form, and euros to pay the visa fee.  After a short visit, you'll leave the embassy with a super-trendy full-page DPRK visa in your passport (Beijing people only get a travel permit, taken away from them upon arrival in North Korea). With that in hand and your tour and ticket confirmed, you are ready to head to Pyongyang!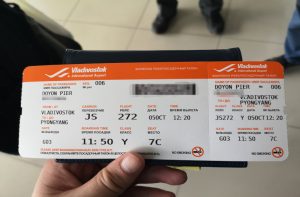 Getting to Vladivostok Airport
While it is somewhat far, Vladivostok airport is conveniently linked to the city.  Multiples options are available for you.  You might get a taxi or jump on the public bus, but we recommend taking the Aeroexpress electric train from Vladivostok train station.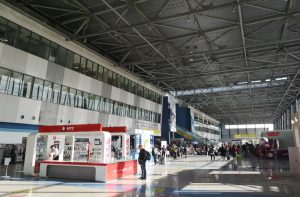 The Aeroexpress can be boarded from a small station right next to the main station.  Tickets can be bought on the day or the day before. At the time of writing, tickets are available at 230 RUB for economy seats and 360 for business class. It takes a little under an hour to get there.  As the flight to Pyongyang leaves after 12, I recommend taking the 9:02 train, leaving you two hours at the airport to comfortably go through immigration and maybe grab a bite.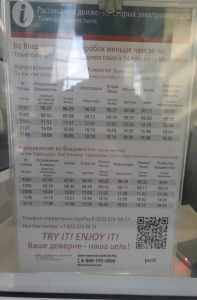 In Vladivostok Airport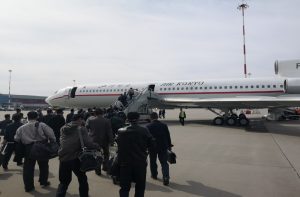 Vladivostok Airport is small yet very convenient. Just head to the international check-in counters and wait for the Pyongyang counter to be announced.  You might see an enormous queue of Koreans bringing massive packages back to the fatherland. Do not fret; as you arrive an English-speaking Air Koryo employee should spot you, knowing from the passenger list that a foreigner is joining the flight, and invite you to skip the queue.  You'll get your luggage checked in and your boarding pass in no time.  Head upstairs to go through immigration.  Do not forget that you need to keep your Russian registration card until then!
After going through immigration, chill on the air side until your flight is called.  Safe in the knowledge that you and your group are almost certainly the only non-Koreans taking the flight, board your own Tupolev and enjoy! It will take you an hour to get to Pyongyang but you'll arrive at the same time you've left due to the time difference.
That's it!  Now you know how to fly from Vladivostok to Pyongyang.  Now, if that's not enough for you and you want to be a true trailblazer, you'll want to take the train into Korea from Russia and visit both the Rason SEZ and Pyongyang.  For that, you'll have to join our Moscow to Pyongyang by Train Tour!
About Post Author
.