As we predicted , Kim Jong Un and Vladimir Putin today met in Vladivostok. Kim and Putin are meeting for the first time and much has been put on the table in terms of the level of collaboration that could happen between the two countries. Much is still to be discussed, but some subjects have already made themselves apparent. One of the projects that gets us the most enthusiastic is probably the idea of building a road bridge between North Korea and Russia.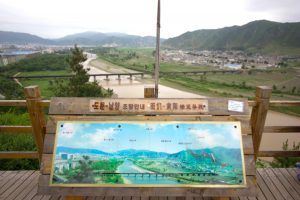 At the moment, North Korea has open borders (subject to restriction, of course) with two countries: Russia and China. It has numerous border crossings with China, which we visit on our Borderlands tour. Out of all these borders, only two are open to foreign tourists: the rail and road bridge between Dandong and Sinuiju and the land bridge between Tumen and Namyang. Very soon, a third road bridge between Ji'an and Manpo shall be open to tourists.
On the Russian side of things, there is only one land border open with Korea and that is the rail border of Tumangang-Khasan. Being only a rail border, crossings have to be organized based on the infrequent train 652э. The train has four departures a month: on the 7th, 11th, 23th and 27th, and tickets can sell out very quickly. Once trains sell out it is impossible to cross on that date. While planks have been put on the rail bridge to allow cars to cross before, it requires special permission. At the moment, the train is the only realistic way to go from Moscow to Pyongyang overland, taking a Trans-Siberian train and then changing trains in the city of Ussuriysk.
If a bridge was built at the Khasan-Tumangang border, it would connect Russia to the DPRK's special economic zone of Rajin-Sonbong (Rason). We could expect to be able to run day tours and short stays to Rason, as they would not be dictated by the rigid railway schedule. This is without mentioning the tremendous business opportunities afforded by this, as trucks could be used to carry materials directly from Korea to Russia.
The construction of a land bridge would not only boost economic opportunities between the two countries but also provide the first road border to North Korea from a country other than China. We can expect this eventual bridge to free up schedules and open up the possibility for more tours to North Korea starting from Russia without flying from Vladivostok. Without a doubt, this is probably one of the most exciting possible results of the Russia-North Korea Summit in Vladivostok.
Young Pioneer Tours will continue monitoring the situation and we hope to, one day, be the first to make a non-rail land crossing from Russia to North Korea, just as we were the first to cross from Tumen to Namyang.!
About Post Author
.