As someone who actively seeks out local football matches to visit whenever I am travelling abroad, I couldn't pass on the opportunity to attend a football match in North Korea whilst on an excellent Political Interest Tour with YPT last year.
It was a sunny afternoon in Pyongyang as April 25 Sports Club stormed to a commanding 5-0 victory over Hang Yuen FC. With April 25 SC already the comfortable winners of Group I in the 2019 AFC Cup, the men from Chinese Taipei were rolled over as a late brace of goals from Jang Hyok ensured there were delirious scenes inside the Kim Il Sung Stadium.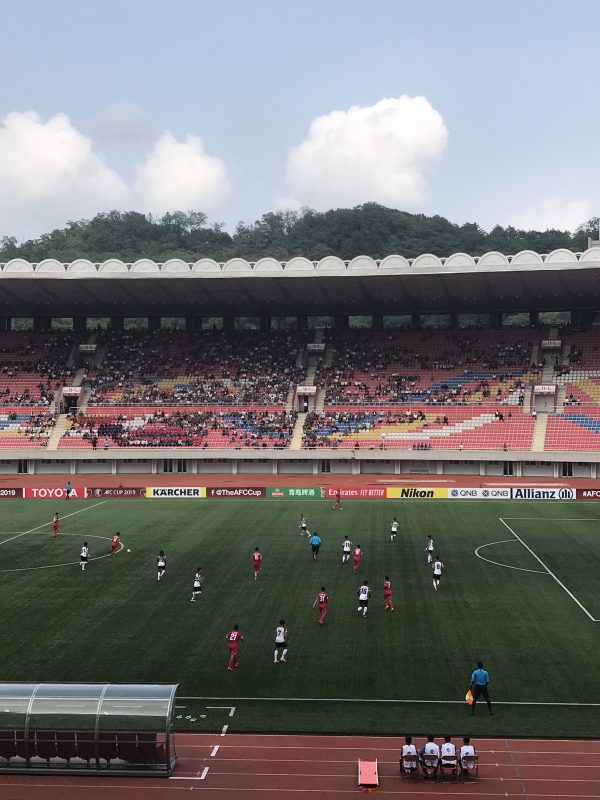 What are the stadiums and crowds like?
Whilst most people are aware of the May Day Stadium, the largest stadium in the world which holds over 100,000 people, most football matches are played at the smaller but no less impressive Kim Il Sung Stadium. Named after the President and founder of the DPRK, it has a capacity of 50,000 and is right by the famous Arch of Triumph which commemorates Korean resistance to the Japan occupation from 1925-1945. For those fortunate enough to take a ride on the Pyongyang metro the Kim Il Sung stadium is just a short walk from Kaeson station. This is on the Chollima Line which takes its name after a winged horse from ancient Korean mythology, unfortunately in the UK we don't have any lines named after mythical animals (yet).
Although for large international matches the stadium is often completely full, for our game the official attendance was a more modest 3,100 although unofficially it was a good 6,000 or so. Given this was a late afternoon midweek kick off for a group that April 25 SC had already won it was still a good turnout. One of the best parts about attending a match in the DPRK is that it gives you a great chance to interact with everyday people not just those at the main tourist sites. Expect a cross-section of Korean society to be present; local party officials, families socialising, sports clubs and of course those genuinely supporting their local team.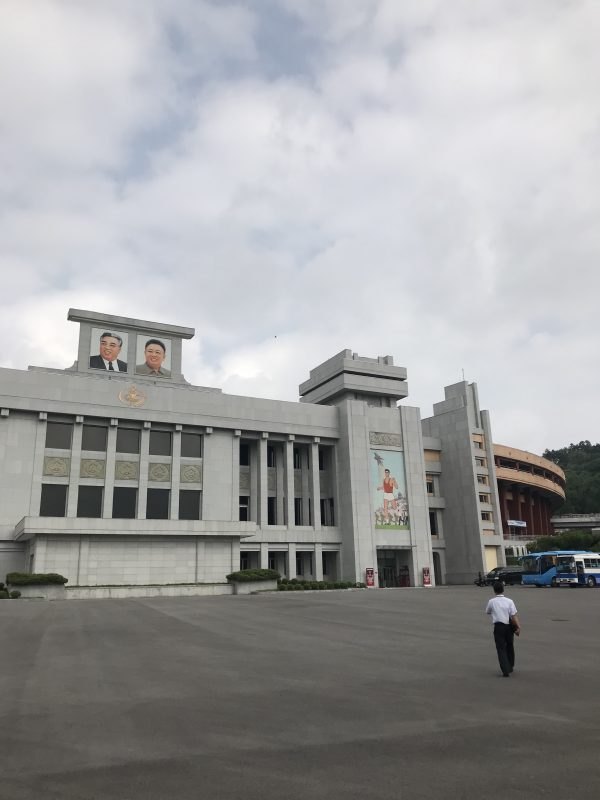 What's the ticketing situation?
For club matches such as these the turnstiles are just opened and the locals are welcomed in for free. As foreign tourists however we were placed in the VIP Section and enjoyed cushioned seats right on the halfway line, something which I don't get watching my local team Watford! We were asked to pay €30 for the privilege, a price that I thought was reasonable given the additional logistical costs and donation to the football infrastructure.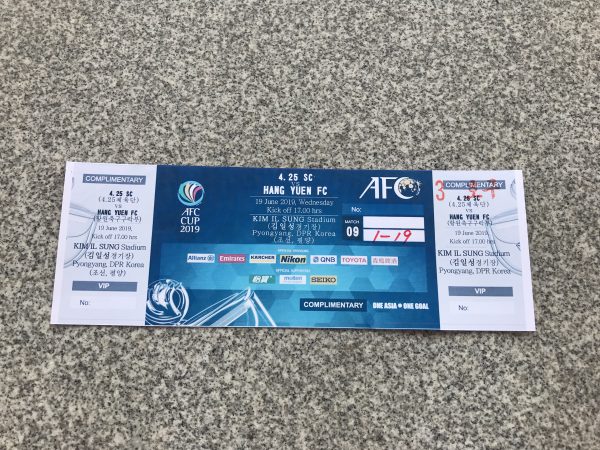 Atmosphere?
Perhaps not the most intense but there was a solid amount of chanting led by an organised group of several hundred people on the opposite side of the pitch to us. Every goal, tackle and bad refereeing decision did however result in a large proportion of the crowd to stand up and cheer/complain as appropriate, more than can be said for some Premier League clubs.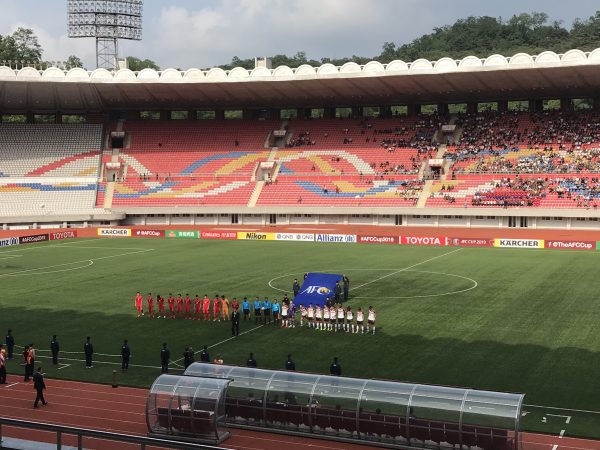 Can I get a beer?
Absolutely. Large cans of imported Shenxue beer were on sale in the concourse for 9 CNY (80 cents) and these were very much enjoyed, and there was also the usual array of soft drinks and snacks available as well.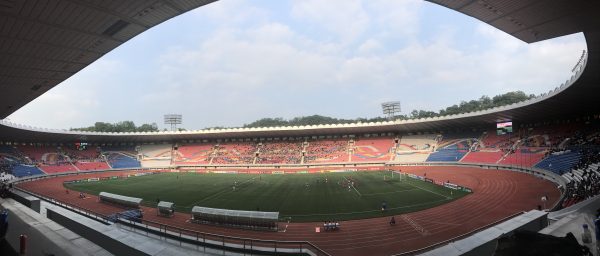 Programmes?
No trip is complete without souvenirs and for most matches a small but thorough complimentary matchday magazine is available. It was the perfect accompaniment to help you identify your favourite players, such as the young skilful midfielder Pak Myong Song or the powerful forward Jang Hyok.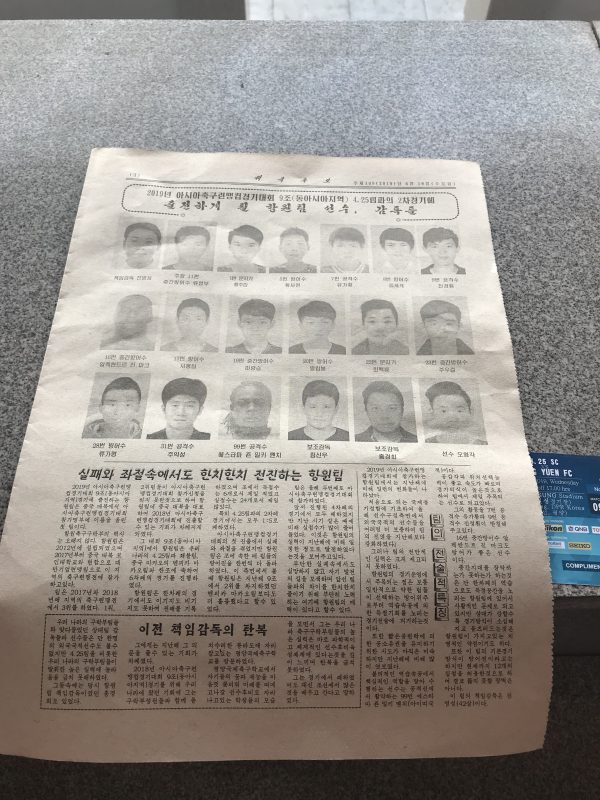 Are there sponsors?
Modern football is a game of money and so even in Pyongyang the sponsors were present. It is a rare occasion to see international advertisements in North Korea and yet even here the likes of Toyota and Fly Emirates were present, the power of the beautiful game!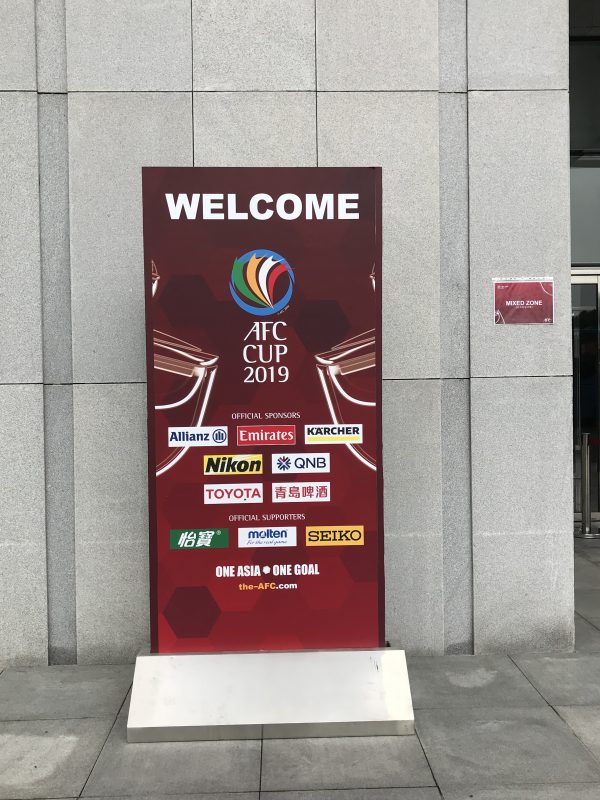 This all sounds great, but is the quality of football any good?
North Korea has a strong footballing history, famously reaching the quarter final of the 1966 World Cup, and they continue to make an impact on both the Asian international and club scene today. With the case of our team, April 25 SC, they displayed a strong work ethic and technical ability which Hang Yuen FC couldn't compete with. April 25 SC would go on to reach the end of the tournament, beating the likes of Abahani Limited Dhaka and Hanoi FC before narrowly losing 1-0 in the final to Al-Ahed of Lebanon, but becoming the first team from the DPRK to make it to a continental final!
At present because of the covid-19 pandemic the DPRK World Cup Qualifiers have been postponed and there is no domestic football. Check out our full program of North Korea tours and as soon as the football schedule is back up and running we will be adding more tours so you can watch a football match in the DPRK!
About Post Author
.