Today we'll have a look at a relationship that rocked the Socialist world, Fidel Castro and Diego Maradona.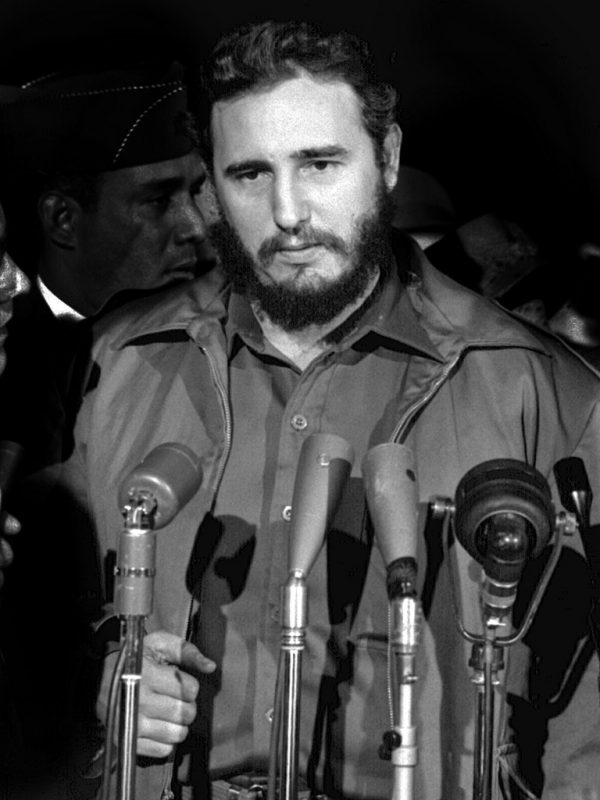 Fidel Castro was a Cuban lawyer cum revolutionary, becoming the leader of Cuba from the revolution in 1959 until his retirement in 2008 and death in 2016. Known simply as Fidel, he was the longest serving national leader (not including royals) of the 20th century. He defeated the CIA-backed invasion at the Bay of Pigs and survived countless assassination attempts by his American foes.
Diego Maradona was an Argentine football player still known as one of the greatest soccer players ever to play the game. Since retiring he has managed the national team as well as various clubs. His most iconic game was the 1986 World Cup quarter final against England where he scored 'the hand of God' goal with his hand before scoring a second where he skilfully ran past most of the England team before scoring past Peter Shilton.
So the friendship between the two is one of the unlikeliest in the history of friendships, but it is a tale worth telling.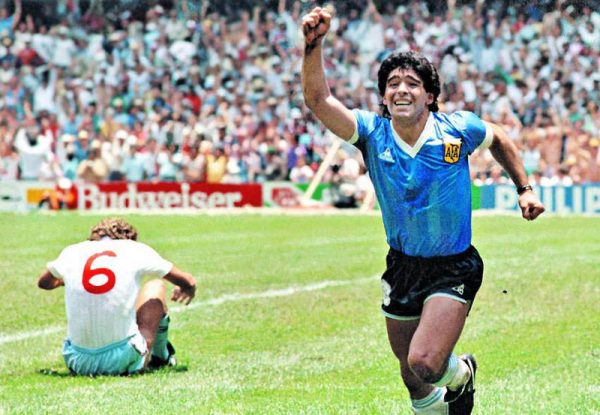 Maradona was raised in a shantytown in Lanus, Buenos Aires, Argentina in a very poor family; his dad was a factory worker. His early football career progressed with Maradona's self-confessed dream to be able to buy his parents a house and look after his 3 elder sisters. His background and the impact it had on Diego's character must have appealed to Fidel, and we should remember that Fidel himself had a certain Argentinian comrade-in-arms named Ernesto 'Che' Guevara.
Diego Maradona has a tattoo of not only Che Guevara on his right arm but also Fidel Castro on his left leg.
In the 1986 World Cup in Mexico, a Maradona-inspired Argentina were crowned champions for the second (and last up to now) time in their history. Shortly after, Maradona made his first visits to Cuba, meeting Castro where they would chat and Maradona would listen to Fidel's tales of the Cuban Revolution. Maradona would gift Fidel football shirts such as his famous number 10 Argentinian shirt.
Maradona was, at the time, transforming the fortunes of Napoli in the Italian Serie A. It hadn't worked out for him at Barcelona, and playing for a southern Italian team was true to his nature, they were the underdogs and were looked down on as dirty and disease-ridden by the whole of northern Italy. He transformed Napoli from relegation candidates to Serie A and UEFA Cup champions, and was literally worshipped as a saint in Catholic Italy, or Naples at least.
But he also found it hard dealing with the fame, and drink, drugs and illegitimate children, along with a relationship with the Naples mafia, followed. After he retired he had hit rock bottom, having been kicked out of Napoli after a failed drug test and sent home from the 1994 World Cup for the same reason.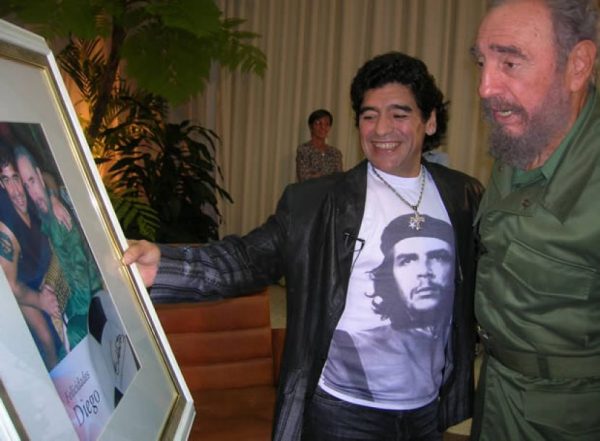 Fidel Castro offered the football legend the use of La Pedrera clinic in Cuba to treat his problems, with the Cuban health service renowned throughout the world. Maradona would spend four years in Cuba treating his addictions. Fidel would apparently call on Maradona in the mornings to talk about sport and politics with him, and encourage him that he could break his addiction.
Maradona himself admitted that Fidel's intervention saved his life. Castro said of him that "Diego is a great friend and very noble too, there's no question he's a wonderful athlete and has maintained a friendship with Cuba to no material gain of his own."
On the 25th of November 2016 Fidel Castro died in Havana, and Diego Maradona said "he was like a second father to me" before travelling to Cuba to take part in the national mourning. "He opened the doors of Cuba to me when Argentina was closing them."
Shortly after his 60th birthday, Diego passed away of a heart attack on November 25th 2020, almost 4 years to the day after Fidel.. If there is an after life, we can only hope these two unlikeliest of friends have been reunited.
Experience the festival like no other of May Day in Havana, Cuba with YPT!
About Post Author
.