YPT's founder Gareth Johnson recounts his first tour to North Korea
---
In 2008, I was lucky enough to lead my first of what to be many tours of North Korea.
Preparation
I was working as an English teacher at EF English first in Xi'an when I first dreamed up the idea of Young Pioneer Tours. That story has been documented in other blogs, but to cut a long story short, I found the existing players to be extremely expensive (some companies were charging more in 2008 than they are today), and found a Hong Kong company to partner with. I then recruited five colleagues from school and YPT were to take their first tour into North Korea for May Day.
To get things started, we had all booked our time off work and had to make our way from Xi'an to Beijing. In 2008, May Day was a week long holiday in China, or golden week as it was called. Therefore, no sleeper ticket were available on the train! We ended up on a double-decker train, with seats at least. We spent the time drinking Snow Beer and playing cards, excited about our upcoming first trip to North Korea.
Getting to Pyongyang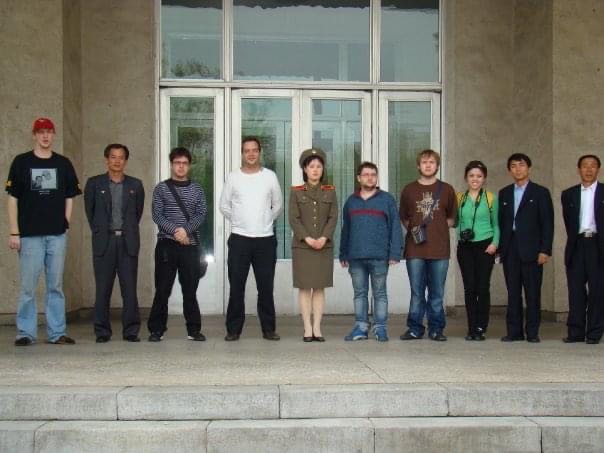 On arrival in Beijing, I met our local partner to go pick up our visas and to have a briefing. I had at least a fair bit of knowledge about the country, but for the rest at least their only information had been from TV or online media. Our trip was beginning to become much more real.
For our "one night in Beijing", we headed out for drinks and Peking Duck from where I did my best to answer any questions that the group had. And then we were ready to go.
Back in 2008, no other travel operator offered the cheaper option of taking the train into Pyongyang, a feature we have not only innovated with, but most companies have now copied.
How to explain that first train journey? I'll be honest and say I found the customs and immigration part a little harrowing, but overall the journey was an absolute blast, with us hanging out with a security guy (he seemed tough) as well as meeting sports and business people, with the overall vibe being very friendly. All the while, I was fiendishly taking notes for my North Korea Travel Blog.
First Impressions of North Korea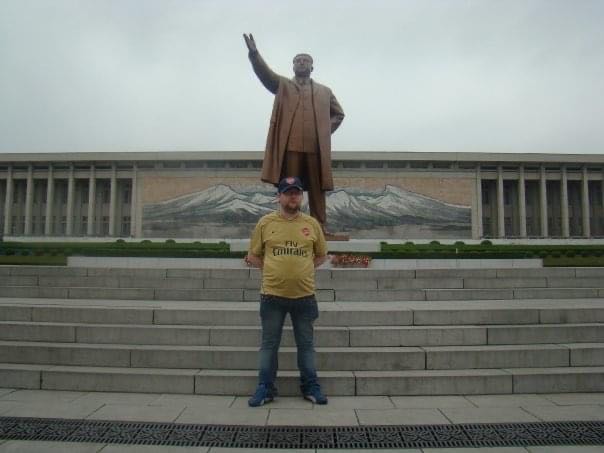 After 25 hours, we eventually landed in Pyongyang to be greeted by our local North Korean guides. Despite what you hear about them being secret agents, minders, or spies, we found them to be friendly from the outset and most importantly they made us feel comfortable and at ease in our new surroundings.
Pyongyang in 2008 was a very different place than it is today. I was immediately hit by the lack of lights, lack of cars and of course the unfinished Ryugyong Hotel, with all of these things now being distant memories of the past. Pyongyang is lit, there are traffic jams, and the Ryugyong looks pretty cool these days.
On that first trip, we were staying at the Yanggakdo Hotel, which was pretty much the only option back in the day. We certainly make the most of the draft beer that night!
The next few days we did all the normal things, such as the Mansundae Grand Monument, which at the time only featured President Kim Il Sung, as well as all the other classics. However, it was to be May Day that blew me away and made me fall in love with North Korea. It was also about to shattered almost every misconception I had held about the country.
A defining moment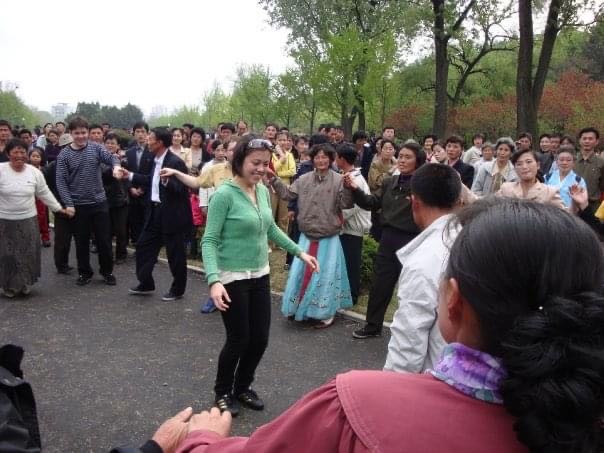 How to describe a national holiday on Mansu Hill? Lots of walking, eating, drinking, and partying with North Koreans. We are let to believe in the West that you cannot talk to Koreans, let alone knock share drinks with them in the park. My North Korean travel blog was getting more substance by the minute! We also got to take part in many games, such as tug of war and of course football. This was to begin my obsession with North Korean football too. May Day truly is one of the best times to be in North Korea and not just because it was our first time there. This year, it will be it 135th anniversary on our tour there.
After May Day, we headed down to the DMZ, which again was a very different place than it is today, with me being lucky enough to be able to get "that shot" of the North and South Korean soldiers going head to head against each other. Despite how iconic this shot is, amazingly it was quite rare to actually see it. We stayed that night in the Folk Customs Hotel another place that is now a mainstay of a trip to North Korea with Young Pioneer Tours.
For our last night, I knew I not only wanted it be special, but I also fancied knocking down a few more barriers whilst I was there. Our last meal was at the Duck BBQ Restaurant which you can read more about here, but what I really wanted to do was visit the Pyongyang Diplomats' Club.
According to the Lonely Planet, "the Diplo" was completely out of bounds no matter how hard you asked and no company was allowed to take tourists there. I am proud to say I took my group in there on the first time, we had an absolute blast and again it was to open doors previously locked for future generations of tourists. We might not go there as much as we used to, but it is very much open to the public now!
Everyone seems to have an opinion about traveling to North Korea and of course not all of it is that positive, but having now been to everywhere that is open to tourists in the country and having been more times than I can count, I have a definite love for the place. Seeing peoples lives improve, the countries economy get better and my guides literally grow up in front of my face has been amazing.
After 12 years of leading groups into North Korea I am still not bored with the place and enjoy visiting and writing about it with as much zeal as my first ever trip. Although nothing will beat that first North Korean travel blog I did.
About Post Author
.