Eritrea Tours – Group tours to Eritrea
Young Pioneer Tours are offering fully guided Eritrea tours for 2023 and 2024. Join us and discover Eritrea pristine coastline, untouched Red Sea islands as well as some of the best-kept colonial architecture in Africa. Influenced by Africa, the Middle East and Europe – Eritrea is Rich is history and culture.
Join YPT on our Eritrea tours and experience the hospitality of the Eritrean people, from culture, cuisines, languages to discovering Asmara – the capital city influenced by modernism and having the best Art-Deco architecture in Africa during Italian colonial rule was known as Piccolo Roma – Little Italy.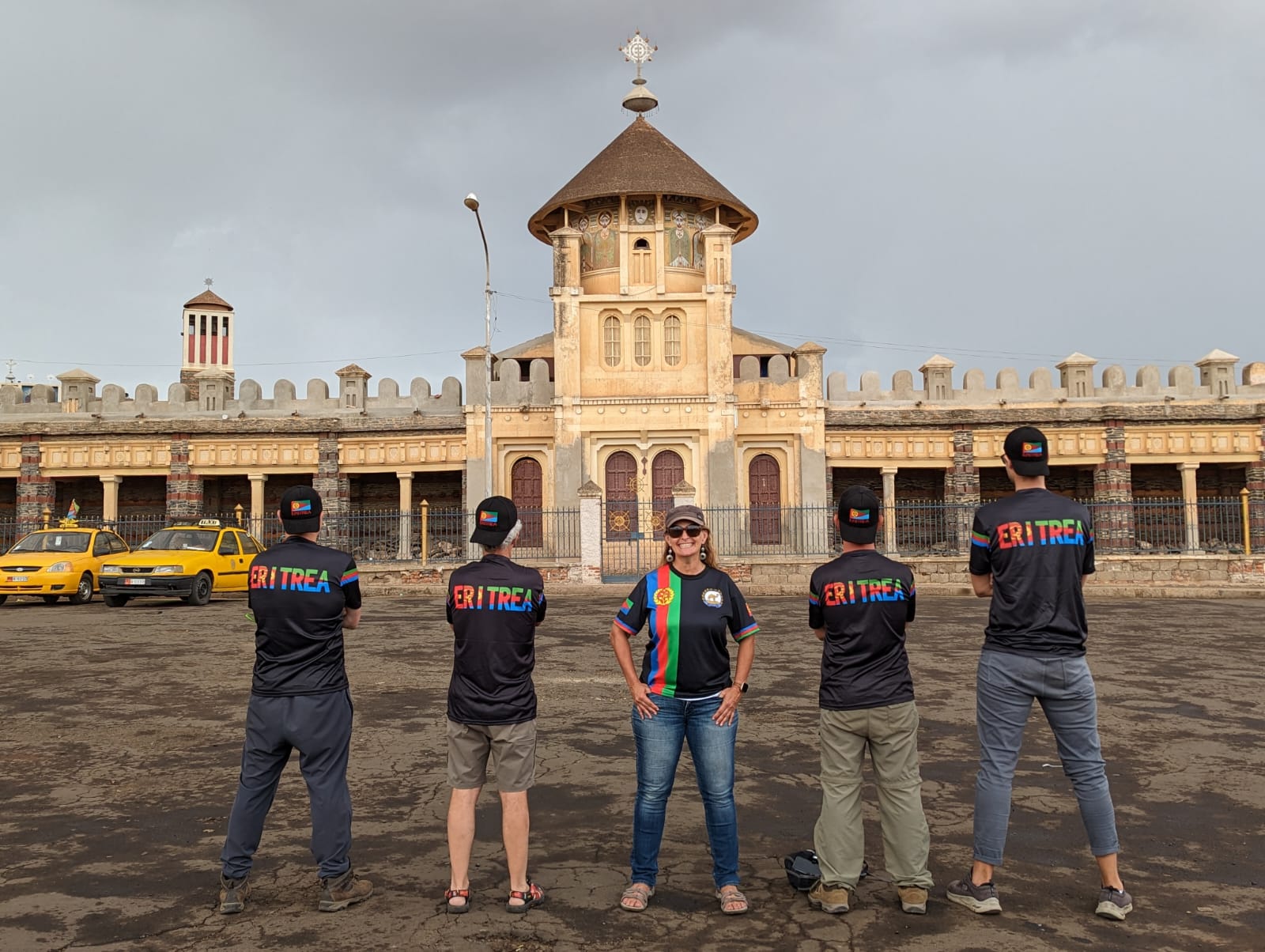 Eritrea Tours – Group tours to Eritrea
Currently we're offering a number of group tours to Eritrea throughout the year, as well as independent Eritrea tours. Our group tours to Eritrea consist of 4 nights and 5 days with our bespoke Eritrea tours are tailored around your schedule and availability. Our group tours to can be combined with Djibouti, Somaliland and Mogadishu, Somalia to make the most of your time in the Horn of Africa.
Group Tours to Eritrea in 2023 and 2024
Currently we're offering the following group tours to Eritrea for 2023 and 2024, however we're currently planning on adding more Eritrea tours – keep watching this page. Our group tours have limited spaces for group members, spaces fill up quick due to our Eritrea tours being the best for quality and prices compared to our competitors – click here to express your interest.
Djibouti, Somaliland, Eritrea & Somalia: Horn of Africa Independence Combo Tour – May 14th – 27th 2024 – $3095
Our most popular and sought after tour of the Horn of Africa. Discover each country charm and beauty and celebrate Independence Day in Somaliland and Eritrea. Experience the culture, kindness and warmth of the people and see the impact of borders and politics has on the Horn of Africa.
Eritrea National Day Tour – May 21st – May 25th 2024 – $1545
Celebrate Independence Day and join amongst the locals for the largest festival in Eritrea's. Discover and experience the countries rich culture and heritage – influenced by Africa, Middle East and Europeans and still un-touristy making it one of the best designations in the region.
Best of Eritrea & Somalia Tour – October 3rd – October 7th/9th 2024 – $3040
Experience the hospitality, culture and embrace the beauty of Eritrea, boasting some of the best colonial architecture, pristine beaches and amazing cuisines. Delve deeper into the Horn of Africa less frequented country – Mogadishu Somalia and experience the people and culture not shown on western media.
INDEPENDENT TOURS TO ERITREA
We understand with commitments it's not always feasible to join our group tours or you like a more in-depth experience. We can offer bespoke tours to Eritrea and can arrange everything you require for an independent tour to Eritrea.
Day 1 – Asmara, Eritrea
Arrival at your convenience to Asmara – the capital city of Eritrea which has flights between Cairo, Dubai, Jeddah, Khartoum, and Istanbul.
Be greeted at the airport by our driver and dropped off to our hotel – Crystal Hotel
Pre-tour meeting will be held at the lobby of our hotel at 5:00pm to discuss tour itinerary and to meet your fellow travellers and YPT guide.
Head out for dinner and drinks at Harnassien Restaurant.
Overnight in Asmara
Day 2 – Asmara – Massawa
Morning
After breakfast, we will begin our morning walking tour of Asmara. You will see the spectacular art deco of Asmara built by the Italians at the turn of the last century, such as the Fiat Tagliero building, Cinema Roma, the former Opera house of Asmara, the old railway station of Asmara, Cinema Impero, the Post Office built 1916, Albergo Italia built in 1899, the presidential palace built in 1907, the Hotel Hamasien built in 1916, the Church of Our Lady of the Rosary and many other sites along the way!
Afternoon
We'll have lunch in town and begin our 120km journey to Massawa – a colourful port town mixed with Italian, Egyptian and Ottoman architecture built along Africa's Red Sea coastline. On the way we'll stop for scenic photos of the forgotten railway connecting Asmara to Massawa constructed between 1887 and 1932 during the Italian Eritrea colony. Sadly, this line is no longer in operation. We'll also stop to explore the abandoned sparkling water factory and railway stations.
Once arriving in Massawa we'll visit the 3 Tanks Monument – a memorial of three tanks (Tiger, Jaguar, Commander) that were instrumental in Operation Fenkil which led to the liberation of Massawa after a brutal Ethiopian occupation.
Dinner on arrival at Almaz Bar & Restaurant, YPT's favourite meal in Massawa. There, you can try Ja-Ja fish, an incredible stir-fry made up of thick pieces of fish.
Overnight in Massawa at a hotel reminiscent of the era of the Italians, the Grand Dahlak Hotel with a giant swimming pool and bar serving Eritrean gin and cognac.
Day 3 – Massawa – Asmara
Morning
Breakfast at our hotel and make a visit a local school to learn about Eritrea's education system and meet with the children. Impromptu English classes are always welcomed by the students.
Visit the Northern Red Sea Regional Museum – artifacts from 800BCE all the way to the struggle of the independence war is displayed and explained by a local English speaking museum guide.
We'll go on a walking tour to take in the unique mixture of Turkish and Italian architectural designs stopping at all sites of interest – Massawa was the capital of the Italian Colony of Eritrea until the seat of the colonial government was moved to Asmara in 1897. Decades of war during Eritrea's struggle for independence, which it won in 1991, have taken their toll on Massawa's buildings, many of which are now on the brink of collapse.
Explore the former winter residence of Emperor Haile Selassie which was originally constructed in 1872 by the Ottomans.
Afternoon
Lunch at the "Salam Restaurant". Fresh fish prepared in traditional oven. This is a real local experience.
We'll then board a boat and set sail to Green Island located 5km off Massawa – one of our favourite beaches in all of Africa. The white sand beach and crystal blue waters offers a fantastic spot to unwind and enjoy a swim. Snorkelling equipment is available to rent.
Journey back to Asmara, on the way stopping for photos of the abandoned sparkle water bottling plant, and stunning views of the old Eritrean railway line that ran along the highway.
Dinner on arrival at a popular joint along the main avenue.
Overnight at Crystal Hotel.
Day 4 – Asmara
Morning
Breakfast at hotel
We'll begin our morning by exploring the largest tank graveyard YPT has ever discovered. APCs, Soviet tanks, aircrafts, vintage cars.. this place has it all! Most are leftovers from the war with Ethiopia.
Visit the Italian Cemetery which is still funded and looked after by the Italian embassy in Asmara.
Stop by the Alfa Romeo building – it has now been converted into residential apartments but is still considered a masterpiece of Art Deco modernist architecture in Asmara.
Visit the only synagogue in Eritrea – built in 1906 by Yemenite Jewish immigrants from Aden. Back in the day the congregants were Italian Jews and refugees from Nazi Europe. Only one Rabbi remains, a native Eritrean, who'll tell us about his background and his upbringing in Eritrea.
Afternoon
Lunch at our favourite spot in Asmara that serves the best Kitcha fit-fit – a staple dish of Eritrean cuisine.
Stroll along Harnett Street – the busiest street in Asmara. We'll pass shops to buy Eritrean souvenirs such as shirts, caps, and magnets. We'll also pop into a local bar for coffee or the famous Eritrean beer in unmarked bottles.
Stop by the Eritrean bowling alley for a game – a 70-year-old relic of the 20th century and first used by the US military servicemen during their stay at Kagnew station in Asmara. There have been no upgrades or changes to the bowling alley, and visiting it is like stepping back in time.
Dinner and drinks at a traditional restaurant, Hed Mona, where you can sample injera and local alcohol.
Overnight at the hotel in Crystal Hotel.
Day 5 – Asmara
Breakfast at hotel and tour concludes with airport transfers.
Tours can continue onwards to Mogadishu Somalia.
INDEPENDENT ERITREA TOUR EXAMPLES
Our bespoke tours are created to your desire and specification therefore not all our tours are listed – here are some examples of independent tours we can offer.
Asmara City Tour – A modernist capital with a UNESCO World Heritage Site. This is perfect for country collectors, we can create a bespoke itinerary to explore capital city – the second highest capital in Africa boasts in-depth culture, amazing architecture and retro café/bars.
Eritrea Culinary Tour – Here we can cater to everything you desire from hidden restaurants to traditional Eritrean food to Italian Eritrean dishes. Eritrea has a bustling café and bar scene. We can arrange coffee ceremony experience or even try suwa a home-brewed beer typically consumed for celebrations.
Architecture Tour of Eritrea – Known as Africa's 'Little Rome' Asmara has some beautifully persevered art deco architecture, boasting cinemas, cafés, bowling alleys, pizzerias, and the Fiat Tagliero service station. The bygone era is defiantly worth experiencing for those keen in architecture.
Eritrea Heritage Tour – With the ancient Kingdom of D'mt and Aksum to Italian colonial rule and the annexation by Ethiopia, Eritrea has lots to offer. Our bespoke itinerary can take you through the ages and visiting various sites along the timeline of this truly amazing country.
University Tours to Eritrea – We not only cater for universities but also colleges and schools trips. Eritrea is truly a unique place with a number of archaeological site, museums, colonial influence making our educational tours extremely informative and meaningful.
Language Programmes – Eritrea is culturally rich and diverse country which boasts multilingual society, YPT can arrange a language exchange programme which is popular with our polyglot's community.
Eritrea Media Tour – This is ideal for those who are keen photographers and videographers, we can organise everything you need for the contents you require and arrange transports, permits, accommodations, translators and much more so you can focus on your contents.
Eritrea Locomotive Tour – fancy taking a vintage steam train through scenic rail route connecting Asmara to the port city of Massawa. We can arrange tickets, local's guides to explain the history of Eritrean Railways.
Eritrea Road Trip – This is perfect way to explore tiny local villages, sites and stunning scenery during the road trip meeting genuine curious friendly locals along the way. We can arrange a vehicle, permits a guide even a support vehicle to join you.
Nomadic Tribal Tour – We can arrange a bespoke tour to accommodate you with various farming and nomadic tribes. This includes the Kunama and Rashaidas tribes, where you can stay with them and get involved in daily life.
Eritrean monasteries Tour – there a number of remote stunning Orthodox monasteries located around Eritrea. We can arrange a unique tour visiting to these fascinating religious communities including Tsaeda Emba Selassie, Debre Bizen Monastery to ancient ruins of Qohaito.
Alternative Eritrea Tour – This is for those dark tourism fans; we can arrange an itinerary to explore and experience a tank graveyard loaded with destroyed Soviet era military hardware. Visit the Medeber Market, where scrap waste gets a second life and many sites associated with Eritrea's war of liberation.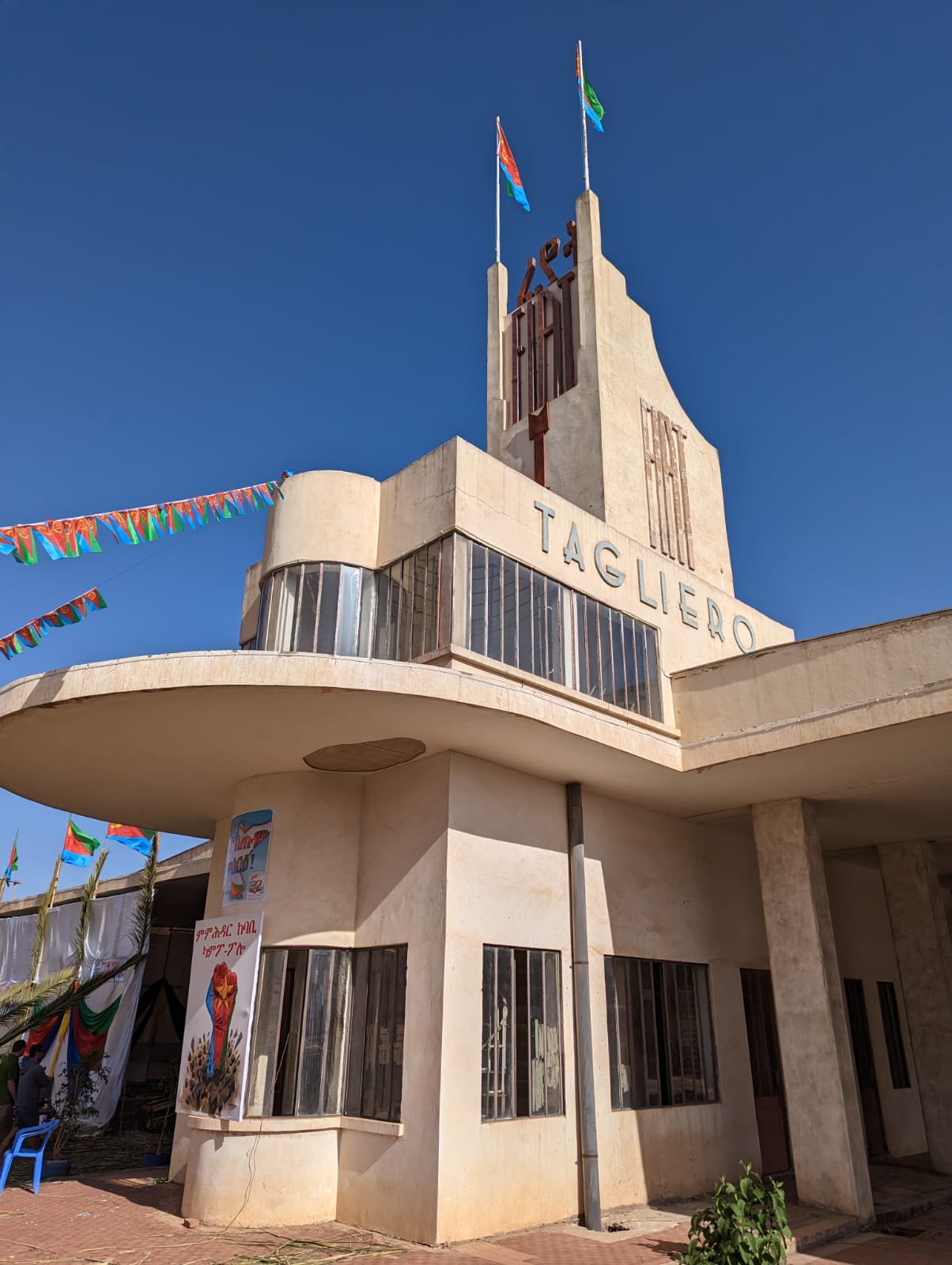 Eritrea tour guides
YPT are renowned not only for the obscure, less frequented countries we visit but also the guides we hire and local partners we work with. We take pride and strive towards creating a unique itinerary and experience on our tours – something that both our locals and YPT guides are passionate about.
During your Eritrea group tours are always joined by an experienced YPT guide and by our expert local guide alongside who are not only passionate about their country but also the hospitality they provide. All our guides are fluent in English, but should you require a different language (Italian, French, Arabic) for an independent tour to Eritrea then please get in touch.
FREQUENTLY ASKED QUESTIONS ABOUT ERITREA TOURS
How do I get a visa for Eritrea?
We can arrange your visa on arrival. Simply send us a copy of your passport and the required paperwork and we'll take care of the rest – for more information, click here.
Is it safe to visit Eritrea?
Yes, Eritrea is safe to travel, always check your home office for advice for the latest information. There are areas in Eritrea to avoid, particularly its borders with neighbouring countries. Our Eritrea tours will avoid such places. We're in constant commination with our local partners as yours and our guides safety are at the utmost importance.
Is it ethical to travel to Eritrea?
Yes, it's perfectly ethical to visit Eritrea, despite having international sanctions. We work alongside the best local partners, who's local communities benefit from our visits. Eritrea has very little tourism, YPT breaks boundaries to deliver tours to meet the local Eritreans and hear their stories.
Can you interact with the locals in Eritrea?
Yes, it's perfectly fine – however always ask for permission before taking pictures. Your YPT and local guide will explain the local customs and traditions prior the tour. If unsure always ask. Although not as strict as Sudan or Mogadishu, Somalia it's always best to be respectful.
Can I use my bankcards in Eritrea?
Unfortunately, due to international sanctions, you are unable to use your bankcards to withdrawal money from ATMs or use in hotels, restaurants and cafes. We recommend bringing USD or/and EUR, we'll provide the latest costs prior the tour.
Is there alcohol in Eritrea?
Yes, you can drink alcohol in Eritrea, you can try the locally produced beer from Asmara Brewery which employees over 600 people and operates a football team! Also local Gin and Vodka are available.
What should I wear in Eritrea?
Eritrea is a warm to hot country, we recommend packing light breathable long sleeve clothing. Not only to protect yourself from mosquitoes in the evening but also to respect the local customs particularly in Muslim areas – females should cover their shoulders.
How big are your tour group sizes in Eritrea?
Group sizes can be from 10 – 20 group members, however it's usually in-between. Ages, nationalities and background vary as we provide the best itineraries compared to our competitors – our reviews and returning customers reflect this.
Should you tip in Eritrea?
Yes, when provided an excellent service, it's always nice to tip. We ask you to tip our local guide and driver. These tips go a long way for their local communities.
What language do they speak in Eritrea?
Eritrea is a very multilinguals country having Tigrinya, Tigre, Kunama, Bilen, Nara, Saho, Afar, and Beja. However, the working languages are Tigrinya, Arabic, and English. You may find some Italian speakers. Not to worry, all our guides speak English and are happy to translate for you.
Can you get a sim card and data in Eritrea?
There are no data network towers or service provided in Eritrea. Which means you can't obtain a sim card, there's no data roaming available and e-sims are not accessible. However, hotels have Wi-Fi.
Is Eritrea safe for LGBTQ+ travellers?
Homosexual behaviour is a criminal offence, the penalties are unclear. We recommend behaving in such a manner that does not cause offence not only for your safety but the safety of the group – please be discreet is the best approach.
What's the food like in Eritrea?
Eritrea has its own traditional native cuisines; however, some dishes are heavily influenced by their neighbouring countries. With Eritrea colonial past, you can find many Italian cuisines, as well as African fusion. Plenty of exciting foods to try.
What vaccinations should I have before visiting Eritrea?
It's always recommended to have the necessary vaccinations which you'll most likely have when growing up. YPT will provide a pre tour document prior your tour with recommended vaccinations.