GUIDED TOURS TO DJIBOUTI – REPUBLIC OF DJIBOUTI
Young Pioneer Tours are now offering fully guided Djibouti tours for 2023 and 2024.
Tours to Djibouti has been a particular interest for YPT, with its natural beauty which is always overlooked by its strategic importance. Located in the Horn of Africa, it's the gateway for maritime vessels to and from the Red Sea and the Gulf of Aden.
Experience the geological wonders of Djibouti from picturesque Lake, deserts and volcanic formation to spotting flamingos. YPT are your experts for group and independent Djibouti tours.
DJIBOUTI TOURS – GROUP TOURS TO DJIBOUTI
We're currently offering group tours to Djibouti annually with more on the way. Due to popular demand, YPT can arrange bespoke Djibouti tours tailored around your scheduled and availability.
All of our group tours are capped at 16 people accompanied, anymore then we'll split the group. What makes our tours stand out from other travel companies, you'll be accompanied by an expert YPT guide and the best local guides.
We are currently offering the following Djibouti tours for 2024, but keep watching this page as we are always looking to add more tours.
Djibouti Land of Mirages Tour –May 14th – May 17th 2024 – $745
Our first Djibouti tour in 2024, bringing you the breathtaking natural scenery. Despite being one of the smallest countries in Africa, Djibouti has so much to offer from exploring busy the city busy market places to sunrises over Lake Abbe. This tour can also be combined with our Horn of Africa Tour.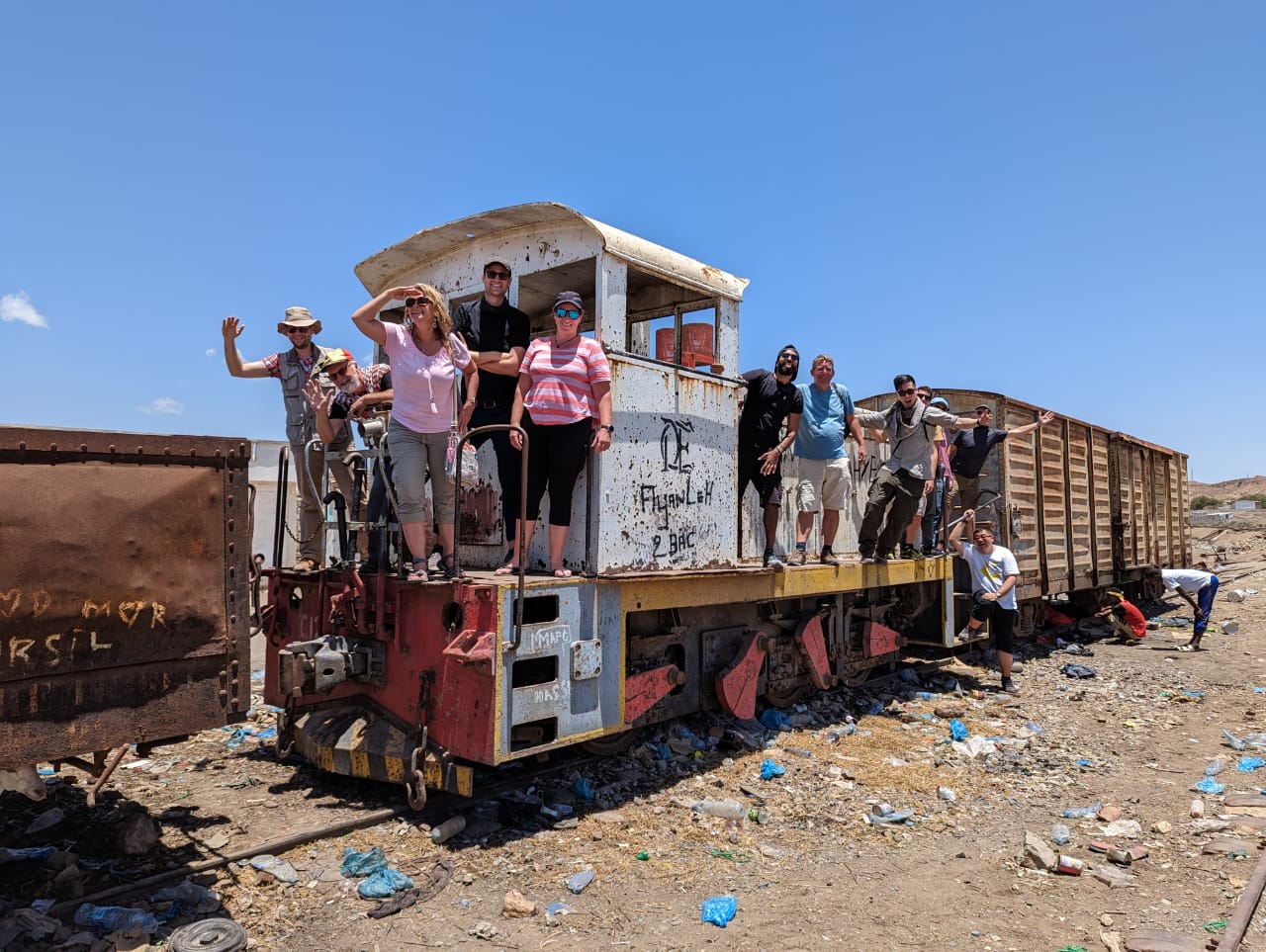 INDEPENDENT TOURS TO DJIBOUTI
In case our group tour dates do not fit your schedule, you would like to travel alone, or you would like a bespoke Djibouti itinerary then Young Pioneer Tours can help arrange the perfect Djibouti tour. Prices depend on the number of people and what level of accommodation you require, but YPT can arrange everything you require for an independent tour to Djibouti.
What makes our independent Djibouti tours so popular – we can continue further and explore the Horn of Africa, visiting Somaliland, Eritrea and Somalia, perfect for keen travellers and country collectors wishing to see the less touristy side of the African continent.
INDEPENDENT DJIBOUTI TOUR ITINEARY
Djibouti is uniquely placed on the Horn of Africa having been influenced by its neighbours it has a rich diverse cultural heritage amongst its geological wonders. Below is an example itinerary.
Day 1 – Djibouti City
Arrival at your convenience into Djibouti City – the capital city of Djibouti which is well connected from flights between Dubai, Doha, Paris, Istanbul and Addis Ababa.
Meet your personal guide and driver at the airport and dropped off at our hotel. Check in relax and meet your guide later to discuss your itinerary.
Head out on our exploration of Djibouti City. We'll go see the two most famous mosques of the country, the Hammoud Mosque as well as the Al Sada Mosque, stop by the old colonial train station, take a photo at the 'I love Djibouti' sign, and finish with a walking tour of downtown Djibouti city to purchase flags, football jerseys, magnets and other Djibouti souvenirs.
After we've built up an appetite exploring around the city, we will head to the most famous restaurant in the city which has been around for decades and serves Yemeni style seafood dishes and other local dishes.
We'll then check out the port of Djibouti and stop for drinks in what is probably the busiest nightlife of the Somali world.
Overnight in Djibouti with a prime location along the Siesta Beach with fantastic views.
Day 2 – Djibouti City – Lake Abbe
Morning
After breakfast, we will begin our excursion to Lake Abbe, located on the border between Djibouti and Ethiopia.
On the road there, we'll stop by the Little and Grand Bara, which are large fields of white clay, upon which mirages are frequently seen alongside the gazelles and antelopes.
We'll stop at a town that used to hold thousands of refugees from Yemen before they were relocated to other parts in Africa. There's a train station that's now defunct with an old French train left behind rusting under the sun.
On the road, we'll arrange a stop to meet local nomad shepherds, who have made this desert region their home, even though it is amongst the hottest and most hostile places in the world.
Afternoon
Stop for a picnic lunch along the way.
Late afternoon arrival at Lake Abbe Camp, which is just on the border of Lake Abbe which offers a spectacular night view. Here the land is flat apart from one hill and mixed with the clouds this is quite the view! The camp has basic shower facilities and a bathroom.
Dinner and overnight in Lake Abbe Camp.
Day 3 – Lake Abbe – Lake Assal – Djibouti City
Morning
Wake up early to check out the sunrise over Lake Abbe, a formidable sight as the sun rises unobstructed over the lake with hundreds of natural limestone chimneys, spitting out steam and sulphur. You will wonder if you just woke up on the same planet!
We'll trek along the lake before the sun rises and scorches the earth. The trek shall take two hours but will reward us with massive colonies of pink flamingos.
During this trek, we might meet the local donkey and camel herders and our local guide will introduce us to them.
Return to camp for breakfast, pack up and move on.
Afternoon
We then make our way to the second lake of Djibouti, and certainly its most famous, Lake Assal.
On our way we'll stop at Belvedere Sul Canyon – this spot offers fantastic views where the three tectonic plates of Africa, Somalia and the Arabian plate are pulling 2cm apart each year.
Lake Assal is located no less than 150 metres below sea level, making it Africa's lowest point and the world's third lowest point. It is crowned by an almost alien chain of volcanoes spewing black lava. The border of the lake is surrounded by salt banks of a white so bright that it looks like snow. This lake is the world`s biggest reserve of salt.
Once we've visited the lake to our heart's content, we will drive back to Djibouti City, arriving in the late afternoon.
After our return to our hotel, we'll partake in a well-earned shower and then dinner at Saba restaurant for a feast of fresh seafood, meat or salads.
Head for drinks before overnight at La Siesta Hotel.
Day 4 – Djibouti City
Tour concludes – YPT is able to arrange post-tour accommodation or advice for ongoing flights.
We are able to extend your tour further to visit the Horn of Africa and discover Somaliland.
INDEPENDENT DJIBOUTI TOUR EXAMPLES
We do not list all of our bespoke South Sudan itineraries, but can offer some examples, such as the following.
Cultural Djibouti tour – Our cultural Djibouti tour are created around your needs, we can arrange tours to visit small settlements to visiting major religious sites.
Nature tour to Djibouti – boasting beautiful lakes, volcanic formations, basalt terrain and hot springs. We can arrange a bespoke Djibouti tour to enjoy the natural wonders.
Photography tour to Djibouti – With bustling markets, colonial era architecture and spectacular nature, our Djibouti tour can be catered to your specific requirements.
Family tours to Djibouti – Djibouti is extremely family friendly and we have arranged tours for families with children of all ages.
Djibouti road trip – We can arrange a road trip around Djibouti capturing the spectacular nature, remote villages and activities along the way.
Wildlife Djibouti tour – we can arrange a bespoke Djibouti tour taking you to national parks to see rare species of birds. We can also include a safari tour to make the most of the wildlife.
Educational tours to Djibouti – boasting a rich cultural heritage with peaceful religious coexisting alongside our educational tours to Djibouti can cater to your curriculum.
Marine tours to Djibouti – popular amongst our independent Djibouti tours, we can arrange an excursion to see dolphins and swim amongst whale sharks.
DJIBOUTI TOUR GUIDES
Young Pioneer Tours are always at the forefront of travelling to unique and less travelled countries. We always work with the best local partners who are the experts in the tourism field.
All our guides are fluent in English, however if you book an independent tour and require another language, please let us know and we'll try our best to accommodate.
DJIBOUTI TOURS – HOW TO GET A DJIBOUTI VISA
The e-visa process is pretty much straight forward – Young Pioneer Tours will provide all the necessary details for your visa application process when booked on a guided tour with us.
Any specifics on joining our tour from a neighbouring or regional country, then please get in touch with us – we are frequently running guided and independent tours to Djibouti.
DJIBOUTI TOURS FAQ
For those interested in traveling to the country, below are the most frequently asked questions about our tours to Djibouti. We feel that we answered pretty much everything you might need to know before you go to Djibouti, but please feel free to get in touch about your Djibouti tour, or to ask any additional questions.
How do you travel to Djibouti?
The best and easiest way to travel to Djibouti is flying into Djibouti – Ambouli International Airport – which is well connected from flights between Paris, Istanbul and the Middle East. There are also regular flight services from Nairobi and Addis Ababa.
What's great about our Djibouti tours, we'll arrange airport pickup and transfer to our hotel – we are more than happy to advise you on flights.
Is it safe to travel to Djibouti?
Yes, Djibouti is perfectly safe for travellers. There have been reports of petty crime, which happen very rarely, however you can avoid this by travelling on a guided Djibouti tour. Also basic common sense, such as avoid walking around alone at night and/or displaying valuables will prevent opportunists' thief's taking advantage.
Are there ATMs in Djibouti?
There ATMs in Djibouti which accept international bankcards, however they only accept Visa, we are aware of 3 ATMs which accept MasterCard – Your guides will assist you during your Djibouti tour.
Can you drink alcohol in Djibouti?
Yes you can drink alcohol during Djibouti tour. Although a Muslim country, alcohol is readily available in restaurants. However drunken boisterous behavior can cause unnecessary attention which could lead to being detained by the authorities.
Simply enjoy a few drinks and be respectful to the local laws and customs.
How many people join your tour group to Djibouti?
We deliberately keep our Djibouti tour groups to a maximum of 16 people, however group sizes are between 8 -12. Occasionally we have busy tour groups, to ensure you get the best experience in Djibouti, we'll divide the group into two.
Can I use my credit cards in Djibouti?
Credit cards are only accepted in high-end establishment in Djibouti. We recommend withdrawing the local currency at an ATMS. It's also best to bring some USD and EUR which can be easily exchanged – over guides will happily assist you.
Is Djibouti safe for LGBT travellers?
Although Djibouti is a predominantly Muslim country, private homosexual behavior is not illegal. However same-sex couples displaying public affections such as kissing or holding hands will go against the "good morals" laws.
YPT is an inclusive company and welcomes people from all gender, sexual orientation – we simply ask you to be mindful of the local laws and customs.
What should I wear to Djibouti?
Djibouti is amongst hottest countries in the world and remains hot throughout the year. We recommend packing loose light-coloured clothing which can block out the sun. Also don't forget to pack your sun glasses and hat!
For our female travellers, wearing a headscarf is not compulsory, however it's greatly appreciated. You should always wear one when visiting a mosque or a shrine.