Without doubt one of our most underrated tours – and for Americans at least, the closest view of North Korea you will currently get – is our North Korean Borderlands Tour. The tour starts either in Dandong or Tumen, with us taking the long journey along the border between North Korea and China (and briefly Russia). We not only check out the Chinese towns that border North Korea, but also take the opportunity to peer over into the extremely closed world of North Korea. One of the places in which we get to do this is Ji'an, which offers views of Manpo.
Understanding Manpo
Manpo is a big city by North Korean standards, at over 110,000 people, and is located in North Korea's Chagang Province. It overlooks the Chinese city of Ji'an, which has a population of 230,000 – actually quite small by Chinese standards. Ji'an was previously part of historical Korea and has some old Korean tombs that can be visited.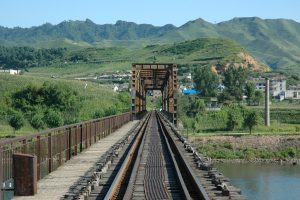 Manpo sits on the Yalu river and, during the Korean War, was not only one of the last strongholds during the tactical retreat of North Korean forces (Kanggye, the provincial capital, was temporarily the capital of the DPRK), but was also where many members of the Chinese volunteers crossed into the DPRK.
Whilst previously being a bit of a backwater, the city is now heavily industrialised, and is the site of one of the main timber processing plants of North Korea.
Just the facts
Roughly 117,000 people call Manpo home — sizeable for a North Korean town, but about half that of the Chinese city of Ji'an on the other side of the river. Manpo was incorporated as a city in 1961, and its primary industry is lumber processing and transportation.
Can you visit Manpo?
Manpo's province of Chagang is currently the only one of the 9 North Korean provinces that Western tourists cannot visit (it is also the site of many of the North Korean weapons bases). That being said: Manpo is open to Chinese tourists, both on day trips and on longer trips towards Pyongyang.
When will Manpo be open to Westerners?
Manpo has, as of April 2019, been opened to Western tourists! As soon as we have tour dates confirmed, we will let you know!
About Post Author
.