Aside from Young Pioneer Tours regularly blogging about our budget tours to North Korea and the many new North Korean Tourist attractions that pop up in Pyongyang and other cities, we also try and do the odd piece about the wider issues and interests of the DPRK, so we carry on the Borderlands Series with our sixth part: Ji'an City.
---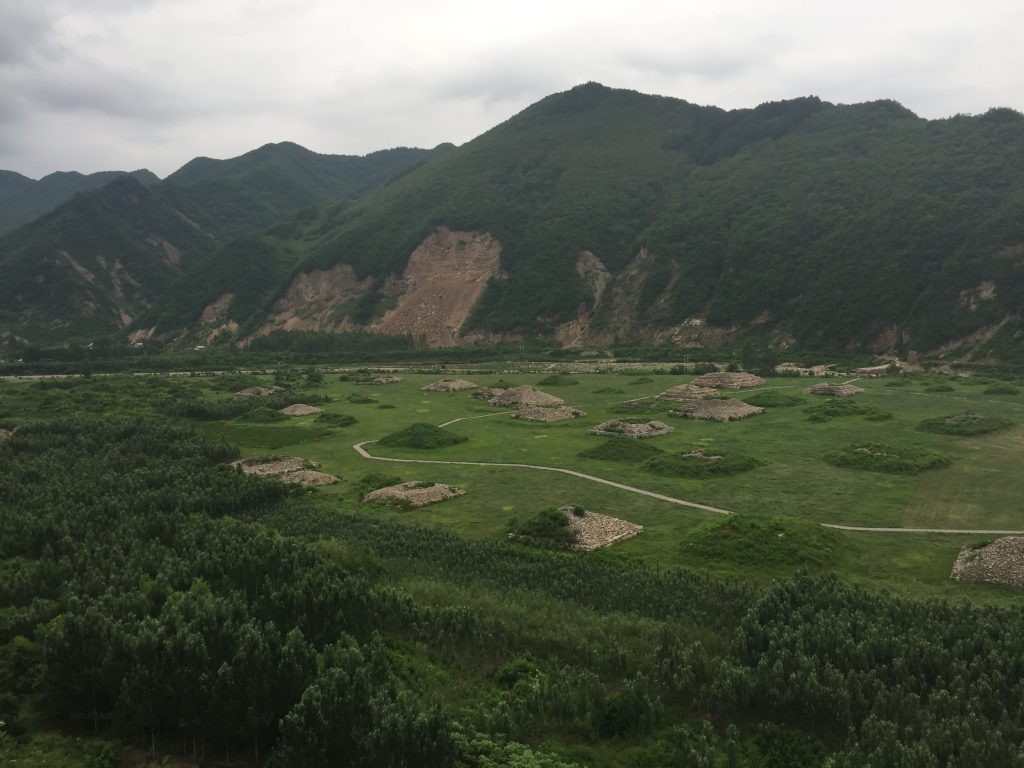 Understand
Ji'an is the first major city of the North Korea – China border area that you hit after Yanji. It's a classic third tier Chinese city with few enough foreigners to make people look freakishly at you, but enough to ensure you probably wont get arrested. Ji'an offers some of the best views of North Korea after Changbai Village. The new walking bridge from the outskirts of Ji'an to Manpo City has been finished and will allegedly be open fully for business soon. But don't hold your breath – things can (and probably will) change.
Historically, Ji'an was the capital of the kingdom of Goguryeo, one of the three ancient kingdoms of Korea. The ancient tombs found in Ji'an are a UNESCO World Heritage site, and the area holds a lot of historical importance for North and South Koreans alike.
Get In
By train: Ji'an has a decent sized train station that is connected to both Beijing and other major cities in North-East China.
By bus: There is a long distance bus station next to the train station with services to Beijing and many areas around North-East China. Ticket prices will vary depending on length of ride, but are pretty reasonable if you don't mind the thrill of a Chinese long-distance bus ride.
Getting Around
There is a decent local bus service, but generally everything you would want to see is within walking distance. Taxis are incredibly cheap, starting at just RMB 5 during the day, and jumping all the way up to a 6 RMB minimum at night.
Talk
Being so close to Korea there are plenty of Korean restaurants and influences, but generally speaking it is a Han area with the locals speaking Mandarin with their own little regional tint.
Do
Linjiang, Jilin Province
Boat Trips – There are cool boat trips that leave from the main river bay area on the tourist island that go down the coast of North Korea. Different packages cost different prices, but a simple trip will set you back less than RMB 100. Boat trips are not available in winter.
Take a leisurely walk down the riverfront staring at North Korea – a great chance to get some rare photographs of the country.
Visit the rail bridge – Chinese are permitted to go all the way up to the bridge, unfortunately foreigners cannot. There is a new bridge next to it that you can either sneak over to, or pay a local guide RMB 50 to show youaround without fear of arrest. There is a lot of building work going on here to prepare for what is supposed to be a major new border crossing.
Tombs – Visit the Koguryo tombs a little bit out of the city, which are extremely important historically for any Korea buffs. A little hard to get here by public transport, and ideally you should hire your own transport and have the ability to handle hordes of South Korean tourists.
Ji'an Museum – A great chance to check out some of the ancient artifacts found in the area and learn a little more about the history of the area. Tickets for the Tombs and Museum can be purchased together for a small discount.
Eat
Korean Food –This might appear to be stating the obvious, but everything from Bibimbap to Korean BBQ (and even dog!) is available, cheap, and of great quality.
Korean BBQ – Worth it's own mention, along by the river is a large selection of Korean style BBQ restaurants that even offer heated floors. Here you can find a great food selection at great prices.
KFC – No seriously, the first western restaurant you'll run into for a while that–if nothing else–offers hot coffee in the morning.
Drink
0414 – On the street leading down to the river this very unassuming beer shop stocks almost 100 beers from around the world and even has a little seating area at the back for you to enjoy them. Much like a very basic version of Beijing's Heaven Supermarket, but providing a much more peaceful without the hoards of drunken

english

teachers.
Chinese Style Bars – Ask a cab driver to take you to a bar and he will take you to one of the many Chinese variations that have loud music, overpriced beer (if you can call it that), and ladies that will sit and talk to you if you pay them.
Sleep
Being an actual city, the prices in Ji'an tend to be slightly more expensive for the same standard as you would get in the rest of the borderlands, although there is still a wide range of options. Generally speaking trusted brands such as 7 days Inn, or other business hotels are the best value for your money.
Arirang Guesthouse – Aside from the fact we like the name, it is located fairly centrally and one can get a private room for under RMB 100.
7 Days Inn – Famous Chinese chain centrally located and within walking distance of the water. Nothing crazy, but decent standards and a good deal for the price.
Get out
Baishan – Takes about 4-5 hours with tickets ranging in prices.
Kuandian – Small Manchu town under 2 hours from Ji'an. RMB 10 by bus.
About Post Author
.