When it comes to bodies of water not many are stranger than the Caspian Sea. In fact not an actual sea, but the largest inbound body of water in the world, it acts as a lifeblood for many people in Central Asia, from food, to trade and yes travel.
The Caspian Sea Ferry routes are not only extremely important, but also a great thing to add to a tour in Central Asia.
Which countries border the Caspian Sea?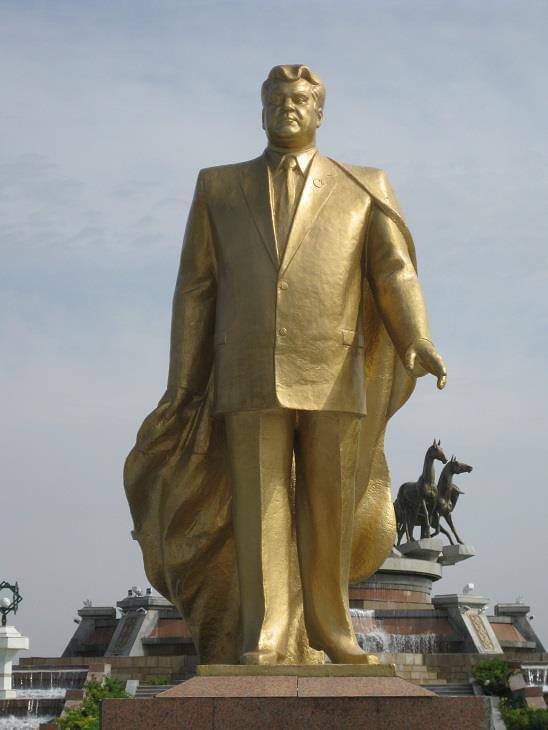 In Soviet Times this was a very easy question to answer as it was essentially two, the Soviet Union and Iran. This made this an extremely important trade and diplomatic gateway, particularly during the time of the Shah in Iran.
Since the dissolution of the Soviet Union things have changed a bit, with the old constituent countries of Azerbaijan, Turkmenistan, Kazakhstan and the Russian Federation all having Caspian Sea Access. This also means many more routes on the Caspian Sea Ferry!
Caspian Sea Ferry Routes
In this article we will detail the man Caspian Sea Ferry Routes, as well as the towns they pertain to. The main routes currently consist of Turkmenistan – Azerbaijan, Kazakhstan to Azerbaijan, Turkmenistan to Russia and tentative plans to add Iran to Kazakhstan to Russia and Iran, although these are theoretical as we head through 2023
Taking the Caspian Ferry from Kazakstan to Azerbaijan and back
From the Kazakh side the ferry leaves from the dreary port town of Kuryk. It previously left and arrived from Aktou! Keep this in mind if you read otherwise as there is often outdated information out there
Getting here from Aktou takes a few hours and should cost about $25 (although this is subject to change. Kuryk Port is not to be confused with the town of the same name which is 30, or so kilmoters away – make sure you driver knows this to avoid any heartache.
Kuryk port is what you might call a one horse town, or at least a one hotel town, but the hotel is decent and cheap and there are money changers as well as great street food available.
The ferry ride from Kuryk to Alat (and back) takes 27, or mroe hours and leaves 405 times a week. This is not a ferry to reply on if you are in a rush.
Price wise it is $80 for a passenger ticket, $10 extra for a bike and a massive $300 for a car. Customs immigration and disembarkation can take a whopping 5 hours on the Kazakh side – you have ben warned!
The Azeri side and Alat is slightly more chilled with more options for eating drinking and sleeping.
Caspian Ferry from Turkmenistan to Azerbaijan!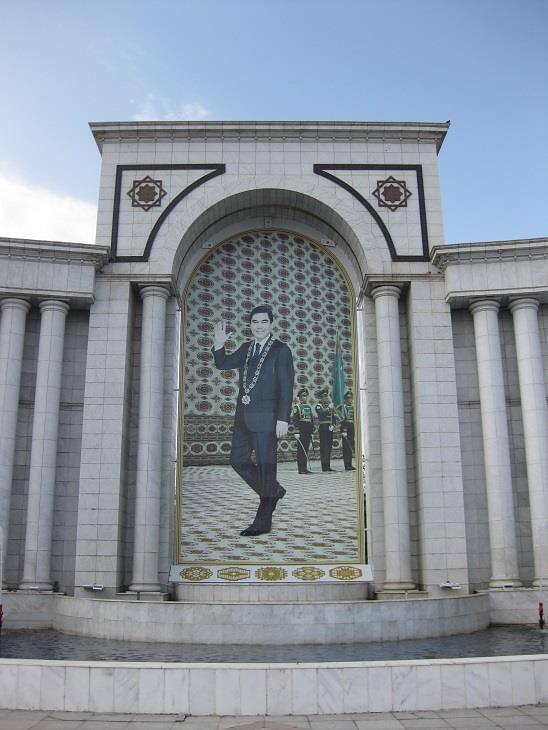 One of the most exciting Caspian very routes, but also one rather contingent on Turkmenistan opening to tourism, something it has yet to do despite its report of zero Covid cases.
To read about zero Covid in Turkmenistan click here.
When it does run though you are in for a treat. The most popular and common Caspian Ferry route is between Turkmenbashy in Turkmenistan and Alat in Azerbaijan – the same Alat that you go by ferry from Kazakhstan.
Turkmenbashy needs scants introduction and is the town famously named after the previous glorious ruler of Turkmenistan. While no metropolis there is plenty to do here as you wait for your Caspian Sea Ferry!
Alat is also bustling port town and has enough to look after a weary traveler, as well as even a place to pitch a tent! These ferries after all not having the reputation for reliability.
Technically at least they are supposed to leave every 2 days, although more so in busy times. The reality is that this is very much subject to change, as we have found in other parts of the old Soviet Union, such as with the Sakhalin Ferry.
To read about Sakhalin click here.
Price wise tickets are $300 per person, $110 for a motorbike and $80 per person. Keep in mind that these prices can change dramatically with currency fluctuations.
Officially tickets can be booked from the following website– but as with most things, don't hold out too much hope of it working.
On the Turkmenistan side (when it is open) Turkmenbashy is one of the best town you can wait in, with the buildings made of marble and the port itself shaped like an anchor, all in with keeping withe weird ascetics that make Turkmenistan so unique.
On both sides of the water you will have to wait for the ferry to be full before leaving, so again do not use the ferry if you are in a rush. There are sorry stories of people waiting weeks, not days.
Caspian Ferries from Russia and Iran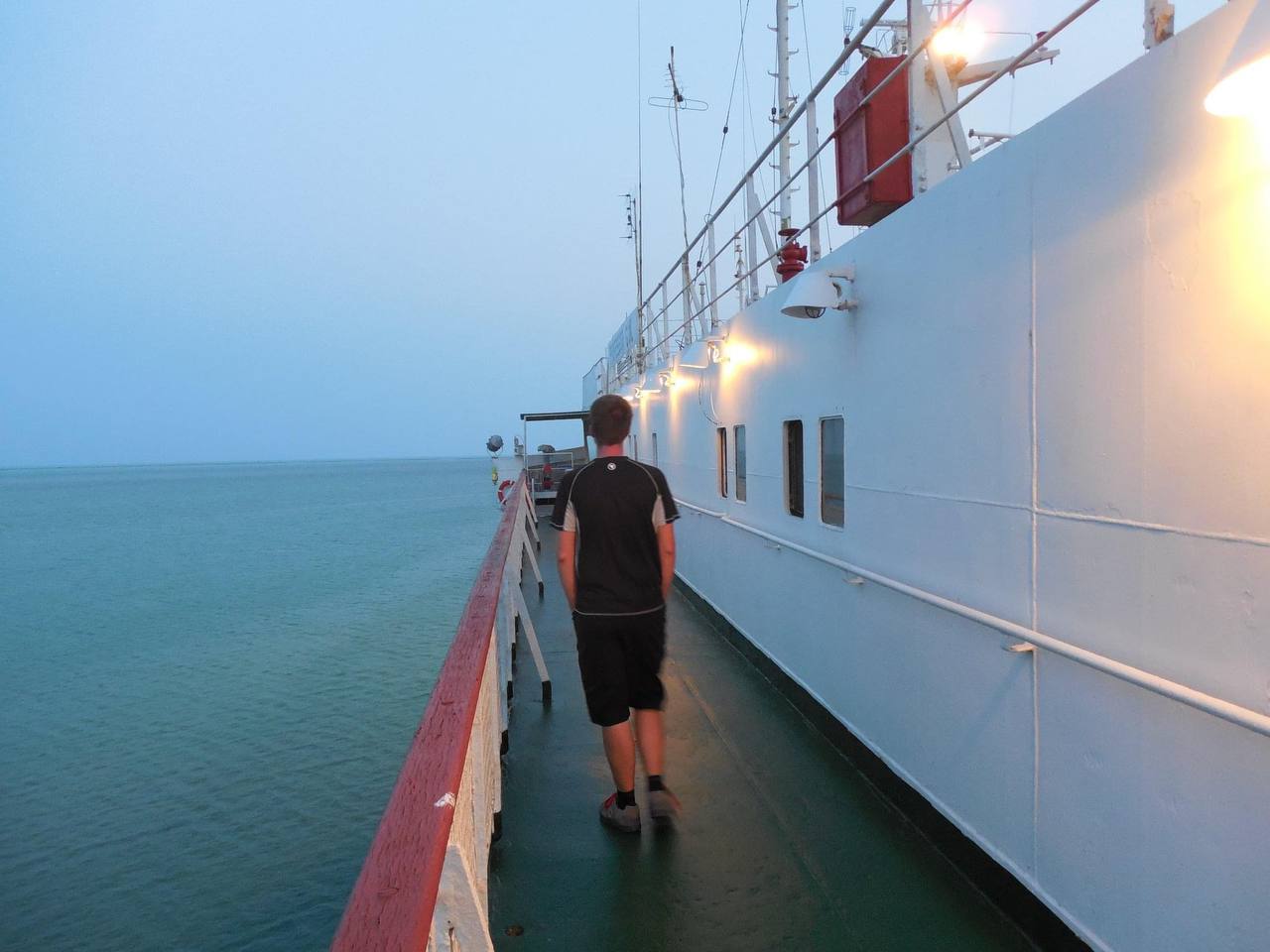 You'd think that every Caspian Ferry that could have been invited would have, but there are actually some new routes in the pipeline routes that may even be up by the time you read this!
Turkmenistan to Russia Ferry – There are reports of a ferry from Turkmanbashy to the small town of Olya in the Volga Delta. We have yet to confirm its full existence, but who do know people who have braved this route on a cargo ship. something which requires a whole other level of bravery!
Caspian Ferry Iran to Kazakhstan and Russia – In 2020 these routes were announced only for the Covid-19 pandemic to put paid to them actually happening. Although with improved trade and diplomatic relations between the countries, as well as their logistical importance to Russia, we see these happening sooner rather than later.
Although not the Caspian Sea, we recently took he ferry from Iran to the UAE, which was in itself an experience.
Turkmenistan to Dagestan – The Caspian Ferry we would really like to see First announced in 2018 it has not happened yet, but would solve a lot of our troubles, particularly when we start running tours to Chechnya again!
Can I travel on the Caspian Sea Ferry with Young Pioneer Tours?
We have previoulsy ran tours that take in the Caspian Sea Ferry, but are not currently offering them. They can though be done as part of an indepebt tour to Central Asia.
You can check out our Central Asia Tours here
About Post Author
.