The seclusive himalayan Kingdom of Bhutan is certainly becoming on the bucket list of many travellers. Due to its unique regulations, the Kingdom of Bhutan is hoping to preserve its authenticity and do things differently than everywhere else in the world. If, like many others, you are interested in travelling to Bhutan (as you should!) then here is YPT's travel guide to Bhutan.
Where is Bhutan on the map?
Looking at a map of Asia, you'll see that Bhutan is a landlocked country squeezed between China and India. Bhutan is located near Tibet in China and Kolkata in India While one might think that the country is all about alpine mountains, it actually has a wide contrast of landscapes going from mountains to subtropical plains
What language do they speak in Bhutan
Bhutan has multiple ethnic groups which all speak their own languages. However, the common language of Bhutan is called Dzongha, also known as Bhutanese. As a former part of the British empire, you'll find that many people, especially those working in the tourism industry, speak English quite well.
Getting to Bhutan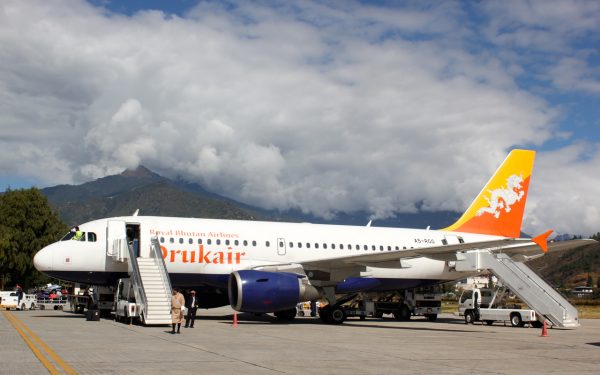 We wrote a guide on how to get to Bhutan, so you'll find more there. To give you the abstract, in order to get to Bhutan, you'll have two choices.
Getting to Bhutan by plane
You can fly into the country with its national carriers, Druk Air and Bhutan Airlines, which have flights to and from many neighbouring countries or you can enter overland via India.
Getting to Bhutan by taxi or car
If you chose to enter overland, you must be ready for a long but incredibly scenic road trip. All border crossings between India and Bhutan accept cars but since you'll be travelling as a tourist, which comes with a guide escorting you, you'll need to work out the logistics with the company taking you to Bhutan.
Getting to Bhutan by bus
Finally, it is possible to enter Bhutan from India by bus. The Royal Bhutanese Government offers a bus service that links Kolkatta, the nearest indian city to the border of Phuntsholing. The service departs from the Esplanade Bus Terminus of Kolkata at 7 PM on Tuesdays, Thursdays and Saturdays and takes about 23 hours, plus an hour to go through the border formalities. Once you're in Phuntsholing, you'll need to take a domestic bus to your destination in Bhutan. For example, you can get to Thimphu in 6 hours from Phuntsholing. When it comes to getting to Bhutan. bus is the slowest way to go.
Getting a visa for Bhutan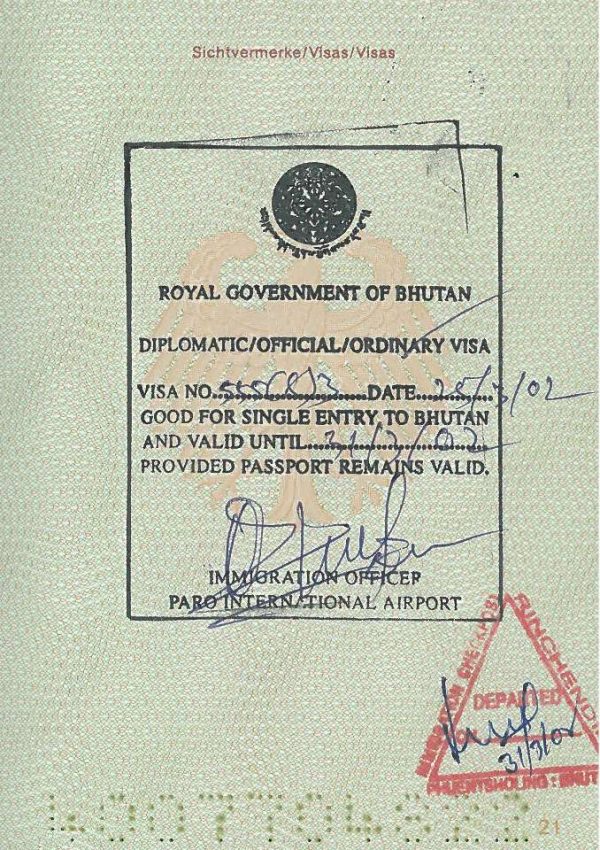 Here again, we wrote a dedicated article on the matter. What must be said in this general travel guide to Bhutan is that, in a similar way to North Korea and Tibet, Bhutan has decided to keep a close eye on tourism and structure it quite rigidly. In order to visit Bhutan, you must be part of a tour, where you will be supervised by a guide. Unless you are from one of the few select nationalities which can go to Bhutan without a visa, you'll have a pre-established itinerary for your visit. There is room for exploration and changes but you'll have to come on a tour. The tour company you'll be dealing with for your tour (such as us!) will apply for the visa for you.
Minimum Daily Package
A travel guide to Bhutan wouldn't be complete without mentioning the Minimum Daily Package. Another way in which travelling to Bhutan is different from anywhere else is that cost of the tour is calculated and collected directly by the government in the form of a daily package. Your visa is tied to a tour which price is regulated by the Bhutanese government in the form of a minimum daily package price. This package includes your accommodation, food, transportation and guide fees as well as all sort of taxes. A lot of the income is used by the government to finance its free health care and free education programmes. The whole package must be prepaid before you can even get your visa. Prices fluctuate depending on the season and, since 2020, also depending on the regions you will be visiting in the country. Indeed, the government has decided to make visits to regions it wants to promote tourism in cheaper than visits to the most famous regions. Bhutan is one place where it literally pays off to go off the beaten track.
On a side note, just because everyone pays the same packages doesn't mean you are getting the same. Indeed, some hotels are better than others and doing your research to see which hotels your tour operator has planned for you can pay off as you can ask them to change it to another if you think you can get better, for the same price.
The great thing with this daily package is that you can fully relax during your tour, as all normal expenses have already been planned out and arranged for you! You can just focus on exploring!
Eating in Bhutan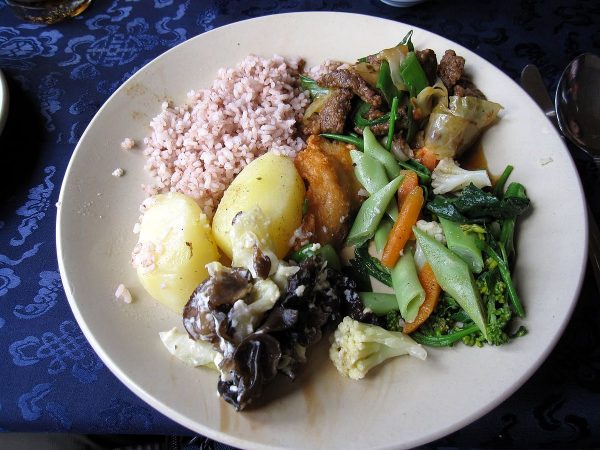 Since you'll be part of a tour, your expenses in Bhutan have already mostly been taken care of. This means that you'll be taken by your guide to restaurants which operate most of the time in the form of all-inclusive buffets.
Food in Bhutan is often spicy and made up of one or two sides accompanied with rice. Pork, chicken and beef are the most eaten meat in the country and the most eaten vegetables are radish, spinach, pumpkins, turnips, onions and green beans.
Accommodation in Bhutan
As mentioned before, your accommodation will be pre-arranged before your arrival. If travelling by yourself, you can either trust your tour operator or negotiate better hotels with them according to your itinerary. Most hotels of Bhutan can be found on the internet on websites like Tripadvisor, where you can get an idea of what you are signing up for.
There are all kinds of accommodation in Bhutan, from luxury hotels to smaller guesthouses. Accommodation in Bhutan is classified into four categories: hotels, resorts, farm-stays and home-stays. Each category offers different experiences, depending on what you are looking for! The government makes it compulsory for Bhutanese tour companies to lodge their guests in accommodation that are ranked as three stars or more. It is the government of Bhutan which rates all kind of accommodation. For that reason, you can be sure that your accommodation will be satisfactory.
Money and shopping in Bhutan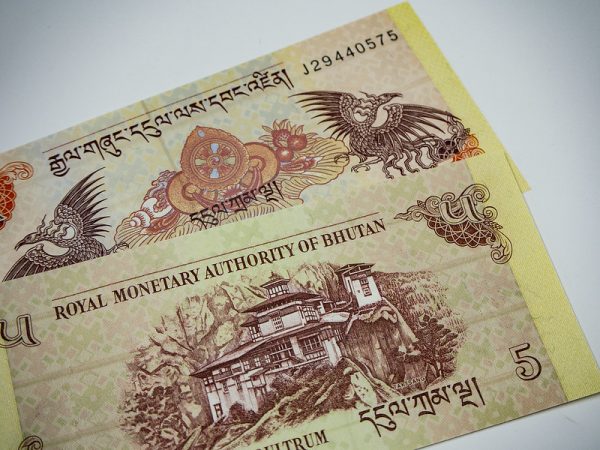 The currency of Bhutan is called the Ngultrum (BTN). It is pegged to the Indian Rupee and the Indian Rupee can also be used in Bhutan as legal tender interchangeably as one Bhutanese ngultrum is worth one Indian rupee.
You won't be able to get Ngultrum outside of Bhutan and there are not many international ATMs in the country. However, since your expenses are paid for before your arrival in Bhutan, money is not a big concern. You can bring foreign currencies such as USD or EUR into the country and change them for Ngultrum. That money can then be used to purchase souvenirs, pay for drinks or give tips.
Credit cards can be used in certain select and upscale establishments.
When buying souvenirs such as handicraft, you'll be given a receipt. Keep this receipt as you might be asked for it when you exit the country.
That wraps it up for our travel guide to Bhutan!
With all this information, you are now ready to embark on an adventure to Bhutan. The best way to do so, in our opinion, is certainly to join our Tour to Bhutan!
About Post Author
.