Frequently seen as an isolated country where very few people get to go, the kingdom of Bhutan does capture the imagination of travelers. A mythical Buddhist kingdom perched in the Himalayan chains, evolving in some kind of secrecy is the cliché it goes by. However, you'll be happy to learn that, once you've gotten your Bhutanese visa, it is actually not so hard to get to Bhutan.
To get to Bhutan, there are two ways: by air and by land.
Get to Bhutan by air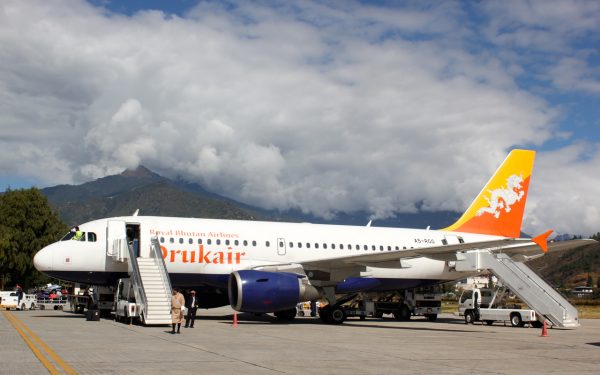 To get to the Kingdom of Bhutan by air, you'll have to deal with Bhutan's national air carrier, Druk Air, or Royal Bhutan Airlines. Druk Air operates from Paro International Airport, an airport that is quite famous for being the hardest airports to land in. Only a handful of pilots actually have the required qualification to land in this airport, which is built on one of the only flat areas of the mountainous country. Indeed, pilots need to gain altitude extremely quickly or else they would crash into a mountain. This makes landing or taking off in Paro an incredible experience. Worry not, you'll get thrilled but are very safe, as accidents at Paro airport are nearly unheard of.
While Paro airport is the only working international airport of Bhutan (some other domestic airports do exist, such as Yongpulla) at the moment and as such, the only destination you can take a plane to in Bhutan, it doesn't mean that Druk Air has a limited international offer. In fact, Druk Air operates from quite a few places in neighboring countries. It has flights to multiple locations in India such as Bagdora, Delhi, Kolkatta, Mumbai, and others. As far as other countries are concerned, it links Paro with multiple capitals, such as Bangkok in Thailand, Kathmandu in Nepal, Singapore and Dhaka in Bangladesh.
As a national airlines, Druk Air subsidizes heavily travel for Bhutanese citizens and as such, tickets for Bhutanese people are much cheaper than tickets for international tourists. When booking a ticket, you have to show your identity and as such, have to pay the full price. The price of tickets for a tourist however, are not too bad, with a Dhaka-Paro ticket setting you back $212 USD. Ticket prices do not fluctuate much. You can readily book a ticket directly on Druk Air's website using a credit card to pay. Travel companies organizing the package you'll necessarily have to book to visit Bhutan as a tourist can also arrange those flights.
Get to Bhutan by land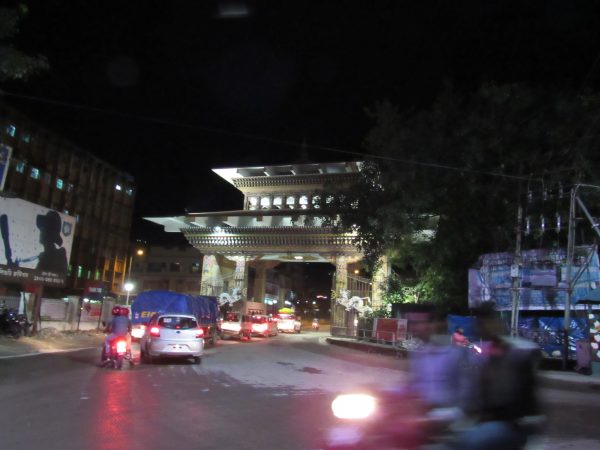 The preferred way of traveling to Bhutan for Indians, who can go to Bhutan without a visa or a packaged tour, traveling to Bhutan by land is not too difficult albeit time-consuming.
Three land borders are open to tourists wishing to enter Bhutan overland. Those borders are Phuentsholing, Gelephu and Samdrup Jongkhar. All of these land borders connect with India, so if you wish to go to Bhutan overland, you'll necessarily have to go to India first.
Phuentsholing is about 170 KM from the Indian city of Bagdora. From the border, you'll have to drive another 170 KM to reach Thimphu, the capital of Bhutan. Due to the sinuous roads of Bhutan, this last 170 KM alone will take you 6 hours.
Gelephu is located in south-central Bhutan, near the Assam province of Bhutan. To get to Thimphu from Gelephu, you'll need to drive 250 KM, which takes about 10 hours, taking through different climate zones of Bhutan such as its sub-tropical zone and alpine zone.
The last border, Samdrup Jongkhar, is also located near the Assam province of India, about 3 hours away from Guwahati, the provincial capital. If the drive-in India to the border is not too long, the drive within Bhutan, however, is not for the faint of heart. People wishing to reach Thimphu from Samdrup Jongkhar will have to drive 700 km which takes about three days. Road trip lovers might find what they are looking for in that but others might wish to either start their tour near Samdrup Jongkhar and finish it in Thimphu. Otherwise, you are much better of flying!
If you wish to get to Bhutan the easiest way, let us take you there! Simply join our Kingdom of Bhutan tour!
About Post Author
.