Here's our top list of sporting events happening in Central Asia this year. This is sport – but not as you know it!
---
1) Asian Indoor and Martial Arts Games
In September this year, Turkmenistan will be hosting the 5th Asian Indoor and Martial Arts Games in their show-piece capital of Ashgabat. Think of it like a mini Olympics for people who get sunburnt easily. Unless you happen to be from an Asian country which is participating, but even then, unless you're very much involved in one of the obscure sports they hold events in, you would have never heard of it. And why would you have?
The events that will take place are a sports lover's dream. Even the most hardened football hooligan is surely looking forward to such events as Chess, 3-on-3 Basketball, 10 Pin Bowling, Dancing, Pool/Billiards and Futsal. They are even going to have an event called 'Electronic Sports'. I kid you not, we've been told this will be people competing against each other in computer games such as Counterstrike. There will be some more regular sports as well: Indoor track cycling, wrestling, short course swimming (25m pool instead of 50m), weightlifting and of course as the name suggests, lots of martial arts, some of which I guarantee you'll never have heard of.
This is why YPT can't wait to go to these Indoor Games, because they are going to be huge, they are going to be strange, but most of all they are going to be very entertaining. The local supporters will be filling every seat that isn't occupied by a paying foreign guest, and they will be encouraged to cheer as if it's a Superbowl, not a chess tournament.
If you're interested in joining us in witnessing this unique event, check out the itinerary here and get in touch with us.
We have been informed by the Turkmen Ministry of Tourism that they want to promote tourism during this period and are encouraging us to bring people to Turkmenistan for the Games. Not only will it be a spectacular and one-off event, but we've also been told that rejection rates will be far lower than usual during this time.
2) Dushanbe Half Marathon
This is an event you can actually join. Dushanbe, the capital of Tajikistan, was once nothing but a stepping stone to the Pamirs, however, an increasing number of tourists are now focusing on its own unique charm. In its infancy, the Dushanbe International Half Marathon is quickly becoming a draw-card for those who want to travel the world and run long distances.
The course naturally goes through the centre of this interesting city, past the largest tea house in the world, the world's second largest flagpole (only recently taken over as largest by one built in Saudi Arabia) and the Monument of Amir Ismail Samani.
Anyone can enter of any ability and chances are you won't even come last. Get in touch if you'd like to organise a tour over this time.
3) Kok Boru (Buzkashi)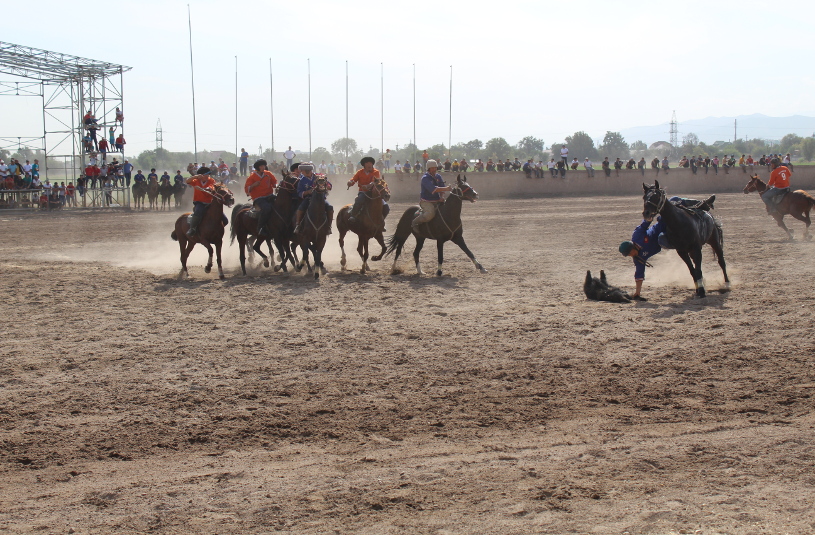 If watching men on horseback, fighting over a dead, headless goat sounds appealing, then this sport is for you. Known by many names around the world, including kokpar, kupkari,, ulak tartysh, gökbörü and of course Buzkashi, they literally decapitate a goat at the beginning of the game, and the body is used as the 'ball', which is then tugged, pulled and thrown violently between men on horseback, with the aim of getting it in the other team's goal.
Played by people all over the region, including Tajikistan, Afghanistan, and Xinxiang in China, Kyrgyzstan has really made this their own. Rather than being played only at traditional events, they have created a real sporting competition including a finals series with the grand final being held at the main Hippodrome in Bishkek on Independence Day.
This year we'll be attending the semi-final on our Independence Day tour, so if you'd like to join in, get in touch.
4) Horse Racing in Ashgabat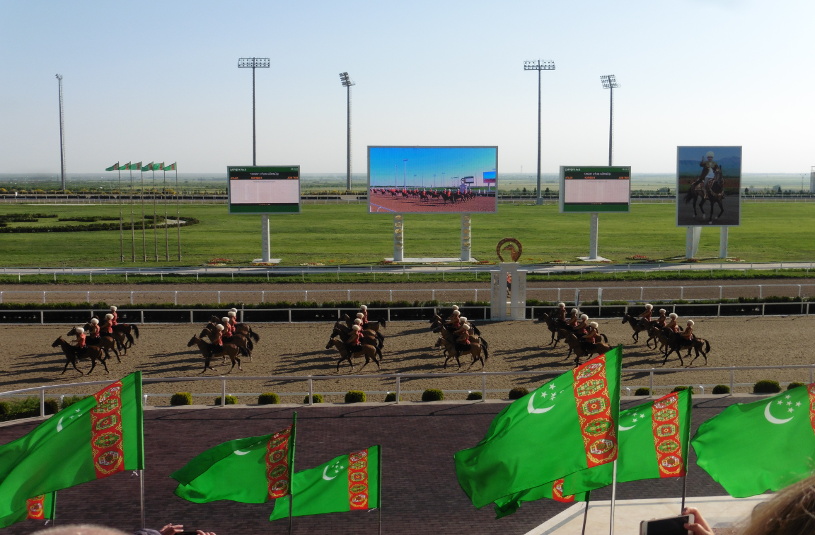 Horses are serious business in Turkmenistan and when horse racing season is on expect an event. Every Sunday between April and June and then from August to October, one can experience the excitement of the races. The public fills the stands in the small hours of the morning or even the night before and will be carrying flags, banners and of course wearing their Sunday best, which in Turkmenistan constitutes a black suit and tie for men, with their traditional hat, and all the women will be in matching long sleeved, long dresses, also donning the female version of their traditional hat, or for older women, a colourful headscarf.
Not interested in Horse Racing? Well this is still for you anyway; there are often concerts, dancing, parades and ceremonies that go with it. It will also be your chance to see the President Gurbanguly Berdymuhamedow up close as he regularly attends these events. You could say he's a bit of an aficionado as he has written dozens of books about the sacred Akhalteke breed. He also owns some of the horses which are raced and of course, they always win
If you'd like to see one of Turkmenistan's most major horse events, join us for the Independence Day tour in October.
5) World Nomad Games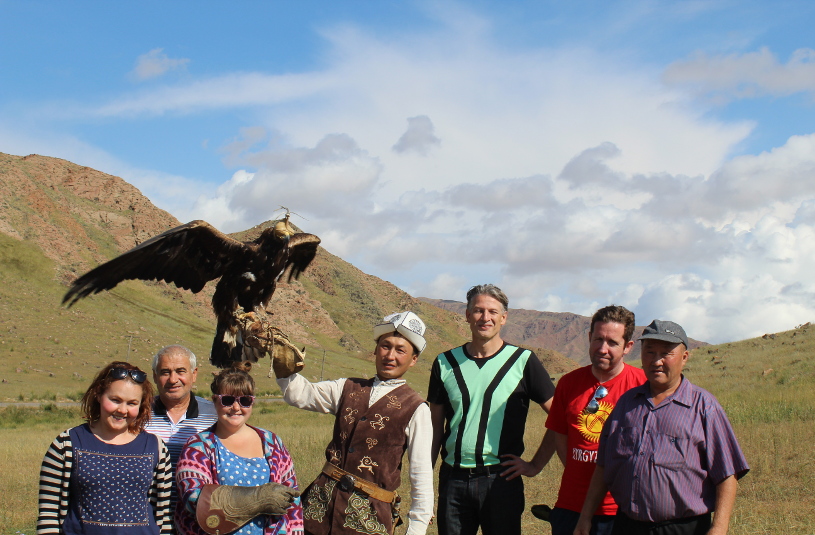 This is what the Olympics would look like if Genghis Khan had invented them instead of the Ancient Greeks. Held in Kyrgyzstan every two years, the next edition of this spectacular sight will be in 2018. The venue for the Nomad Games is a town called Cholpon Ata on the shores of Lake Issyk-Kol, itself a must-see destination for being the second highest alpine lake in the world.
The sports played during the Nomad Games include all the family favourites such as Aba Kurosh, Alysh, Cirit, Goresh, Gyulesh, Mangala, Salbuurun and the aforementioned Kok Boru. Whilst these names might not mean much to you, they're definitely worth a visit, and include various forms of wrestling, falcon hunting, horse sports, and much more.
You might be thinking to yourself 'well who plays these games?' and while some of the answers are obvious, others are not. Of course, there are the traditionally nomadic people of Kyrgyzstan, Kazakhstan, Turkmenistan, Mongolia etc, but there are also teams competing from the USA, Australia, France, Germany, UK, Brazil, Norway, Israel, Indonesia and even Swaziland.
6) Football (Soccer)
Don't want to have an authentic local cultural experience but still want to have a good time, meet some locals, drink some beer and watch International teams competing? Well, then there's plenty of football to be played in this part of the world. Football, being the Coca-Cola of sports, has reared its head to every corner of the globe, and even in the smallest villages you can discuss Arsenal's recent performance, or the Bundesliga results from the previous weekend.
But it doesn't stop there. You can go and see International World Cup Qualifiers. All of Central Asia, except Kazakhstan, is part of the Asian Football Federation, so you might get to catch an Australia vs. Kyrgyzstan game in Bishkek or Iran vs. Uzbekistan in Tashkent. If you're in Kazakhstan you'll even get to see some of the top European nations playing, and for much cheaper than it would cost you in Western Europe!
---
Click here for a full list of our tours in Central Asia.
About Post Author
.