GUIDED TOURS TO SYRIA – Syrian Arab Republic
Young Pioneer Tours are now offering fully guided Syria tours for 2022 and 2023.
YPT were one of the very first travel companies to begin guided tours when Syria reopened after the bloody Civil War in 2018 and again have resumed tourism after COVID-19. Whether you are looking for a group tour to Syria, or independent tour to Syria then YPT are your experts in the field.
Syria Tours – Group tours to Syria
We run a number of group tours to Syria throughout the year, as well as bespoke Syria tours that can be arranged according to your schedule and availability. Most of our group tours begin and finish in Lebanon's vibrant capital city of Beirut.
All of our group tours to Syria are accompanied by an expert YPT guide, with us also using the best guides in the country. You will notice our tours are extremely unique with our itineraries differing greatly from other companies, this is because no one knows Syrian tourism like us.
Every facet of the Syria visa process is taken care of by YPT – no need to send your passport away anywhere.
We are currently offering the following Syria tours for 2022 and 2023, but keep watching this page as we are always looking to add more tours.
Syria Winter Tour – September 16th – 23rd 2022 – $1395
Currently our last planned tour of the year to Syria. This tour is shorter than our regular tour to help keep cost down for those during the holiday season
Syria Spring Tour – February 2rd – March 2nd 2023 – $1595
Our first Syria tour of 2023 and one of the best times to travel to Syria. This tour involves our most popular itinerary, whilst you can enjoy the best weather of the year in the country. This tour can be combined with our Lebanon Spring Tour which directly precedes it.
Syria Autumn Tour – September 3rd – September 10th – $1595
Our first tour after the summer. This trip has us going to all the main site including Aleppo, as well as Bousra. This tour can also be combined with our Ultimate Lebanon Tour. This Syrian tour will be capped at 16 people.
Syria September Tour – September 15th – September 22nd
The second of our back to back Syrian tours in September, with this one also linking up with Lebanon. Another one where we take in all the major sites during our 8 day Syrian adventure. This tour to Syria will be capped at 16 people.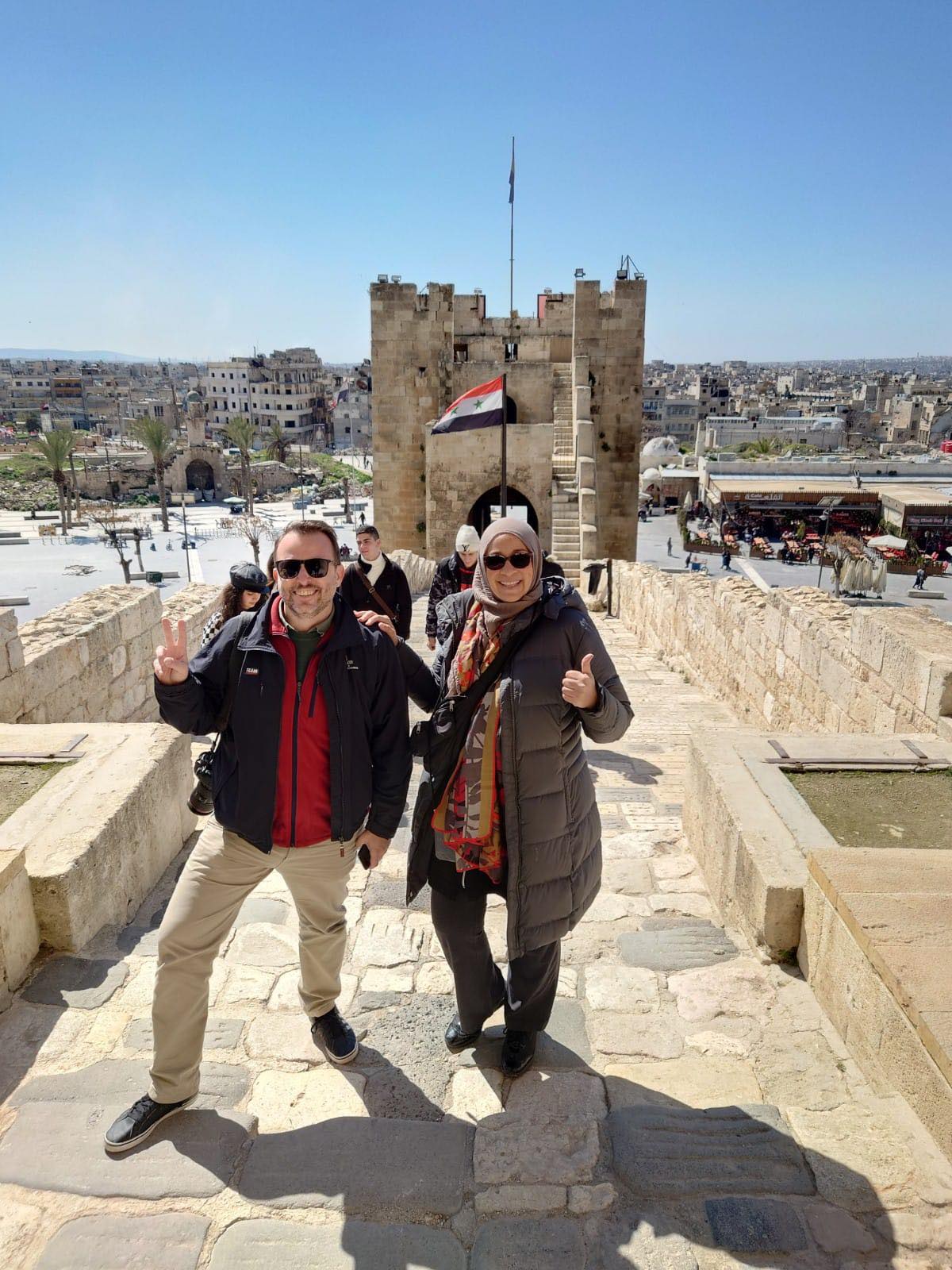 Independent tours to Syria
In case our group tour dates do not fit your schedule, you would like to travel alone, or you would like a bespoke Syria itinerary then Young Pioneer Tours can help arrange the perfect Syria tour. Prices depend on the number of people and what level of accommodation you require, but YPT can arrange everything you require for an independent tour to Syria.
Independent Syria tours can start in either, Beirut – Lebanon, or Amman – Jordan, with it also being possible to fly into both Damascus or Aleppo for those who wish to experience Syrian airlines, or simply avoid the roads.
Independent Syria Tour examples
We do not list all of our bespoke Syria itineraries, but can offer some examples, such as the following;
Explore Syria Independent Tour – Our standard independent tour to Syria that takes you to all of the main sites of Syria. This tour can be extended or shortened in accordance to your needs.
Cultural Syria Tours – While all of our tours to Syria have a cultural element we can also plan things around certain elements of particular interest, be it religion, or anthropology for example.
Family tours to Syria – – Syria is extremely family friendly and we have arranged tours for families with children of all ages.
School Trips to Syria – Being a bastion of civilisation, as well as holding religious significance for a number of faiths it is possible for us to arrange school trips to Syria, as well as educational exchanges.
Aviation tours to Syria – With Syrian Air and Cham Wings Air both being airlines active in Syria we can arrange your aviation tour.
Beach tours to Syria – Syria is no Ibiza, but it is secular and has beaches. It is possible to have an all out beach tour in Syria, or merely include a visit as an added extra.
Syria Tours for journalists

– Much like other countries in the region journalists wishing to do a story about Syria, or the region need a special visa. YPT can arrange Syria tours for journalists, please get in touch to discuss requirements.
Syria and Lebanon
Since most of our Syrian group tours begin and finish in Beirut, this gives you the best opportunity to combine with our Lebanon tours. Our Lebanon tours can be done as part of a Syria tour, as part of a group tour, or individually.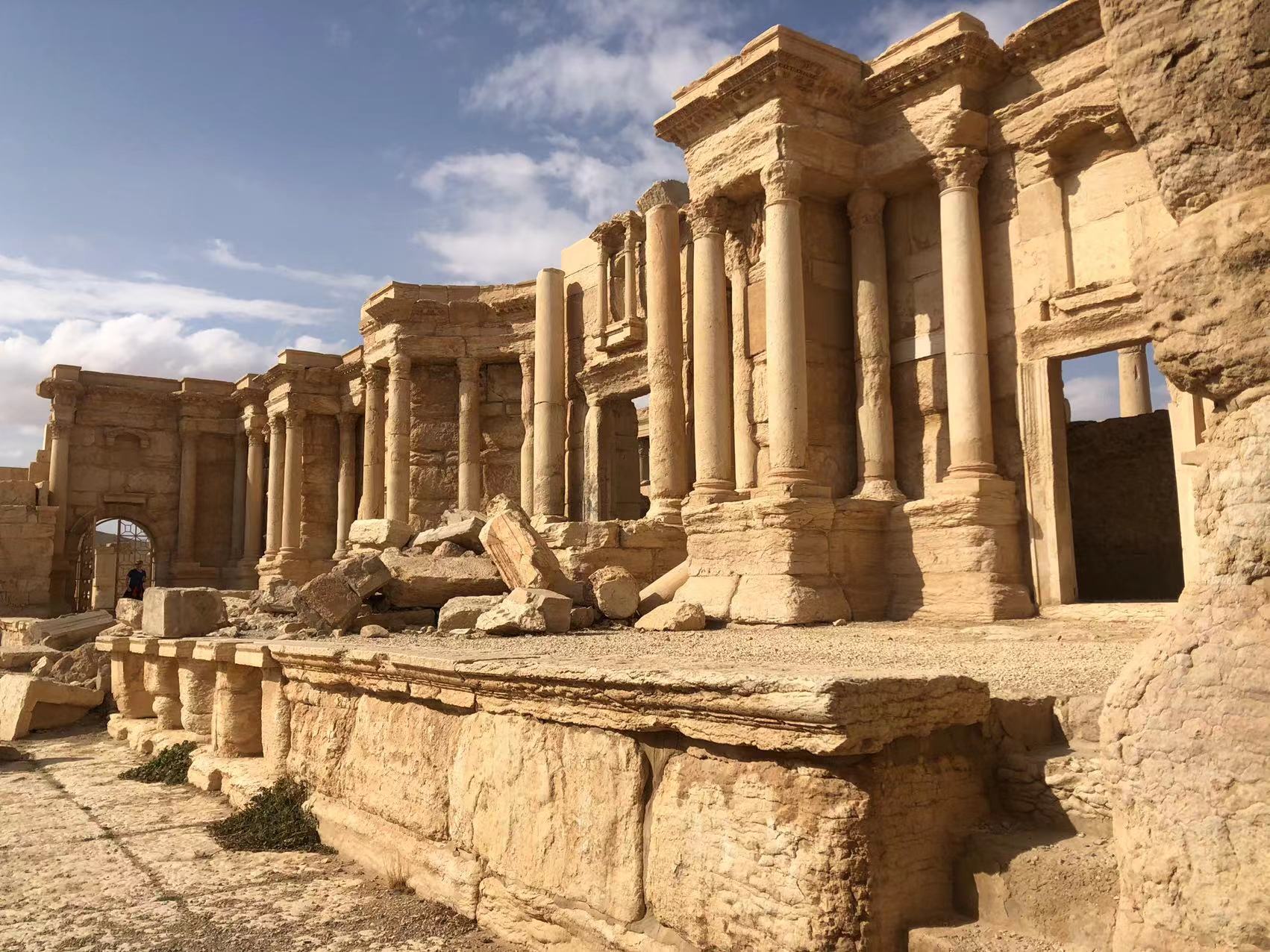 Syria Tours FAQ
Below are what we are frequently asked about Syria for those interested in traveling to the country. If your question is not here then simply get in touch and let us answer it for you!
How to get a Syrian Visa
Every facet of your Syrian visa is taken care of by us. How quickly your Syrian visa will be processed and completed depends on your nationality. Click here to read more about how to get a Syrian visa.
Syrian COVID-19 Restrictions
Syria is completely open to all international tourism with proof of vaccination required to enter the country or PCR test for others.
Is it safe to travel to Syria?
Since the Civil War has ended, Syria has become safe again for travellers. Every location we visit on our tour itineraries are safe and we stay well clear of any spots that have any potential risk for our travellers
Is it ethical to travel to Syria?
In our minds yes it is. As a heavily sanctioned country the money generated by tourism benefits real local Syrians in real time. You can read more if it is ethical to visit Syria here.
When is the best time to visit Syria?
Syria has a Mediterranean / Middle-Eastern climate, so we recommend either spring or autumn. Winters are a cool and majestic time to visit Syria. Summer days hit the high 30s Celsius so not as hot as some may expect it to be.
How do you travel to Syria?
The best way to travel to Syria is via Beirut in Lebanon because of the short driving distance. You may also travel from Amman in Jordan, or fly into both Damascus or Aleppo, although both of these methods involve a different way of arranging your visa which we can do for you.
What currency should I bring to Syria?
USD is the main currency for exchange into the Syrian pound. Make sure to bring cash as ATM's are unreliable.
Generally speaking USD cash is the main currency for spending, receiving change and exchanging into the Syrian pound. Euro is also taken but not always accepted at all places. It is also possible to exchange Lebanese or Turkish money in some areas.
Are there ATMs in Syria?
Due to sanctions you cannot use ATMs or use credit cards in Syria. Also keep in mind that due to hyperinflation you cannot use ATMs in Lebanon either. Cash is king in both Syria and Lebanon!
How big are your tour group sizes in Syria?
We personally cap all of our groups at 16 people, but usually we have around 8 – 12 people.
What is the food like in Syria? What if I'm Vegetarian or Vegan?
Food and drinks in Syria are incredible. Whether you are vegetarian, vegan, or have any other dietary requirements we can cater for all your needs.
What should I wear in Syria?
Syria is a very secular country, so generally speaking it does not have the same prohibitions as other countries within the region. That being said you will be visiting mosques and churches, so do dress relatively conservatively and women must have a headscarf at the ready.
Also keep in mind the time of year with regards to what you pack for warmth or cooler weather.
Is there alcohol in Syria?
Yes there is and you may drink during your visit to Syria. Please keep in mind though that some towns are more conservative than others, but your guide will keep you updated along your journey.
Should you tip in Syria?
Due to sanctions the Syrian people have really suffered and this means buying basic daily essentials such as medicine is difficult. Therefore we suggest tipping your guides. We usually suggest about $10 per guide, or driver per person, but as a gratuity it is completely up to you. 
Can you talk about politics in Syria?
Often portrayed as one party state technically at least it does have a multi party system. With that being said it is hard not to notice the cult of personality around Assad and you should respect this when visiting the country. Syria though is not North Korea and you can ask your guides about politics.
You can read about the Syrian government here.