Whether you're taking the Trans-Siberian, Trans-Mongolian, or the less popular Trans-Manchurian, a train trip across Russia with YPT is likely to include stops in 3 fantastic cities: St. Petersburg, Moscow, and Irkutsk (jumping off point for the amazing Lake Baikal).
Food ideas for time on the train have been previously covered here, so I want to highlight fantastic vegan options in a country most people think doesn't have any.
They're wrong. Super wrong.
---
St. Petersburg
Head over to Loft Project Etazhi for some really cool art and also small restaurants built into small shipping containers. Easily reached by the Metro at Ligovsky Prospekt (Line 4 – Orange Line), there are 2 really amazing food spots here.
Horizontal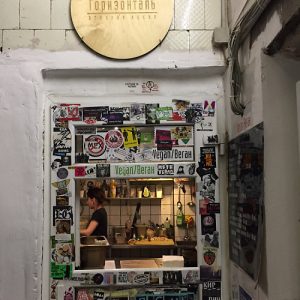 Can't find it? You're not alone. Head up the stairs on your right, into the building, after 2 semi-fancy restaurants. Look for this doorway that's covered in stickers and has the menu posted on the wall. Yes, you stand in the stairwell and order into the restaurant. Take-away only, menu available in English, and there's always someone working who speaks English. They offer burgers, wraps, salads, juices & shakes. Get the seitan wrap. You can leave a 'thank you' comment on this post after trying it. They also offer delivery, but expect to speak Russian very well if you want to try this.
Veggie Box
Also located at the Loft Project Etazhi, this one is in one of the small containers outside.
There is enough seating for 2-3 people, but that's also the same space where people are standing to order/look at the menu, so it's not common to find the seats usable. The menu is available in English, and you may or may not find English spoken by staff. Get the 'hardcore pizza'. They have changing daily specials (which sometimes includes lasagna), soups, desserts, burgers & pizza. Really friendly staff, focusing on using as many eco-friendly products as possible, and delicious food.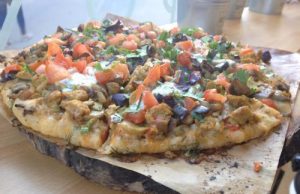 A really common option for vegetarian restaurants in St. Petersburg is the 'food bar' style of restaurant, where you go down the line with your tray and choose the items you want, then pay by weight or by item, depending on the location. They're all relatively similar in many ways, so I've ranked my favorites of these.
Samadeva. Located near the Kazan Cathedral, this is also near the Cuba Hostel, which is a great spot for all of your revolutionary-themed kitsch. Near the Nevsky Prospekt (2 – Blue Line) station, staff understood vegan "ja veganska" and could easily point out vegan items on the bar. I had a 1/3 rate for finding staff who spoke English, but things were quite simple. Prices are good.

Cafe Ukrop

Café Ukrop (4 locations). Same idea as Samadeva, but the prices are higher and the vegan options seemed to be fewer. The perk here is that the manager or chef always seems to speak really good English. Slide down the bar, choose the items you want, pay what it adds up to at the end. See the picture for how the name is spelled / what the sign looks like in Russian.
Another "you can't find it" location is Veganika, a cool vegetarian, mostly vegan shop selling snacks, desserts, cosmetics, things to cook at home… It's almost like a 7-11. Located near Spasskaya station (4 – Orange Line), walk down Moskovsky, past the pharmacy on your right, and turn into an alley/entrance to parking at building #7. Back in there, look for the sign. Don't try asking people where it is, because they don't know. Staff speak varying degrees of English but are super excited to help you choose items to stock up for your train trip. While I didn't try 1 of everything in the desserts case, I came close. Everything was delicious!
Moscow
Far & away, the best vegan food in Moscow is at Loving Hut. The menu is extensive, but it's all in Russian. I found someone who spoke quite good English every time I went, but an all-vegan restaurant also means you can just randomly point to a menu item and be OK. I recommend the schnitzel here, as well as this berry-flavored cheesecake that was the dessert of the day one day. Wow! Located near Kitay-Gorod station (Lines 6-Orange & 7-Purple), it's upstairs in the corner building. Free wifi is also here, which could help you use Google Translate, if necessary.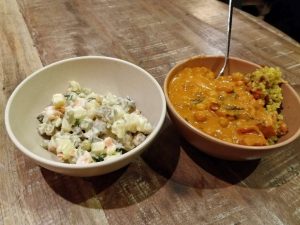 Also near Kitay-Gorod and down the street from Loving Hut is Jagannath. It's another 'slide down the line with a tray' option, which can be nice, and the food is supposedly labelled for what's vegan, but the signs and items never matched up, so you have to ask (no English spoken, point and say "veganska?"). It's convenient and simple, but some of the food I had ordered was microwaved before giving it to me, so that was a turn-off. Prices are good.
The 2nd location of Jagannath is much better, located near Taganskaya station (Lines 5-Brown & 7-Purple). There were more vegan options at this one, the signs were less disorganized (though not really perfect), and there was more seating. Same prices and pretty similar food, which includes Russian, some western, and lots of Indian. Not incredible, but good and filling.
If you're looking for stores to stock up on special things for your train trip out of Moscow, I recommend 1 of 3 locations, which all carry things you'll want.
Etika Shop. Easily found near Red Square, ring the bell at the white & orange house for them to let you in. Soy milk, mock meats, vegan cheeses, yoghurts – all great things to keep you full on the train. They also have vegan options for instant noodles, which are a cheap, easy way to eat on the train, since hot water is always available. Expect everyone on your train to eat instant noodles, so vegan versions are a plus.
Ecotopia. Near Dostoyevskaya station (Line 10-Light Green), they carry speciality things you want for your train trip, including home-made vegan cheese. They accept credit cards, which is a perk.
Happy Vegan Shop. Mostly a showroom for their online & delivery business, it's a few blocks from your choice of Kropotkinskaya (Line 1-Red) / Smolenskaya (Line 4-Blue) / Arbatskaya (Line 4-Blue) stations, follow the signs out on the street and in the back parking area. It's a bit hidden but has signs to guide you. They sell sandwich fixings, chocolates, cosmetics & toiletries you'll want to stock up on. Vegan instant noodles for the train are available here, and abundant English is spoken by the staff who seemed as excited about my train trip as I was and made awesome food recommendations. This one is my favourite.
Irkutsk
Your 2 options are Govinda's location A or Govinda's location B. Both are essentially the same thing, where you pick items from a buffet and pay by weight. Varying amounts of English are spoken, but staff are friendly and helpful. One is near the central part of the city, and the other is on the west bank of the river, not far from the train station. Note that the one near the train station is closed on Sundays. I'd rate them as "cheap, filling, and not bad," but they're your best options around. Each one also has a small store, if you need to stock up on things for the train.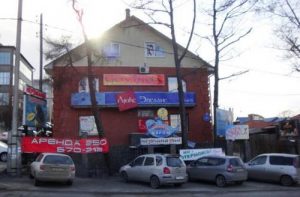 Cheap bread from a store on the street and some items from the store here can make several sandwiches for the train. Pro tip: the 'plain mustard' sold at stores in Irkutsk is surprisingly hot, like wasabi on steroids. No idea why, but be warned.
Check out YPT's tours to Irkutsk here and rest assured you'll be well-fed as a vegan.
---
Taking a train across Russia is on many people's bucket lists. The restaurant car isn't super friendly for vegans, but a little effort beforehand and stocking up on stops can make this easy and enjoyable without involuntary fasting until your next stop. Enjoy your trip!
Click here for information on taking the trans-Siberian train here.
About Post Author
.