In case you've been sitting under a rock for the last few months, or worse still do not read the many blogs that YPT write, then you should be aware that not only is Nauru the least visited country on earth, but that YPT not only planned to visit here on our inaugural "least visited countries" tour, but also spend 5 days here, including new years eve.
So what is it actually like to be a tourist in Nauru, and what can you see in the Republic of Nauru?

 
---
What hotels are there in Nauru?
Wikitravel states there are 2 hotels in Nauru, but in fact there are 4. The Hotel Nauru (Menen Hotel), which is the state-run affair, the Od'n Aiwo Hotel, a somewhat run-down affair, the Hotel Bucharest (where YPT stay), and a new one.
What is there to see in Nauru?
 Lots of remains from WW2 such as Japanese prisons, and gun turrets
 The detention centres where the Australians send their asylum seekers intercepted at sea
 A country you can walk around in 30 minutes (who can say they have done that)?
 It's a tropical island!
 Contemporary understanding of one of the most controversial "solutions" to the migrant crisis today. Most of the immigrants have been living there for 4-5 years and have not only integrated into society but have prospered (to an extent)
What is there to eat in Nauru?
Funnily enough, there is quite little in the way of "local cuisine" with most of the restaurants being run by Chinese immigrants (not refugees), but most interesting is the many pop up restaurants made by the migrants stuck on Nauru, such as Iranian, Pakistani, and Indian, that probably make Nauru one of the most diverse places in the pacific that you can eat!
That being said, the best restaurant on Nauru is probably Bay View Restaurant, which has some of the best curries, steaks and the most western menu of any restaurant in Nauru.
What is the nightlife in Nauru like?
Not exactly booming, but you have Jules Bar, which offers great sunsets, good cocktails, live music, and a local vibe, as well as the nightly disco (Monday – Saturday) at the Menen Hotel (Nauru Hotel), as well as most restaurants serving booze. Drink prices are actually quite reasonable considering everything imported (AUD $5 a beer).
And then there are the impromptu local parties, you merely need to have the balls to gatecrash (we did).
What are the people of Nauru like?
Nauru people have gone through a hell of a lot, going from richness to poverty and then back again (to an extent), friendly island folk, with a laid-back attitude. 
But the really interesting people to meet are the many refugees that have been there for up to 5 years making life as best as they can, who are all mostly ready to share their story with you.
Read more about Nauru's history here.
How can I travel to Nauru?
The only airline to go there are Nauru Airlines, who run a shuttle type service over the islands. The way the flights work mean you can either spend a day and a half, or 6 days here.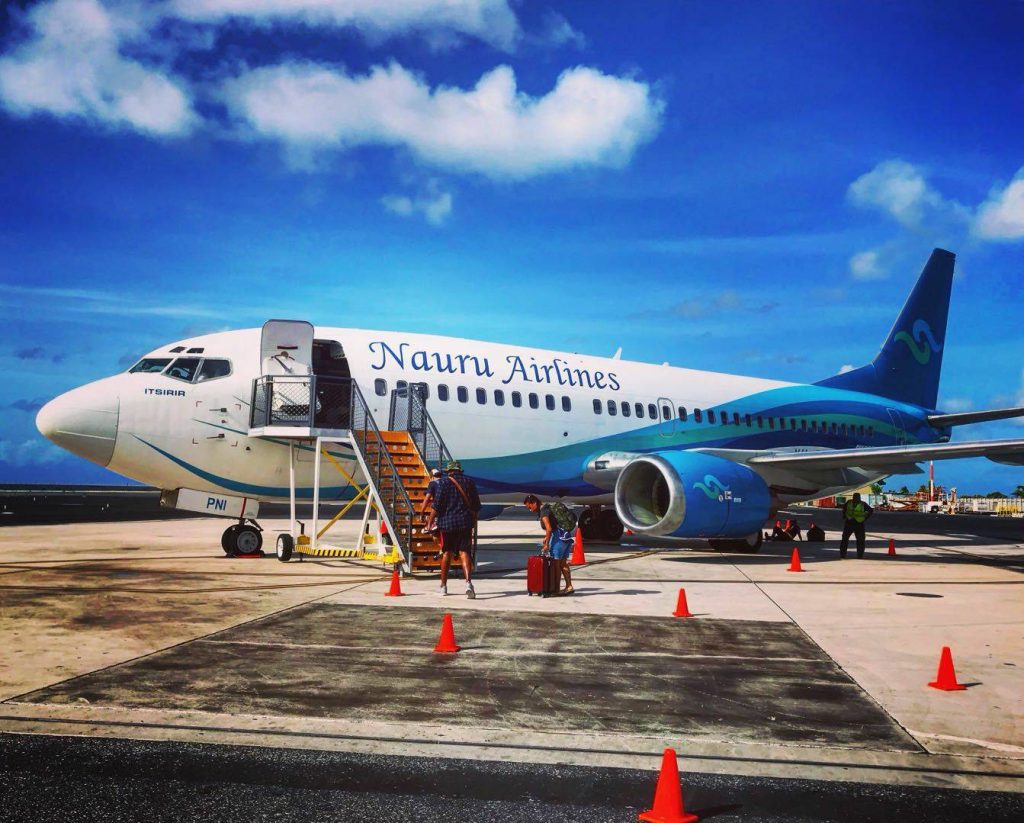 ---
Alternatively, you can join Young Pioneer Tours and our yearly tour to Nauru.
Click here for more information.
About Post Author
.