After shadowing the 2017 YPT Eurasian Adventure Tour as part of our research trip for

Pioneer Media

we needed to split from the group in Tirana and literally race to Podgorica, the capital city of Montenegro, before jumping on the morning train from Podgorica to Belgrade (the YPT group would be taking the night train).
---
The 4-hour drive from Tirana to Podgorica was a fairly uneventful one, particularly as it was dark. As a treat for me and my two fellow travelers, we booked ourselves into a fairly nice hotel with a swimming pool and sauna slightly out of town, which whilst pleasant meant that our dining options were somewhat limited by our location.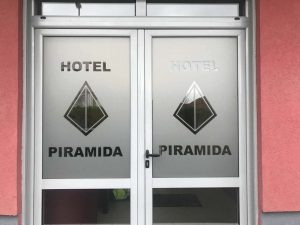 Few would argue that Al Gore inventing the internet in 1996 was one of the best inventions of our time, but sometimes the internet lies, and after a 10 minute walk in the rain to what looked like a fancy restaurant in a castle-like setting we were surprisingly told that they closed at 8pm, which left us only one food option, the Burek (burger restaurant) opposite our hotel.
"

Montenegro, which literally means "black mountains" truly is a beautiful place."
Upon entrance, we were greeted to a huge photo of a very sexy cheeseburger, which we decided to order. This caused fits of laughter, as, despite the photo, they did not actually sell cheeseburgers, and in fact did not even have cheese! I'm English, and the other two guys were American.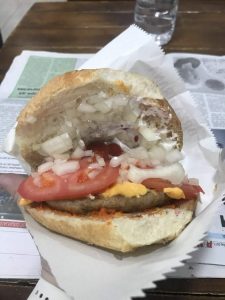 We needed cheeseburgers. So I stepped into the void, ran over in the rain to the supermarket, purchased cheese slices and handed it to the bemused serving lady, and we received our cheeseburgers, and yes they were awesome.
After a night playing in the sauna, and watching South Park we enjoyed a great breakfast in the Piramida Hotel we headed to the train station in order to catch the 08.10.
I'd previously taken the night train from Podgorica to Belgrade I was used to having a nice 4 pax sleeping cabin, but alas, during the day this was not an option, only the 6 berth seats. Luckily though it's not that busy a train and we had a cabin to ourselves.
The facilities were pretty good with a restaurant car (that you could smoke in), windows you could open, and best of all some of the best scenery you can get in the Balkans. Montenegro, which literally means "black mountains" truly is a beautiful place.
We whiled away the journey by writing (blogs like this), making videos, drinking overproof vodka, and enjoying the view from the window. Overall not a bad day few days at the office.
---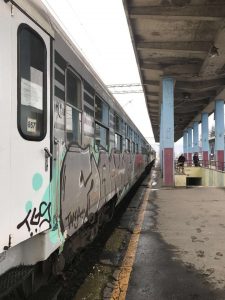 Want to take the train from Podgorica to Belgrade?
Join us on the 2018 Eurasian Adventure Tour.
About Post Author
.